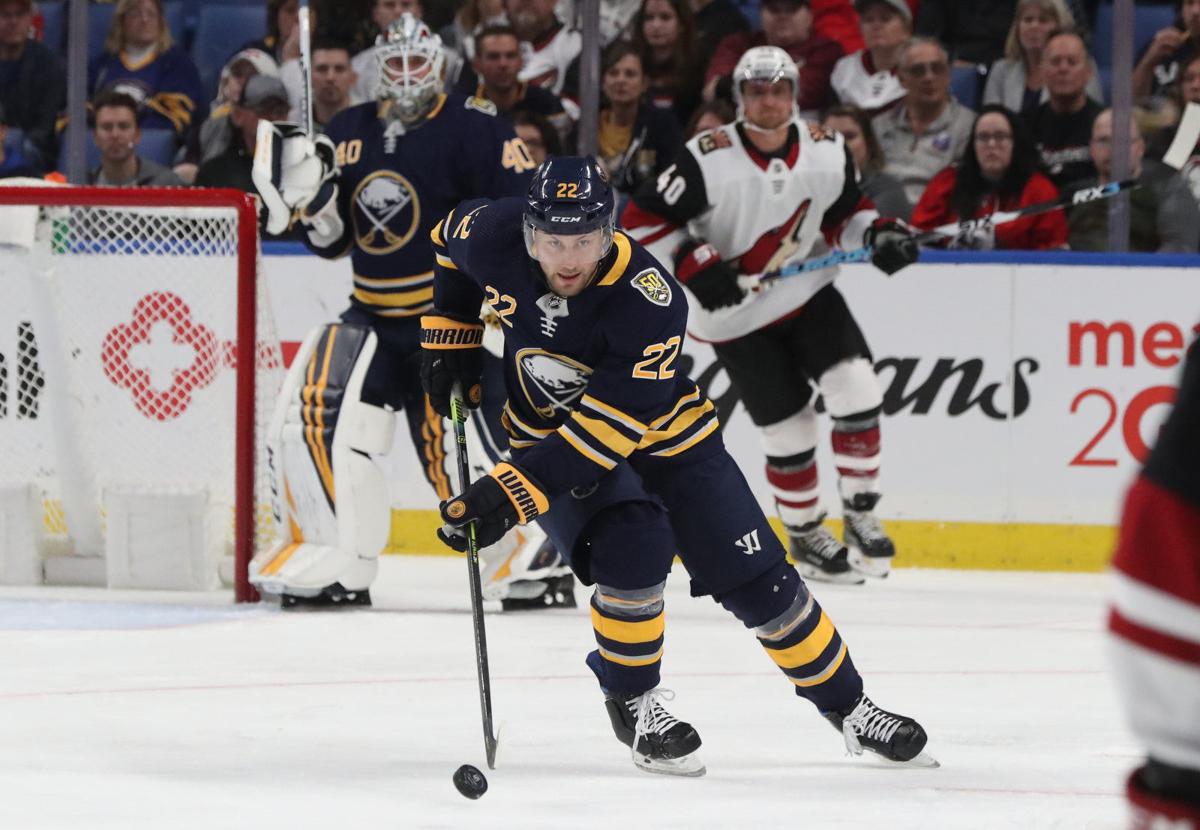 There was no rest for Kevyn Adams following his first NHL draft as general manager of the Buffalo Sabres.
Adams and his staff had to quickly pivot to preparing for free agency, which begins at noon Friday. He planned to continue negotiations with the agent of Dominik Kahun, a restricted free agent whom the Sabres chose not to give a qualifying offer.
Adams explained to reporters that while he is bullish on Kahun, the Sabres prefer to have financial flexibility because the free agent market is expected to contain more impact players than a typical offseason.
Additionally, the Sabres announced Friday they signed winger Zemgus Girgensons to a three-year contract with a $2.2 million average annual value.
Parting ways with Kahun, though, would create another hole on a roster that may lose up to six forwards to unrestricted free agency, including Johan Larsson. The Sabres are in the market for a goalie and a top-six forward.
But it's unclear how much money Adams will be able to spend. Although CapFriendly.com projects the Sabres to currently have $30.058 million in salary cap space, not including commitments to five restricted free agents who received qualifying offers or the $1.275 million overage from last season, TSN reported they are among a number of teams who may have an "internal budget" in response to the coronavirus pandemic.
"It's been really busy the last few weeks leading up to the draft and free agency this week," said Adams, who has repeated that ownership is committed to building a winner. "But at the same point, you want to make sure you're looking at, with free agency, how can you help your roster? And that may not always be the big splash. It could be that player that maybe is a little bit under the radar, but he plays a certain role within your team that you really need. So, it's doing your homework on all those players across the league and across the world, quite honestly, that are out there that may be able to help us."
It's possible Adams already made his one big splash of the offseason when he acquired Eric Staal, a former teammate with whom he won a Stanley Cup in 2006, from the Minnesota Wild in exchange for Marcus Johansson.
Staal, 35, will fill the void at second-line center, provide leadership in a dressing room that lost Stanley Cup experience with the departure of Conor Sheary and bolster a second power-play unit that was ineffective last season. Staal's arrival could also provide a significant boost for Jeff Skinner, who scored 14 goals in 2019-20, his fewest since the lockout-shortened season seven years earlier.
The potential departure of Kahun creates a hole at right wing on the second line, but the spot may be reserved for Dylan Cozens or Tage Thompson, who received a three-year contract extension despite having only 10 goals in 107 career NHL games.
"We really think that he's going to be a big player for us," said Adams of Thompson. "I guess to some extent we're going to find out what the market looks like on Friday. It's really a unique time, so it's hard to say exactly what certain players maybe what they would've commanded before, what they're going to get now. I think everyone's in the same boat. ... I want to make sure that we're giving ourselves the ability to be flexible as we put this roster together."
Though Adams would not specify which areas of his roster he's planning to upgrade, the Sabres need adept penalty-killers, especially if Larsson signs elsewhere, another center to provide insurance in the event Cozens is not ready for the position, players who excel on the road, more goal scorers and a goaltender.
And Adams must sway free agents to come to Buffalo amid a nine-year playoff drought and following the public expression of frustration by his superstar captain, Jack Eichel. Overpaying a player likely isn't an option this time around.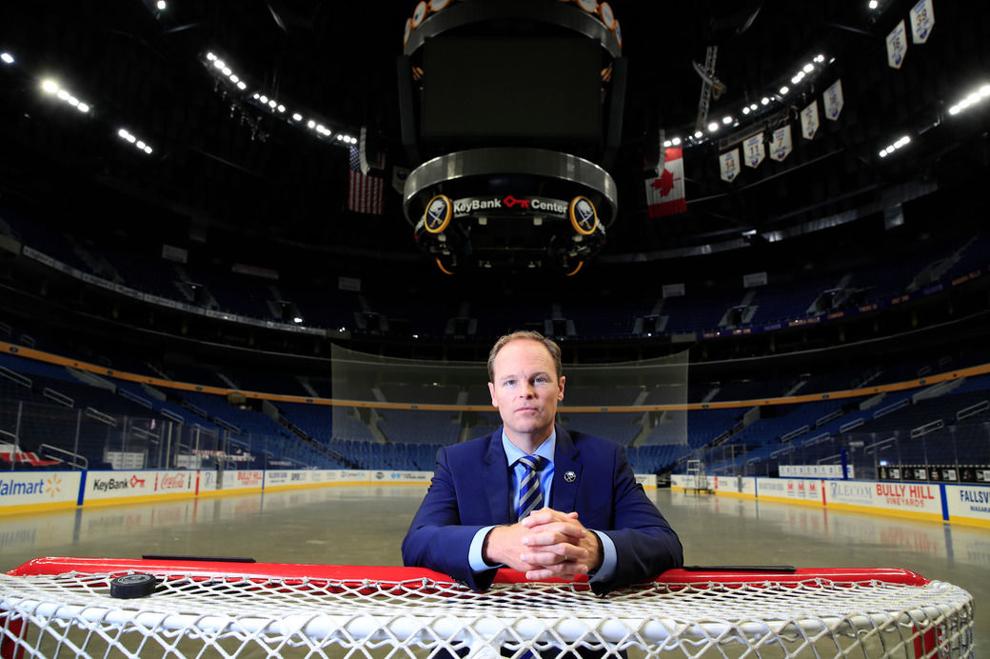 A source told The Buffalo News that goaltending is near the top of the Sabres' shopping list. The team tendered a qualifying offer to Linus Ullmark, but the truncated schedule in 2020-21 will prevent Ralph Krueger from handing the bulk of starts to one goalie.
Carter Hutton, 34, is entering the final year of a contract that will count $2.75 million against the salary cap and expressed confidence that he solved the vision issue that hindered his performance last season. A more permanent solution in goal may be needed, though.
While Ullmark had an impressive bounce back season in 2019-20, he missed six weeks with a lower-body injury and has yet to prove he's a No. 1. Among goalies to appear in at least 30 games last season, Ullmark's .930 save percentage at 5 on 5 ranked fifth. However, he struggled with high-danger scoring chances, particularly on the penalty kill, and his technical skills in net are inconsistent.
When Adams was asked about his level of confidence in Ullmark as the Sabres' starter, the general manager would only say that the coaching staff was encouraged by the goaltender's progress during his second full NHL season.
Additionally, the Sabres cannot count on top prospect Ukko-Pekka Luukkonen to reach Buffalo anytime soon given that he's appeared in only 11 games with the Rochester Americans. The free agent market could include Henrik Lundqvist, Braden Holtby, Corey Crawford, Jimmy Howard, Craig Anderson, Thomas Greiss and Anton Khudobin.
A trade might be the more realistic route to upgrading the position unless the Sabres can sign someone for a reasonable price on a short-term deal. A source told The News that Adams previously expressed interest in Columbus goalies Joonas Korpisalo and Elvis Merzlikins.
The team will face a similar issue if it attempts to add a top-six forward through free agency. The top four forwards expected to be available – Taylor Hall, Evgeny Dadonov, Mike Hoffman and Tyler Toffoli – are projected by Evolving-Hockey.com to receive contracts with an average annual value ranging between $5.75 million and $8.7 million.
Such a commitment would limit the Sabres' long-term financial flexibility when the NHL has instituted a flat salary cap. The team would likely prefer to save cap space to try to sign Sam Reinhart, Victor Olofsson and Rasmus Dahlin to contract extensions.
The Sabres currently have the following forwards under contract next season, including the restricted free agents who received qualifying offers: Eichel, Skinner, Staal, Thompson, Reinhart, Olofsson, Girgensons, Casey Mittelstadt, Curtis Lazar while Dylan Cozens. Rasmus Asplund, Arttu Ruotsalainen and C.J. Smith will also compete for roster spots.
The defense may be set following the decision to qualify Brandon Montour, as the Sabres also have Dahlin, Jake McCabe, Rasmus Ristolainen, Colin Miller and Henri Jokiharju. Though Adams plans to be active in free agency, he would not reveal which positions he wants to upgrade.
How he goes about that plan will reveal more about this regime, including the possible influence of Krueger on personnel decisions and how analytics are used to identify players.
"We need to become a better team," said Adams. "So, as I've had conversations, I've not eliminated anything, because I say, 'Oh, we're fine here. We don't want to talk about this.' You know what I mean? If you just look at our team, yes, we have more right-shot D than left-shot D. Would we like to see something in our mix or how we can get the partners working together? Definitely, but what I've tried to be very careful in doing is I've had conversations and I'm working my way around the league and talking about options with other teams is not just boxing ourselves in and say, 'I'm looking for this and this is it.' "