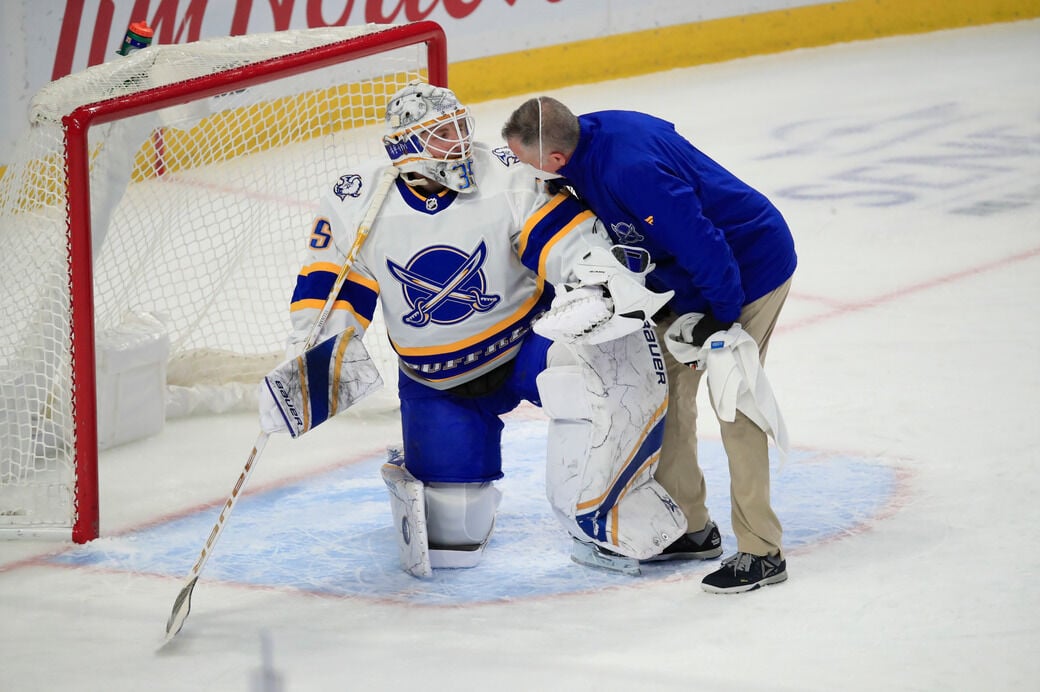 Linus Ullmark, the Buffalo Sabres' top goaltender, will join the team on the three-city, four-game road trip that begins Monday night in Madison Square Garden against the New York Rangers.
Ullmark, who has been out of the lineup with a lower-body injury since Feb. 25, will need to practice with the Sabres before he is available to play in a game, but traveling with the team is a sign that his return is near.
"At this point, we're planning on him joining us on the road trip, which is great news," said interim coach Don Granato. "We need to integrate him into practice at some point. That's the next step here. At that point, we can evaluate a potential return, so that's all good news with Linus."
With Jonas Johansson traded to Colorado, the Sabres' two healthy goalies on the active roster are Carter Hutton and Dustin Tokarski. Michael Houser, a 28-year-old whose pro experience is only at the minor-league level, was added to the taxi squad Sunday after receiving an NHL contract Friday.
Hutton, a 35-year-old pending unrestricted free agent, will likely be in goal Monday night. He has a 1-10-1 record and .885 save percentage across 12 games this season. 
The Sabres' next scheduled practice is Tuesday in Pittsburgh ahead of back-to-back games against the Penguins. The timeline may allow Hutton to start Wednesday, followed by Ullmark on Thursday. If not, the net could be Tokarski's.
Tokarski has not appeared in an NHL game since 2016-17. The 31-year-old is a two-time Calder Cup champion in the American Hockey League and joined the Sabres on a two-year contract in October. He has played only two games with the Rochester Americans this season.
Tokarski has appeared in 34 NHL games with Tampa Bay Lightning, Montreal Canadiens and Anaheim Ducks, compiling a 10-12-5 record and .904 save percentage. Upon Ullmark's return, Tokarski can go back to the taxi squad and Houser can be assigned to Rochester.
Prior to suffering the injury, Ullmark was again establishing himself as a reliable goaltender for the Sabres. He has a .919 save percentage and 2.44 goals-against average while posting a 5-4-2 record in 12 games.
In 12 games without Ullmark, the Sabres' two goalies – Hutton and Johansson – combined for the league's second-worst 5-on-5 save percentage (.881) during that span. Johansson, 25, was traded to the Avalanche on Saturday in exchange for a 2021 sixth-round draft pick.
Rookie forward Dylan Cozens, who has missed the past four games with an upper-body injury stemming from a hit by Pittsburgh Penguins winger Zach Aston-Reese, is expected to return to the Sabres' lineup Monday in New York.
Cozens has centered the Sabres' top line over the past two practices, skating alongside Taylor Hall and Sam Reinhart. Cozens, 20, had not skated with the team since he was driven into the boards by Aston-Reese on what teammate Victor Olofsson called a "dangerous" hit on March 11. Sabres defenseman Colin Miller came to Cozens' defense, fighting Aston-Reese in the 5-2 loss.
Cozens told the media Friday he's back to "100%" and was not a fan of the Aston-Reese hit.
"Back to the hit, I don't think it was too bad," said Cozens. "I think that falls under the definition of boarding, though. I just wasn't really expecting it. I think he was expecting me to lean into it a little bit. As you can see, he puts all his weight in it and falls over top of me. But I don't think it was too bad. I do think it was boarding. I mean, the way I went into the board from that distance, it's a dangerous hit. I mean, it's unnecessary and it's dangerous, but at the same time, he's just finishing his check. I mean, it is what it is."
In addition to adding Houser, the Sabres assigned forward Steven Fogarty to the taxi squad ahead of the road trip. Fogarty, 27, has five goals with three assists for eight points in 10 games with the Rochester Americans. Fogarty is the Amerks captain and has appeared in one game with the Sabres, logging 8:28 of ice time during a loss to the New York Islanders on Feb. 15.