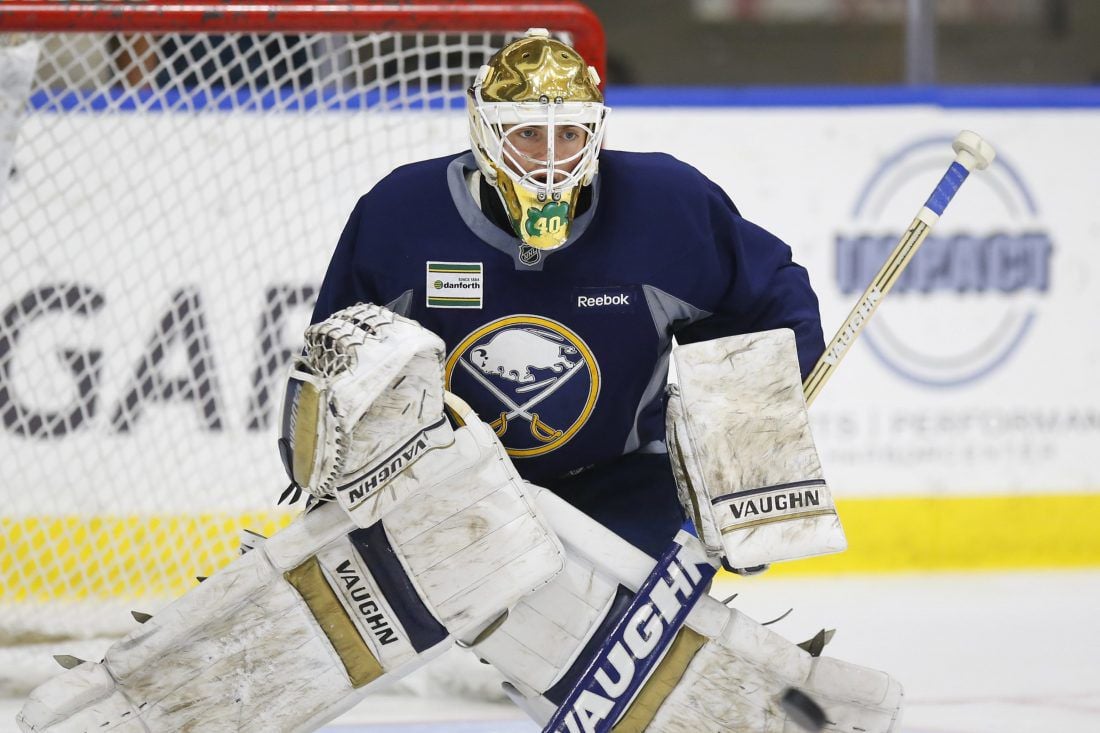 CHICAGO – Cal Petersen won't be coming to Buffalo.
The goaltending prospect who starred at Notre Dame will elect for free agency rather than sign with the Sabres. Buffalo drafted him in the fifth round in 2013.
"I don't believe he'll be signing with the Buffalo Sabres," General Manager Jason Botterill said Friday. "I've spoken to Cal. At this time, I think he's going to probably move to free agency, and we'll go from there."
Petersen declared his intention to turn pro last month, following a junior season that saw him go 23-12-5 with a .926 save percentage while leading Notre Dame to the Frozen Four. The Sabres had 30 days to sign him. Although the timeframe has not expired, Petersen will be free to sign with any club next week.
"Coming into it because I didn't pick him, there's always that possibility," Botterill said. "I enjoyed interacting with him. I think he's a very professional young man. I certainly wish him all the best in his career and stuff, but we always knew that was a possibility.
"Disappointed, but we'll move on."
Petersen was in line to be the starting goaltender in Rochester. The Sabres have Robin Lehner and Linus Ullmark for Buffalo, with rookie Jonas Johansson and Jason Kasdorf also in the organization.
The Sabres will need to find more goalies.
"We're going to continue to look at things," Botterill said. "We'll look at things at the NHL level. We'll look at things at the American Hockey League level, too. We have our development camp coming in a couple weeks, too, with some young players. We'll see how it all works out."
This is the second straight summer that Buffalo has lost a college prospect to free agency. Former GM Tim Murray traded a third-round pick to Nashville for the rights to Jimmy Vesey, but the forward went to free agency and signed with the New York Rangers.
Despite that option for college players, Botterill won't shy away from drafting them.
"It's always a possibility, but I still believe a lot in the college model and having players develop," said the University of Michigan product. "I think it's a great scenario. It's very good from a standpoint of the work ethic, the strength training, the pace of play for skaters.
"Overall, I think you still want to get the best player, then you've got to work on developing that relationship through your development staff over time. When it comes time, you hope they feel proud and want to be part of your organization."