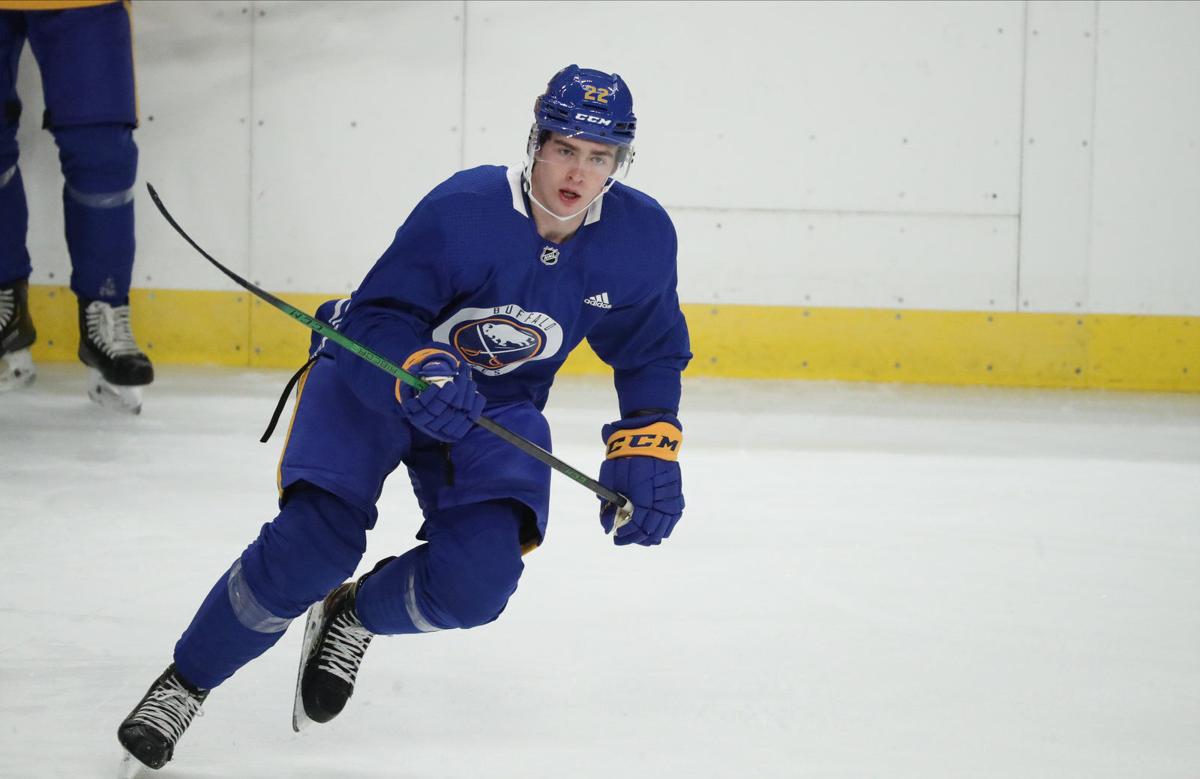 When the shots were getting stopped this season, and there was little space to make plays, Jack Quinn turned to video to try to solve the problem.
Quinn, a 19-year-old winger, had more time to score in the Ontario Hockey League. Defensemen were smaller and not as fast. Goalies weren't as quick in the crease, providing Quinn with an additional second to pick his spot and score using the slingshot-like release that helped him become the Buffalo Sabres' top draft choice in 2020.
As an unlikely member of the Rochester Americans, Quinn was facing professional goalies, most of whom could play in the NHL, and older, stronger defensemen. If it weren't for the Covid-19 pandemic, Quinn would have likely returned to the OHL's Ottawa 67's, with whom he scored 52 goals during his draft-eligible season in 2019-20.
Quinn sought to maximize the unprecedented development opportunity. He studied his and his opponents' tendencies to learn how to score at the next level. The results weren't what Quinn hoped. He totaled two goals and seven assists in 15 games with the Amerks. But Quinn left having a better understanding of what he needs to do to earn a spot on the Sabres' roster in 2021.
"I think it was a great experience," Quinn told The Buffalo News in a phone interview. "All the stuff I got to go through this year with playing pro hockey, kind of being around the NHL guys a bit and learning from them. But mainly, the biggest advantage was being able to play those games in the American League and getting used to pro and kind of challenging myself.
"It wasn't an easy year. It was tough. I struggled more than I wanted to and production-wise, but I think it helped me a lot in the long run. I think it helps me a lot going into this year."
Quinn wasn't sure where he would play this past season when he was selected by the Sabres with the No. 8 pick in October. The OHL was facing an uncertain start date and the Canadian Hockey League's player development agreement with the National Hockey League typically bars any athlete under 20 from competing in the AHL.
However, an exception was made because neither the OHL nor the Western Hockey League was launching a season anytime soon, clearing the way for Quinn to join the Amerks. But first, Quinn was selected to represent Canada at the IIHF World Junior Championship. Quinn, alongside Sabres center Dylan Cozens, helped Canada reach the gold medal game, where it lost to the United States, 2-0.
Quinn wasn't pleased with his production at the tournament, as he finished with one goal, five points and a plus-10 rating in seven games. The experience, though, prepared him for his short stint at training camp with the Sabres in January.
Quinn and Cozens were late arrivals, and on very different stages in their respective development. Cozens was one year removed from being drafted seventh overall and penciled in for an NHL roster spot, while Quinn was only there to soak in the experience before an assignment to Rochester.
Quinn had a remarkable few days in camp. His right-handed shot appeared to be NHL-ready. More important, Quinn showed the type of playmaking ability he was not given enough credit for during the predraft process. Following camp, he had a short stay on the Sabres' taxi squad, before he joined the Amerks.
"This was an opportunity to kind of shortcut the learning curve a bit," said Josh Wrobel, a Toronto-based skills coach who trains Quinn every offseason. "It was a good way for him to kind of get used to it a bit early. As far as games go, 15 games, a small sample size, but from what I saw, it was just getting used to that level. What we're trying to focus on this summer is just getting back to his strengths. What made him successful in juniors is he had a shooter's mentality.
"I didn't really see that as much this year. I don't know if it was just kind of adjusting to the pace of play, or kind of second-guessing himself a little bit. But I felt like there was times where he was passing up opportunities to use his shot to try to make an extra play."
Quinn concurred. He had only 25 shots on goal, a low number considering he was in a top-six role and received consistent time on the Amerks' power play. Quinn deferred to teammates too often, a change from how he attacked on the ice during his final season of junior hockey.
Quinn, though, remained a reliable presence in the defensive zone and improvement resulted in a new assignment. Despite not producing up to his standards on the wing, Quinn was asked to play center, beginning with an April 14 game against Cleveland.
Quinn had two assists with General Manager Kevyn Adams and Sabres owner Terry Pegula watching in Rochester's Blue Cross Arena. Versatility will only help Quinn in the long run, but it's unlikely this will be a permanent move.
"As a centerman, you have to be a little more responsible in the D-zone, and I thought it allowed me to use my hockey sense a little more," Quinn said. "In the D zone, to be able to make some reads and try to cut off plays and break out. As a winger, you don't do that as much. You're kind of covering an area. … I like the part of kind of having the middle of the ice to dictate the play. And as a center, you can kind of build your speed a little bit more since you start from lower in the zone, whereas the wingers are a little higher."
The season ended abruptly for Quinn, as the decision was made in April for him to undergo surgery on a bothersome hernia. Facing a six-week recovery in Buffalo, Quinn spent additional time around the Sabres, including the final days of the season under Don Granato, who was officially named head coach on June 29.
Quinn received an up-close look at the new style of play that produced promising results, particularly by the team's young forwards. Granato implemented an up-tempo system that allowed his players to create offense in transition. He was more interested in coaching to his players' strengths, rather than forcing them into roles not suited to their individual skills.
The six-week experiment by Granato brightened the outlook for the franchise, ushering in the next young core that will try to snap the Sabres' 10-year playoff drought. With Jack Eichel and Sam Reinhart possibly gone this offseason, Granato might have to hand more responsibility to Cozens (20 years old), Casey Mittelstadt (22), Rasmus Dahlin (21) and Tage Thompson (23), among others.
"Fully back" from surgery and already training with renowned strength coach Tony Greco in the Ottawa area, Quinn has begun preparing for training camp. In addition to on-ice training, he wants to add more strength to prepare for the grind of an 82-game season. 
His goal is to be part of the youth movement in Buffalo at the start of next season.
"I think it's exciting, that kind of a young core of great players you just mentioned, and I'm gonna do everything I can to try to be in that core, whether it's right off the bat or some point this season," said Quinn "Be a good player like those guys, and I think it's exciting that since we're all young we can build together and go from there. We're going to go the right direction and go up from there."