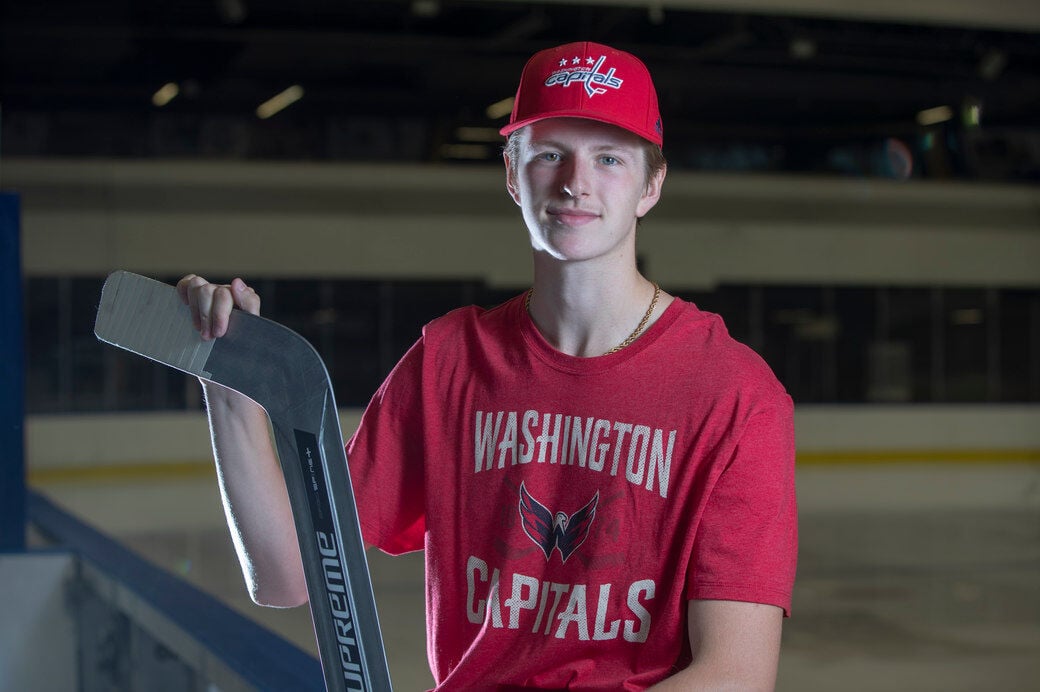 Chase Clark wasn't going to sit in front of a television and monitor each pick on Day 2 of the 2021 NHL Entry Draft.
The 19-year-old from Williamsville was ranked by NHL Central Scouting as the No. 23 North American goalie in the draft class, but he wasn't certain if his name would be called by one of the league's 32 teams. Rather than making July 24 a painstaking afternoon inside his family's home, Clark chose to take a bike ride.
Clark, a goalie, finished the regular season with an 18-2-1 record, three shutouts, a 1.92 goals against average and a .935 save percentage to help lead the Jersey Hitmen to the United States Premier Hockey League (USPHL) championship.
It's not in his nature to sit idle. When the 90-minute outdoor excursion was complete, and Clark arrived at home to watch the final rounds of the draft with his mother, Keri, a glance at the league's broadcast delivered the news.
Clark, a 6-foot-6, 202-pound goaltender and alumnus of the Buffalo Jr. Sabres, was drafted in the sixth round, No. 183 overall, by the Washington Capitals.
"It's a dream come true," Clark said during a recent phone interview with The Buffalo News.
It wasn't long ago that Clark was unsure where he would play last season. A concussion suffered during camp with the United States Hockey League's Omaha Lancers cost Clark a roster spot and forced him to find a new team. This led Clark to join the Jersey Hitmen of the National Collegiate Development Conference, where he proved to NHL scouts that he had the talent to be considered a future pro.
Fourteen goalies were drafted before the Capitals chose to use their sixth and final selection of the event on Clark, who did not have his name called during his first year of eligibility. Snubbed on draft day in October 2020, Clark was determined to be selected by an NHL team.
"That definitely fueled the fire for me," Clark said of going undrafted last year. "I wanted to prove everybody wrong and that I should be there."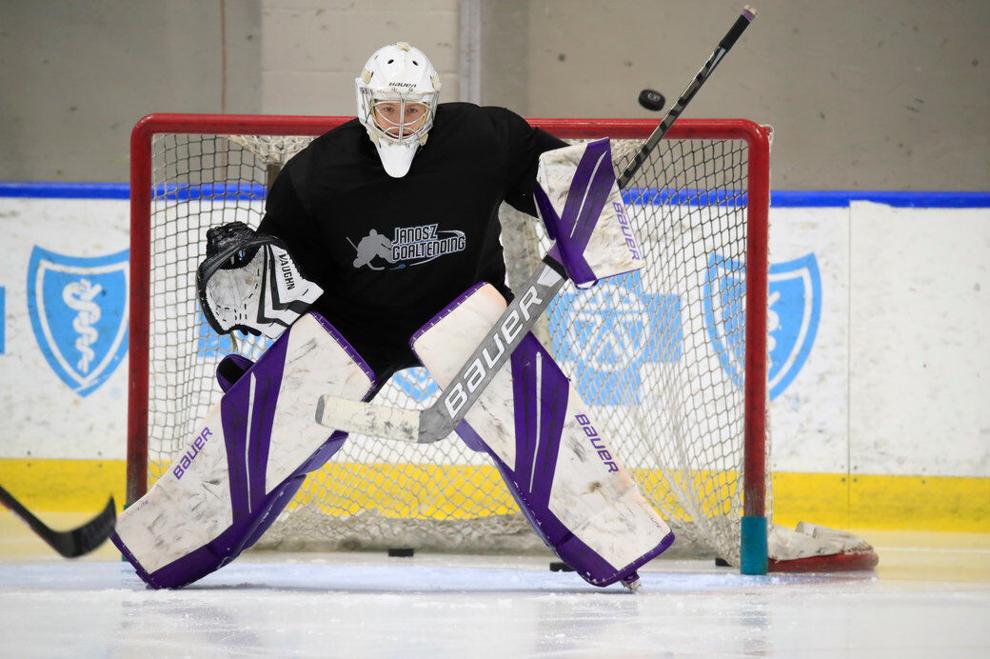 While Clark was an impressive prospect exiting his 2019-20 season with the Jr. Sabres, he grew almost two inches last summer. Height is always an advantage for a goaltending prospect, but Clark has a remarkable blend of size and athleticism.
Clark, though, needed to learn how to properly use his frame to take up space in the net. Sprawling stops aren't necessary as often if a goaltender understands what technical approach works best for him or her.
Longtime goalie coach Bob Janosz worked with many taller athletes while on staff with the Rochester Americans from 2006-17, including former Sabres goalie Linus Ullmark, whose development earned him a four-year, $20 million contract with the Boston Bruins. Clark, though, has tools that few possess.
"I give credit to Washington for making that pick; that's a great pick," Janosz said. "The league he played in was maybe underrated compared to major junior or the USHL. Chase showed he can be athletic. So, the next step is toning it down a little bit and playing with consistency. His fundamentals are great. He has great footwork for a 6-foot-6, 19-year-old. Sometimes, it takes guys longer because they're still growing into their body, but he's already fast and quick. That's huge. And he's just kind of started on this path, so he's only going to get better."
Last season, Clark had a .935 save percentage, 1.95 goals-against average and three shutouts during 22 games with Jersey. He played his best hockey in the postseason, stopping 49 of 51 shots to lead the Hitmen to the USPHL NCDC Dineen Cup Championship.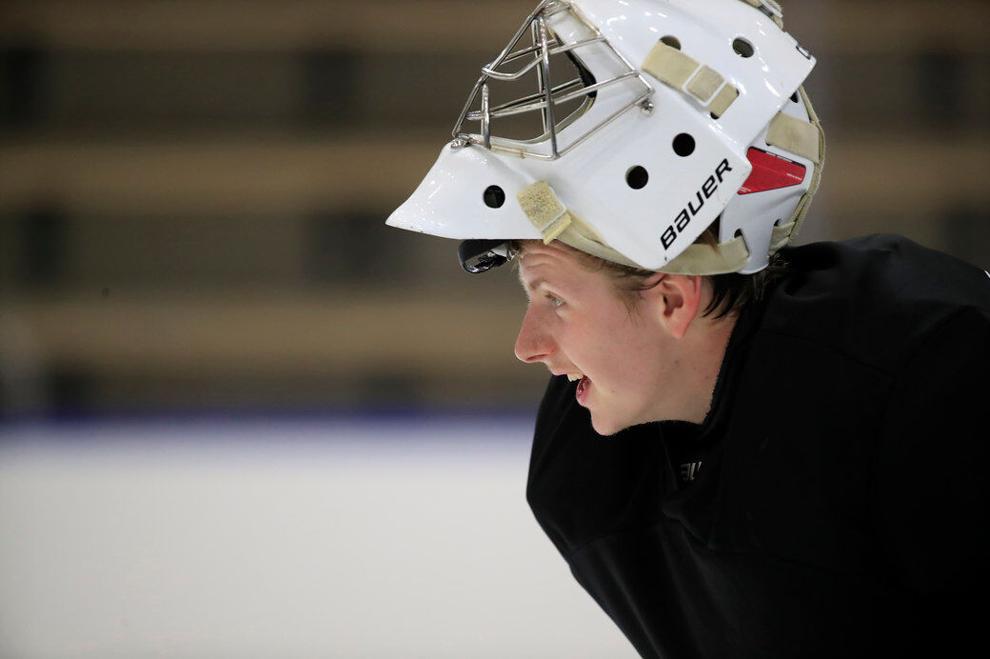 Clark then joined the USHL's Tri-City Storm, where he appeared in three games before the conclusion of the regular season. More importantly, Clark made significant progress in developing a plan on and off the ice, including a pregame routine and approach to nutrition. He explained that this led to more consistency in the crease last season.
Even a concussion in training camp, the result of a shot off the helmet during a routine breakaway drill, did not deter Clark.
"Yeah, it was definitely rough," Clark said. "Definitely getting agitated and stuff, but you know, just kind of realized it's a long road. This isn't good, but it's all about how you bounce back. I'm a strong believer in that. So, I knew I was going to find a way to make it."
Clark credited his parents, Keri and Doug, for teaching him the value of hard work, a trait he's had since an early age. When Clark joined the Hitmen, he embraced the team's professional-like routine, including a pair of three-hour practices on weekdays with games on the weekend.
Janosz recalled that Clark wanted to be around the rink so much at an early age that he wouldn't go home after his age group's on-ice session was done at a goalie camp. Clark would return in forward equipment and help younger goalies hone their craft. 
"To get to the next level, you have to love the game," Janosz said. "You can't just like it. He's always loved hockey and being at the rink."
Clark is expected to play for the Tri-City Storm next season, but in the meantime, he's training at LECOM Harborcenter and working out at goalie camps with Janosz. The news on draft day was only the latest step in his goal to reach the NHL.
"I wake up every day and I have one thing on my mind: hockey," Clark said. "For that to happen, I'm just speechless. I just can't believe it happened."
Paille joins Canisius coaching staff
Retired Sabres forward Daniel Paille was promoted to a full-time coaching role with Canisius College's hockey program Monday after working in a volunteer capacity with the Golden Griffins for the past two seasons.
Paille, 37, played 11 seasons in the NHL, including six with the Sabres, and retired from playing in 2018 after he suffered a concussion on a blindside hit while competing for his professional team, Brynas, in Sweden. A left wing drafted in the first round by Buffalo in 2002, Paille appeared in 582 regular-season games during his NHL career, totaling 85 goals and 172 points. He helped the Bruins reach the 2013 Stanley Cup Final, where they lost to the Chicago Blackhawks.