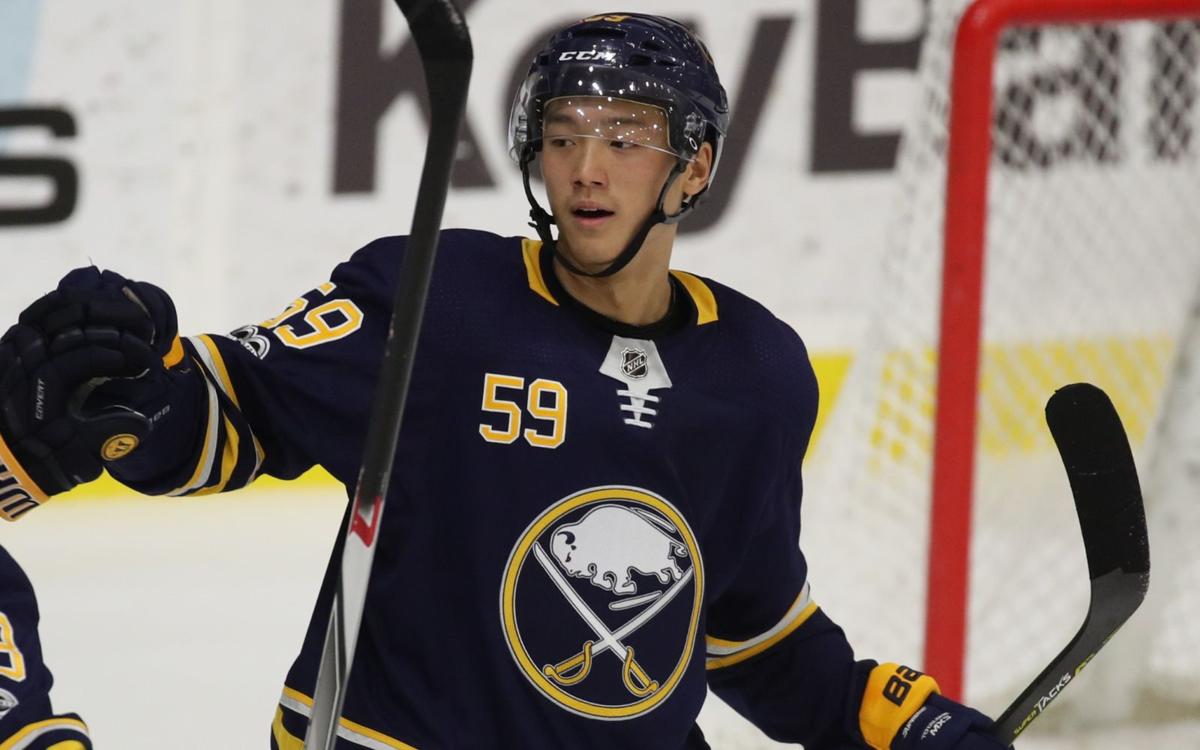 Longtime Sabres beat writer Bill Hoppe of BuffaloHockeyBeat.com, will be writing about Sabres prospects, the Rochester Americans and related topics this season.
ROCHESTER – When Jason Botterill informed Cliff Pu that the Buffalo Sabres had traded him, the general manager's message was short and a little vague.
"He just said, 'You got traded to the Carolina Hurricanes for an NHL player,'" Pu recalled Friday following his pro debut with the Charlotte Checkers, Carolina's AHL affiliate.
The deal on Aug. 2 surprised Pu so much, he never bothered asking which NHL player.
The Sabres, of course, had dished Pu and three draft picks for winger Jeff Skinner, a three-time 30-goal scorer.
"It's obviously pretty cool," Pu said of getting traded for the former Calder Trophy winner. "My buddies thought it was pretty cool because growing up, you know who Jeff Skinner is, he's had a pretty good career so far."
Still, neither Pu nor observers think of the deal as a Pu-for-Skinner swap.
"I don't really look at it as me for him," the speedy forward said. "I think Buffalo wanted him and Carolina wanted a prospect in that deal along with a pick, so lucky enough it was me."
Pu, 20, quickly developed into one of the Sabres' top prospects after they selected him in the third round in 2016, 69th overall.
In 2016-17, Pu morphed into one of junior hockey's top scorers, compiling 35 goals and 86 points in 63 games with the London Knights. Last season, he ended his Ontario Hockey League career by scoring 29 goals and 84 points in 65 appearances between the Knights and the Kingston Frontenacs.
By now, having been traded three times in four years, Pu has learned to embrace his new adventures. Naturally, the first time, when the Oshawa Generals dealt him to London, was difficult.
"I was upset, a 16-year-old, you think the team doesn't want you," he said. "But as you get older, you kind of understand the business of the game. Obviously, that prepared me well for both the next trades. Definitely the first one was probably the toughest on me, but the next two were just pure excitement."
Pu debuted this weekend against the Rochester Americans, going pointless against players and old friends he thought would be his teammates this season. Pu and the Checkers left with two victories.
"He's a high-talent guy, a lot of speed," Checkers coach Mike Vellucci said. "I know he's very skilled."
Pu impressed the Sabres so much in training camp last year they kept him longer than any junior prospect. He even played in some exhibition games.
At some point this season, he was expected to earn a look in Buffalo.
"I guess it was good I didn't really get to play any (regular-season) games there and stay there for too long," Pu said. "But I made a lot of pretty good friends there. … Sad to see us not being together anymore, but it's pro hockey, it's part of the business."
Pu said he will always be grateful to the Sabres.
"They were the organization that drafted me, gave me a chance to play, signed me to my first NHL contract," he said. "So, I mean, nothing but love for them and I wish them the best."
Amerks start 0-2
Amerks coach Chris Taylor said Friday's opener at Blue Cross Arena, a 6-2 defeat to Charlotte in which the Amerks allowed four straight goals after tying it, featured "mistakes I've never seen before."
"Our D jumping up out of nowhere," he said. "In the offensive zone we have it, all of a sudden, we have no one on our blue line. We're all trying to play offense. I think everyone was trying to be that person to add offense to our team and it backfired."
On Saturday, the Amerks allowed three second-period goals in a 4-2 loss.
"Every game can be a learning experience," said Zach Redmon. "It sucks to experience this right away as you would like to start off hot, but it's only two games. You don't want to get too down about it, but we know we have areas that we need to clean up."
Luukonen off to hot start
In his first four OHL games, Sabres goalie prospect Ukko-Pekka Luukkonen compiled a 4-0-0 record with a 1.73 goals-against average and a .945 save percentage with the Sudbury Wolves.
Among goalies with three or more appearances, the Finn's goals-against average ranked second and his save percentage third as of Saturday afternoon.
The Sabres drafted Luukkonen, 19, in the second round in 2017, 54th overall. The Wolves selected him third overall in the Canadian Hockey League Import Draft.