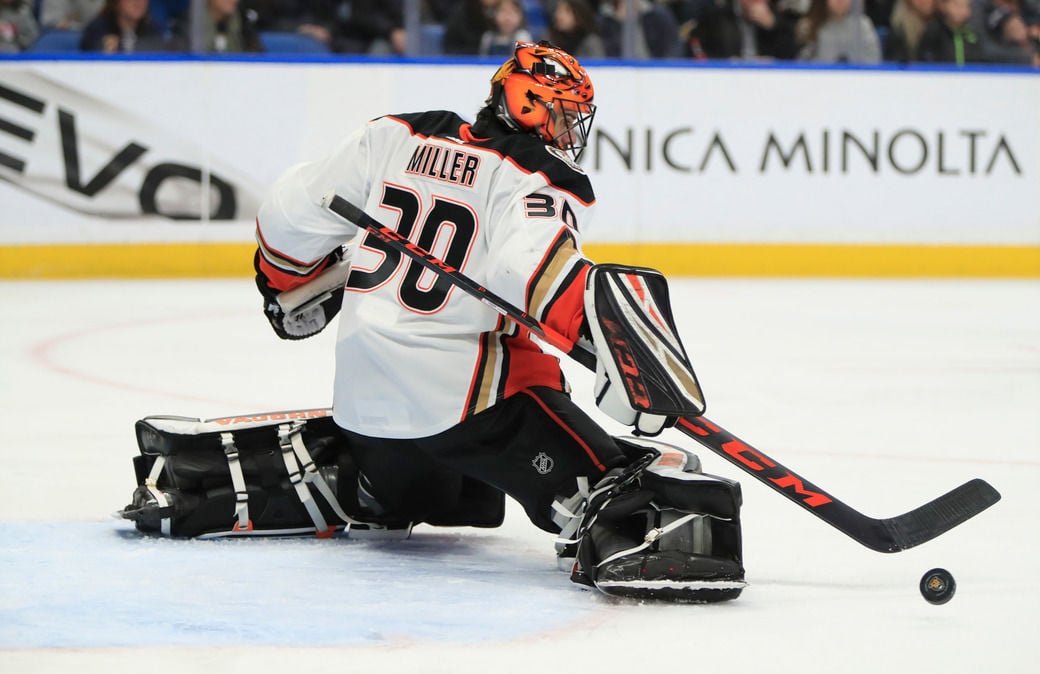 Former Sabres goalie Ryan Miller is using the treasures he unearthed while cleaning out his attic to help with coronavirus relief in Buffalo and Orange County, Calif.
Miller announced on his Instagram account Monday night that he will be auctioning off items, including equipment worn in games during his 17-year career, through his charity, the Steadfast Foundation, to raise funds for three organizations: FeedMore WNY, the Buffalo Police Athletic League and Second Harvest Food Bank of Orange County.
Miller played parts of 11 seasons with the Sabres, two of which resulted in an Eastern Conference finals appearance, from 2002-14, and he has been with the Anaheim Ducks since 2017. However, he and his wife, Noureen DeWulf, have lived in Southern California for the past 10 years.
Miller, 39, created an Instagram account shortly after the National Hockey League suspended its season March 12, and has used the social-media platform to interact with fans. He recently posted an image documenting the game-worn leg pads, blockers and gloves that he discovered while cleaning out his attic.
According to Miller's post Monday night, he is in the process of posting items for the auction on his charity's website. He started the Steadfast Foundation in 2006 to benefit people battling cancer, especially those with childhood forms of the disease.
"I had a great time in Buffalo; it's a huge part of my life," Miller said before the Ducks hosted the Sabres in October. "People in Buffalo had a huge impact on my life, from the people I saw at the grocery store to people at the rink every single day. I felt fully a part of the community and fully a part of the organization for a long time. It was and still is a sad day that it wasn't quite working out to where I was going to be in the plans for Buffalo. Accepting that people change and situations change and you move forward in life. I still look back and think about how great it was to be a Buffalo Sabre and I still have a big piece of my heart that feels that way. ...
"Looking back on it, I was blessed to get drafted by Buffalo and be with an organization that really put time into the players and a city that really respected the type of work you did on the ice and put it out there for them."
Miller, a fifth-round draft pick of the Sabres in 1999, ranks second in career games played (281) and first in regular-season wins (387) among all U.S.-born goalies, trailing only John Vanbiesbrouck. Miller also owns Sabres goaltending records in games played (540) and wins (284).
He made his NHL debut in a 4-1 loss at New Jersey in November 2002 and entrenched himself as the starter in 2005-06, the first of the Sabres' consecutive appearances in the Eastern Conference Finals. Miller was awarded the Vezina Trophy in 2009-10 and posted a .917 save percentage in 47 career playoff games with Buffalo.