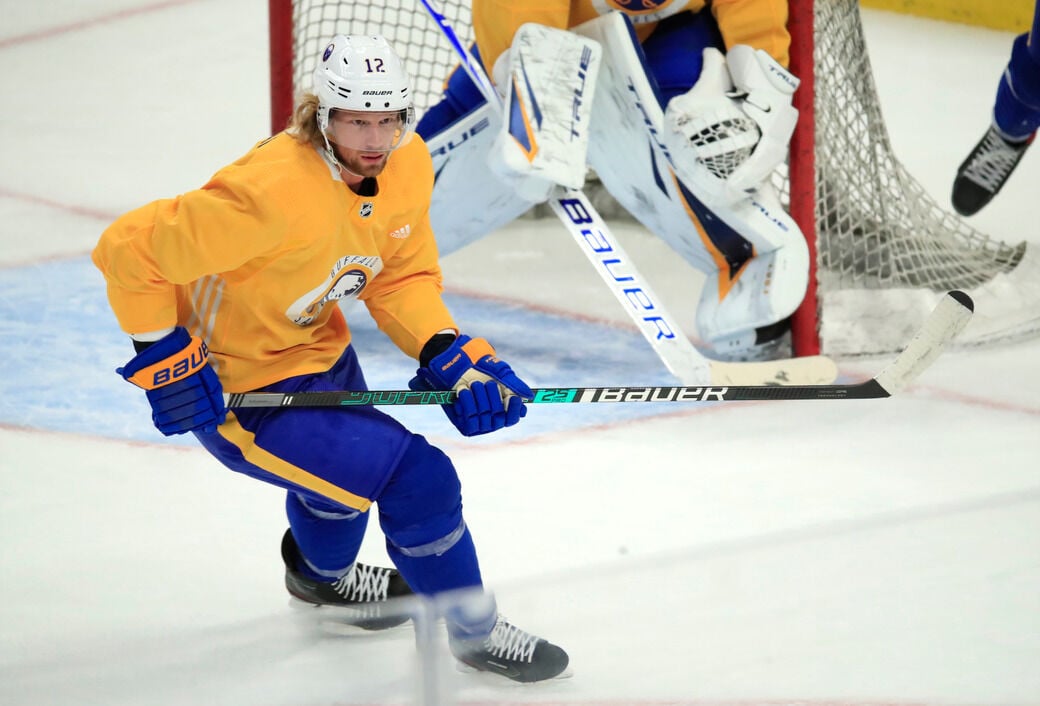 Oddsmakers have not provided a promising forecast for the Buffalo Sabres during this 56-game season.
The Sabres will play the same seven East Division opponents eight times apiece: Boston, New Jersey, the New York Islanders, the New York Rangers, Pittsburgh, Philadelphia and Washington.
It is unquestionably the most difficult division during this unprecedented sprint to the Stanley Cup Playoffs. The Buffalo News' Mike Harrington and Lance Lysowski predict whether the Sabres will snap their nine-year playoff drought:
Until Terry Pegula bought the team in 2011, the Sabres had never gone more than three years without making the playoffs. It's hard to accept what's happened, Harrington says.
If we can't see playoff games here, we have to see fun. I think the Sabres can at least provide more of that this year than in previous seasons.
There will be goals, probably more than any year we've seen since Jack Eichel arrived. Legitimate NHL veterans Taylor Hall and Eric Staal are here. So is a future franchise cornerstone in Dylan Cozens.
Goaltending is an obvious issue that we have to see improve. The bigger one is the East Division. Which big-name team(s) are the Sabres going to finish in front of to make the playoffs? Can't see any frankly. They might only finish in front of New Jersey. Whereas they would have pushed for the playoffs in the old Atlantic setup, this is unfortunately going to have to be a transition season for first-year GM Kevyn Adams. Too tough a schedule. Call it 23-27-6 for 52 points.
While all the unknowns may make predictions futile, what's clear is coach Ralph Krueger's roster now is better than the one he had last fall.
Any doubts about Kevyn Adams' qualifications as general manager should have been erased with a promising offseason that had the Sabres acquire Eric Staal – the second-line center this team has needed since Ryan O'Reilly's departure – and sign the top available free agent in former Hart Trophy winner Taylor Hall.
Finally, the Sabres have a strong supporting cast for Jack Eichel, and Ralph Krueger may be able to use four lines that are capable of scoring. In addition to the prolific pairing of Eichel and Hall on the top line, the Sabres have Jeff Skinner, Sam Reinhart, Victor Olofsson and a wave of promising young players, most notably Tage Thompson and Dylan Cozens.
Goal prevention is the reason why I'm predicting the Sabres to miss the playoffs. Zemgus Girgensons is injured, Johan Larsson left in free agency and four of the top-six defensemen are right-handed. The logjam will force someone, likely Colin Miller, to play out of position. Additionally, there is a notable question mark in goal, given that neither Linus Ullmark nor Carter Hutton have been the starter for a playoff team. Considering the strength of the East Division, I have the Sabres finishing sixth, two spots out of the postseason, with a 26-24-6 record for 58 points.