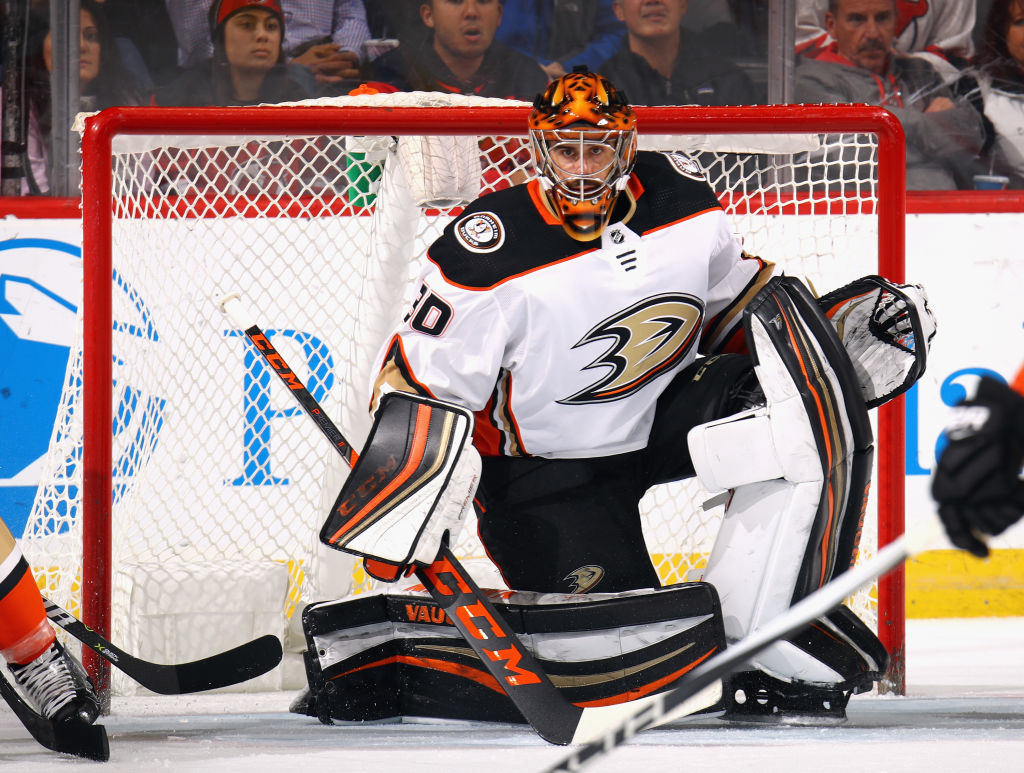 ANAHEIM – The Buffalo Sabres wrap up their longest West Coast trip since 2004 when they head to the Pond for a game Sunday night against the Anaheim Ducks in Honda Center. It's an 8 p.m. Eastern time start on MSG and WGR Radio 550.
Because of the 5 p.m. local start, there was no morning skate. During his pregame briefing, coach Phil Housley said Carter Hutton will be in goal tonight in the Sabres' planned rotation for their first back-to-back set of the season. Ullmark came within eight minutes of his second straight shutout in Saturday's 5-1 win at Los Angeles.
Here are Five Things to Know about tonight's game:
1. Wrapping up the road trip: The Sabres are 4-4 overall and 2-2 on this Western trip. It's been a long 10 days with wild swings of emotions from the wins in Arizona and Los Angeles to the terrible power-play issues in Vegas and San Jose. To come home with six points would certainly be big; an overtime or shootout loss would ensure a .500 record on the trip, which the coaching staff or virtually any fan would have signed up for when the schedule was released in June.
3. Miller Time: It's expected that old friend Ryan Miller will make his third appearance and second start of the year for the Ducks tonight against the Sabres. Miller is 1-0 with a 1.52 goals-against average and .946 save percentage thus far. In his only start, he stopped 29 of 31 shots in last Sunday's 3-2 win at St. Louis.
In his debut with Anaheim last season, Miller resurrected his career by going 12-6-6 record with four shutouts/2.35/.928 in 28 games. He is one win from tying Andy Moog (372) for 17th on the all-time wins list for NHL goaltenders and three wins shy of John Vanbiesbrouck (374) for the all-time lead among U.S.-born netminders. Miller is the Sabres' all-time leader in games (540) and wins (284)
4. Shoot the puck: That has to be the Sabres' mantra in this game, even more so than usual. The Ducks enter the game last in the NHL in shots per game at just 23.3, last in shots allowed at 37.0 and last in shot differential at minus-13.7. Next in the list is Ottawa, at only minus-8.8.
How good has Ducks starting goalie John Gibson been? He's the reason Anaheim is 5-2-1 overall and 2-0-1 at home. Jack Eichel's Team North America teammate is 4-2-1 with a 1.91 goals-against average and .949 save percentage. He's faced the most shots in the league (257) and made the most saves (244). Among goalies with at least five starts, he's third in GAA and the leader in save percentage.
Anaheim was outshot, 45-18, in Saturday night's 3-1 loss at Vegas, with Gibson stopping 42 of 44 shots before the Ducks gave up an empty-net goal. It's the fourth time in eight games Anaheim has been outshot by 18 or more.
5. Numbers games: The Sabres are in Anaheim on a back-to-back for the third straight season and won the previous two games here. It took a 10-round shootout to win in 2016-2017 and Housley's first NHL coaching win came here last October, a 3-1 victory that ended an 0-4-1 slide to start the year. ... Buffalo has not won a back-to-back in LA and Anaheim since 2003.  ... This is the first of Buffalo's 16 sets of back-to-backs this season. ... The Sabres have not won three straight in Honda Center since winning six in a row from Jan. 7, 1998-Oct. 24, 2003. ... The new top line of Jeff Skinner, Jack Eichel and Jason Pominville combined for nine points and a plus-11 rating Saturday at Los Angeles. ... Pominville's three points yesterday got him to 700 for his career; he's three shy of becoming the 10th player to get 500 for the Sabres.
Be the first to know
Get local news delivered to your inbox!