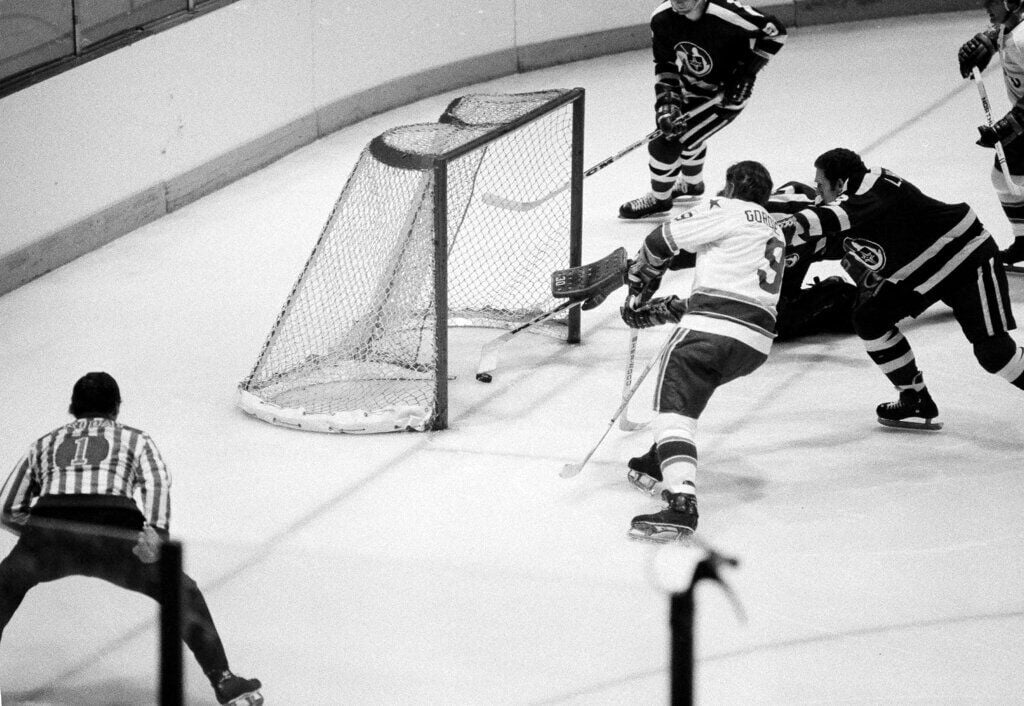 Larry Hillman is a member of a club of just 11 players who skated for both the Buffalo Sabres and the Buffalo Bisons. That alone should make him a fan favorite hereabouts. But there's even more to love about him.
• Hillman, 84, is the youngest ever to have his name etched on the Stanley Cup. He was two months past his 18th birthday when he won his first Cup with the Detroit Red Wings, in 1955. (It's a record that can't be broken, because today's players must be 18 by Sept. 15 in order to play in the NHL.)
• He once had a golden retriever named Sabre, a gift from his friend Paul Wieland, the Sabres' erstwhile public relations director.
• And he put the Hillman Hex on the Toronto Maple Leafs after their 1967 Stanley Cup triumph. You might have noticed they haven't won one since.
Mark Twain had thoughts about thunder.
That's 54 years, and counting. Hillman lifted his hex after 50 years, but the Leafs still haven't lifted the Cup. This was supposed to be the year, of course, but this week they lost Game 7 of their first-round series to the Montreal Canadiens.
Punch Imlach was the general manager who led the Leafs to four Stanley Cups in the 1960s – and who, in 1970, became the original GM and coach of the Sabres. The Hillman Hex came after an epic contract standoff between Hillman and Imlach following the Leafs' 1967 Cup title. Hillman, a defenseman, paired with future Sabres coach Marcel Pronovost in those playoffs, and in 12 playoff games the two were on the ice for one even-strength goal.
Hillman thought that earned him the right to a raise. He was making $15,000 (about $120,000 in today's dollars) and wanted $20,000. Imlach offered $19,000. Hillman said no. Imlach raised the offer at the 11th hour to $19,500. Hillman still said no. And what happened next is Toronto legend.
Imlach fined Hillman $100 a day. He rejoined the team after 24 days – and would later proclaim that until the Leafs repaid his $2,400 fine, they would never win another Stanley Cup.
"Someone asked me after 35 years, 'Isn't that long enough?' " Hillman says. "And I said, 'No, 50 years sounds like a nice round figure.' And I took it off at 50."
Canisius High School won its first Georgetown Cup 50 years ago today.
Brendan Shanahan was named president of the Leafs in 2014. He set about repairing rifts with some of the Leafs of the 1960s – notably Hall of Famer Dave Keon – when the team celebrated the 50th anniversary of its last Stanley Cup. That's when Shanahan had the Leafs cut a check for Hillman: $2,400 – plus interest.
How much did a half-century of interest come to? Hillman would rather not say.
"I used the money to put in a 40-foot dock, with a ladder and the works, on the lake at our summer cottage," he says. "I'll leave it at that."
Hillman lives in northern Ontario, an hour or so from where he was born, at Kirkland Lake. He and his wife Liz live in a townhouse on Lake Timiskaming and also have that cottage with the dock 20 minutes away on a tiny spring-fed lake. And his daughter lives in a home he bought in the mid-1960s on nine acres in Vineland, Ont., 10 miles from St. Catharines. He got it when he was playing for the Leafs and shuttling between Toronto and the farm club in Rochester.
Hillman left the Leafs for the expansion Minnesota North Stars after that bitter 1967-68 season, won his sixth Stanley Cup with the Canadiens in 1969, then played for the Philadelphia Flyers and Los Angeles Kings before coming to Buffalo.
And guess who traded for him. None other than Imlach, his old nemesis, who wanted Hillman to provide veteran leadership for the young Sabres. The four-man trade – Doug Barrie and Mike Keeler for Hillman and Mike Byers – came on Dec. 16, 1971. It'll soon be 50 years ago.
Reigstad is a long-time Buffalo baseball fan. And he has the receipts to prove it – in the form of ticket stubs and game programs and newspaper clippings all lovingly saved in manila folders.
"I was out in Los Angeles, and Punch brought me back to the Niagara peninsula, where I owned property," Hillman says. "I was at the end of my career, but he knew what I could do on the ice. I was very happy to come to Buffalo. It was ideal for me. My brother Wayne was playing with the New York Rangers at the time, and he had a place in Fort Erie if I didn't want to go all the way back to Vineland."
Hillman played 43 games for the Sabres in the 1971-72 season and 78 in the 1972-73 season, then left for the Cleveland Crusaders of the World Hockey Association, where he played with his brother Wayne. Next came the Winnipeg Jets, where he won the Avco World Trophy – the WHA's Stanley Cup knockoff – as a player in 1976 and as head coach in 1978.
"I had a contract dispute with Winnipeg as a player," Hillman says. "Then they turned around and said if I dropped my lawsuit they would hire me as the coach. But that's a long story, too."
He rooted for the Leafs against the Canadiens in the first round of these playoffs. Why not? The hex is off, and he won four Stanley Cups in Toronto and just one in Montreal. Now he is rooting for the Jets against the Canadiens in the second round. It's nothing against Montreal, mind you.
"When I won the Stanley Cup there, I was the first player to win Cups with three different organizations: Detroit, Toronto and Montreal," Hillman says. "So I made some history. I had an interesting career."
Including his season-and-a-half with the Sabres.
"I enjoyed my time in Buffalo. The only reason I left was because the WHA was doubling my salary."
And Punch Imlach, well, he was not about to do that.