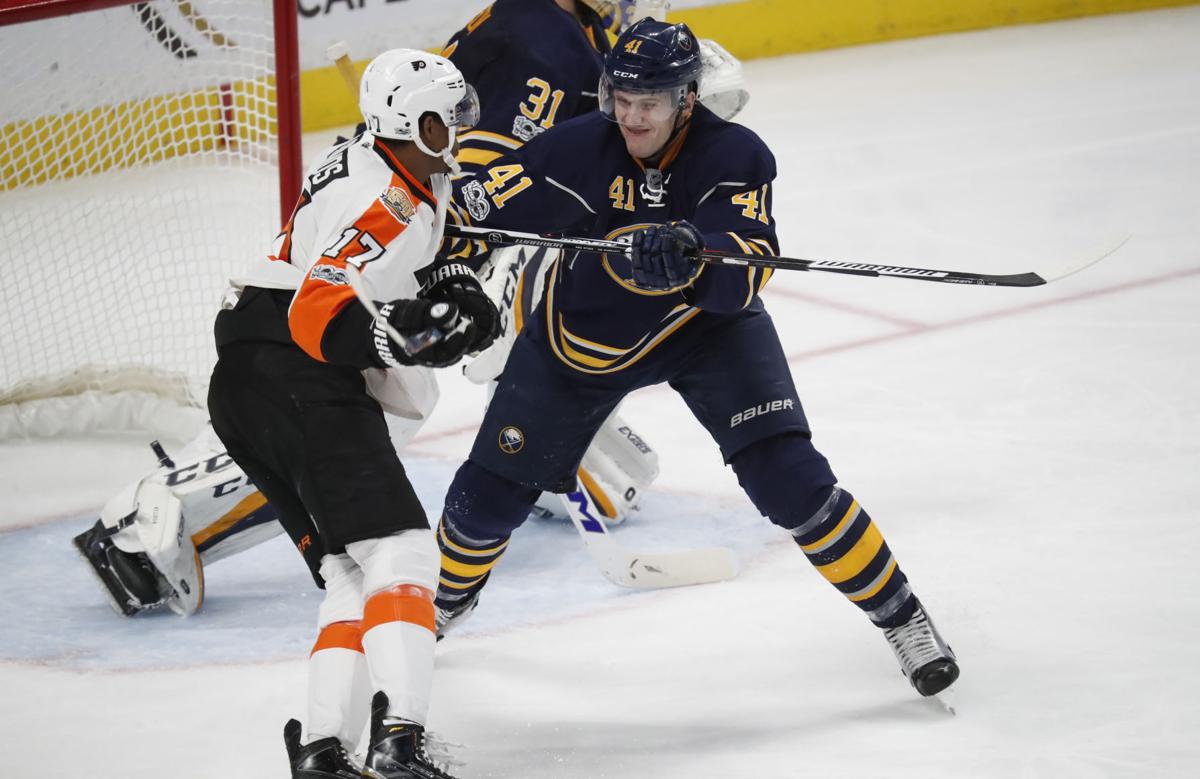 On the surface, it felt as if the practice fell apart at the seams.
But upon closer examination, the emotional altercation during a five-on-five drill may be just what the Buffalo Sabres need. If nothing else, it shows while the team is in last place in the Eastern Conference, there's still a pulse to the roster.
A shoving and shouting match between Evander Kane and Justin Falk was the climax of an intense and interesting 35 minutes on the ice at KeyBank Center Wednesday morning.
"Well, it's good to see some emotion," Sabres coach Phil Housley said. "It was a battle practice out there focusing on some areas we need to improve on. Tempers flared up but it was more about being in the heat of the battle and guys being frustrated with where we are and sometimes emotions get high."
Tempers flared when Kane and Falk were battling in front of the net. Kane yelled to Falk to keep his stick down. There were some verbal exchanges. And then Falk went off on a rant. He shoved Kane and was directed away by other players, all the time shouting phrases that echoed throughout KeyBank Center, including calling Kane selfish, combined with some choice words.
"I really don't think it's that big of a deal as you guys are maybe making it out to be," Kane said after practice. "It happens more often than maybe you guys see. Like I said, it was a just a battle of one play."
And of that particular battle on that particular play?
"We'll leave what I said on the ice between us and the team," Kane said.
Falk was curt with the media when he came off the ice, clearly still riled up from the incident.
"Just spur of the moment. Emotions running high. This time of year, where we're at," Falk said. "Personally everyone's got a different situation they're in. Just in the heat of the moment it boiled over."
The Sabres situation is pretty grim from a results standpoint – just 10 wins with half the season gone. Their latest setback is an embarrassing 7-4 loss to the Winnipeg Jets on Tuesday with the Columbus Blue Jackets on the schedule for 7 p.m. Thursday.
Falk is in his second season with the Sabres and has been a healthy scratch three of the last four games.
He can't speak to Tuesday's loss, since he didn't play, but he can speak to the emotion needed in practice.
"To be honest with you, more stuff like that is probably what we need to get us going here, to get guys a bit more passionate," Falk said. "It's not the first time it's happened by any means with any team I've been on. Quite honestly, I think it's healthy. You're pushing each other. You're honest with each other. You're up front with each other. There's no BS behind anything."
The emotion and the passion is something the Sabres have lacked for the last number of years. And oddly enough, the profanity-laced rant offered by Falk may be a sign not just that players have hit their frustration limit, but are now emotionally invested in figuring out what's gone wrong.
"Yeah there's been some frustration from different guys at different times," said Jason Pominville said. "I think everyone wants to do well but until we go out there and do it, we're (just) saying all the right things, but we've got to do it. It's everyone. It's not one individual. It's from top to bottom. It's understanding the details that it takes on a daily basis to win games. Yeah, the result of it is games but it starts with practice and habits in practice."
Those habits come from hard work and hard work means pushing your teammates, which often leads to some heated confrontations.
"It's natural. You've seen it before," Pominville said of the incident between Kane and Falk. "Guys are battling. There's anger. There's frustration. Guys are competing and working hard. Usually when people work hard, you'll see that more often. I like seeing that today. It's good. You don't want it to get to a point where guys are fighting and stuff like that but if it has to happen it happens. But it starts with competing and working hard and if guys aren't happy about it, well then, what can you do?"