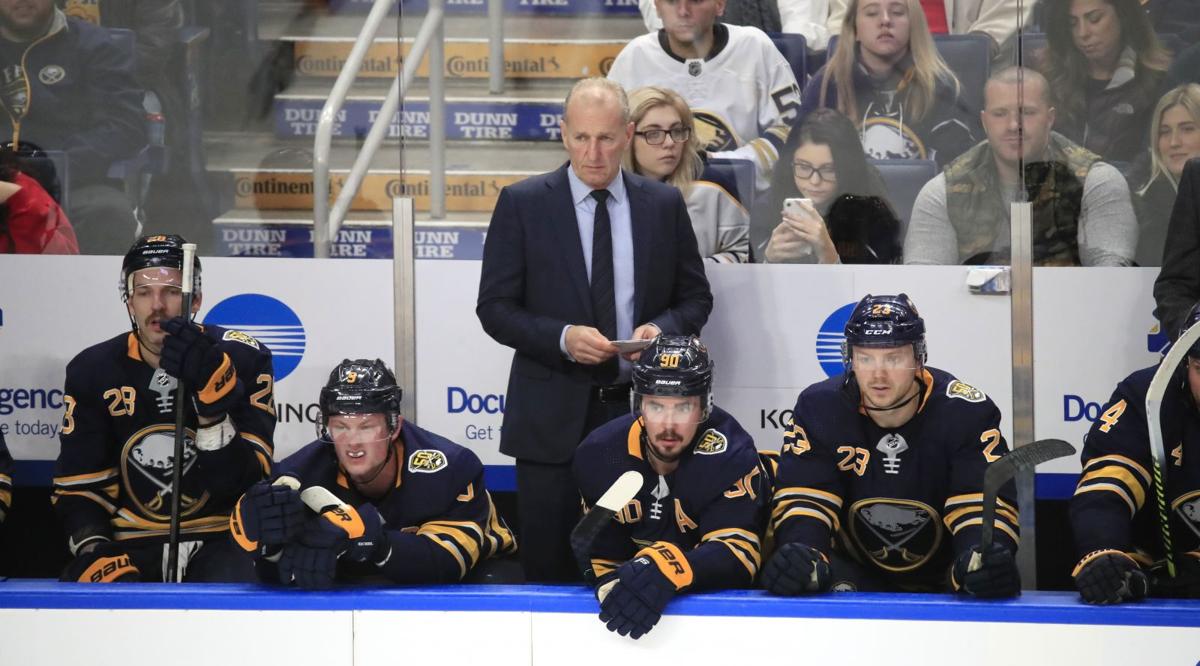 On a day in which Ralph Krueger might have gained additional influence within the Buffalo Sabres, he assured reporters during a Zoom conference call that he is focused on fulfilling his responsibility as the team's coach.
"I signed on here as the head coach of the Buffalo Sabres, and I'm very proud to continue," Krueger said June 16, when owners Terry Pegula and Kim Pegula fired General Manager Jason Botterill and 21 other hockey operations employees.
However, Botterill's replacement, Kevyn Adams, has told reporters he will consult with Krueger on how the roster will be shaped this offseason. Krueger, 60, hand-picked his roster during his 13 years as coach of the Swiss national team and has a vision for the type of players he wants.
For example, Krueger values defensively responsible forwards such as Vladimir Sobotka. If Krueger has influence over personnel decisions, which players will benefit? Which could be gone during the Sabres' long offseason?
"My role in this club is very clearly from the first day to be the best possible head coach I can be," added Krueger. "I'm still not there. I have to improve myself first, but I look forward to attacking all these different levels of sports challenges with Kevyn when it comes to the management side in the future."
Colin Miller
Miller, a 27-year-old defenseman, was unable to earn a prominent role after he was acquired from Vegas last June, and it's fair to wonder if he'll be on the roster next season.
After a strong start to his first season with the Sabres, Miller was a healthy scratch in 16 of 32 games from Nov. 14 through Jan. 18. He appeared in 51 of a possible 69 games, scoring one goal and totaling 10 assists with a minus-9 rating.
Krueger explained to reporters that Miller was struggling to adapt to the Sabres' system in the defensive zone. The team needs to approach the situation with caution, though.
Miller was one of their top defensemen over the final six weeks of the season and proved to be a capable partner for Rasmus Dahlin.
Over the final 19 games, Miller ranked first among all Sabres defensemen in expected goals-for percentage, expected goals for per 60 minutes and third in expected goals against per 60 minutes. 
Adams would not have a problem finding a suitor for Miller, who has 30 games of playoff experience and a reasonable $3.875 million average annual salary over the next two seasons.
Brandon Montour
Montour's elite skating ability made him a perfect fit for former coach Phil Housley's system when the Sabres acquired the defenseman from Anaheim for a first-round draft pick and prospect Brendan Guhle in February 2019.
Montour, though, never seemed to fit with the Sabres under Krueger, whose system prevents defensemen from carrying the puck into the offensive zone. It's also difficult to gauge how much Montour was impacted by difficult circumstances this season.
The 26-year-old missed the start of the season after suffering a thumb injury during the team's second preseason game and the surplus on the blue line forced the right-handed Montour to play on the left side.
The result was an ugly season with and without the puck. Montour had only five goals with 13 assists in 54 games, while logging a negative-1 goals against replacement, which measures a player's value on the basis of goals scored for and against when a player is on the ice.
The pending restricted free agent should not receive much of a raise if he opts for arbitration – Evolving Hockey predicts a $4.08 million average annual value if the salary cap is approximately $81.5 million next season – and the depth chart on the blue line isn't as strong following the departure of Lawrence Pilut.
Zemgus Girgensons and Johan Larsson
Krueger did not hide his admiration for Girgensons and Larsson, who are pending unrestricted free agents. They worked with Kyle Okposo to form one of the most effective checking lines in the league. According to Evolving Hockey, among forward lines to play at least 400 minutes together, the Larsson-Girgensons-Okposo trio ranked second in expected goals allowed per 60 minutes, a measurement of shot quality against.
Larsson also ranked second on the team in goals above replacement (7.6) and faceoffs taken (669), while he totaled a career-high 18 points in 62 games. Girgensons, a first-round draft pick in 2014, scored 12 goals, his highest total since 2014-15, and averaged his most ice time per game (13:58) since 2015-16.
If Krueger has his say, Buffalo will likely move swiftly to retain Larsson and Girgensons.
Casey Mittelstadt and Dylan Cozens
Botterill was willing to let prospects such as Mittelstadt and Tage Thompson learn on the job with the Sabres. Krueger isn't as patient – he routinely cuts playing time for any player struggling during a game – and it's possible this new regime will want Mittelstadt and Cozens to develop elsewhere.
Neither Adams nor Krueger is tied to Mittelstadt, the first player selected by Botterill at the 2017 draft. Mittelstadt, 21, earned valuable experience in Rochester by playing 36 games with the Amerks this season. He totaled only nine goals with 16 assists while playing in every situation, but questions remain whether he is strong enough defensively to play center in the NHL. Mittelstadt will need a strong camp to avoid being assigned to Rochester, where the organization is expected to implement a new development model.
It's also unclear where Cozens will play next season. He's probably too advanced to return to Lethbridge – the 19-year-old totaled 38 goals with 47 assists in 51 games this season – but Canadian Hockey League rules prevent him from competing in Rochester before his 20th birthday.
Ideally, Cozens would immediately produce offensively and defensively at the level expected of a second-line center. However, he still needs to add strength during this long offseason and his play without the puck needs to improve if he's going to play for Krueger.
Vladimir Sobotka
If Larsson and/or Girgensons opt for a fresh start elsewhere, the Sabres could attempt to re-sign Sobotka, who suffered a season-ending knee injury in November while playing on a line with Jeff Skinner and Marcus Johansson.
Sobotka should come cheap, an important trait when assessing which players the Sabres could retain, and quickly became a favorite of Krueger's this season.
Sobotka, a 32-year-old pending unrestricted free agent, can play center or wing and excels on the penalty kill, but he brings little offensively. He has totaled six goals, 10 assists and a minus-18 rating in 85 games since he was acquired from St. Louis as part of the Ryan O'Reilly trade.
Rasmus Ristolainen
Few Sabres have been lauded by Krueger as much as Ristolainen. During the Zoom call last month, Krueger referred to Ristolainen as a member of the team's core and expressed a desire to coach the 25-year-old defenseman next season.
Krueger and assistant coach Steve Smith, who is responsible for the team's defensemen, noted this season that Ristolainen emerged as a leader in the dressing room. They added that Ristolainen also improved the nuances of playing defense, such as stick positioning around his own net.
However, Ristolainen did not make much of an impact offensively at 5 on 5 and continued to post concerning defensive metrics. He also totaled his fewest points (33) and average ice time per game (22:48) since 2014-15. The latter did not lead to an overall better performance, as the Sabres continued to allow too many high-danger scoring chances while Ristolainen was on the ice.
Ristolainen will count $5.4 million against the salary cap over the next two seasons. It's difficult to envision him playing elsewhere in 2020-21.
Be the first to know
Get local news delivered to your inbox!