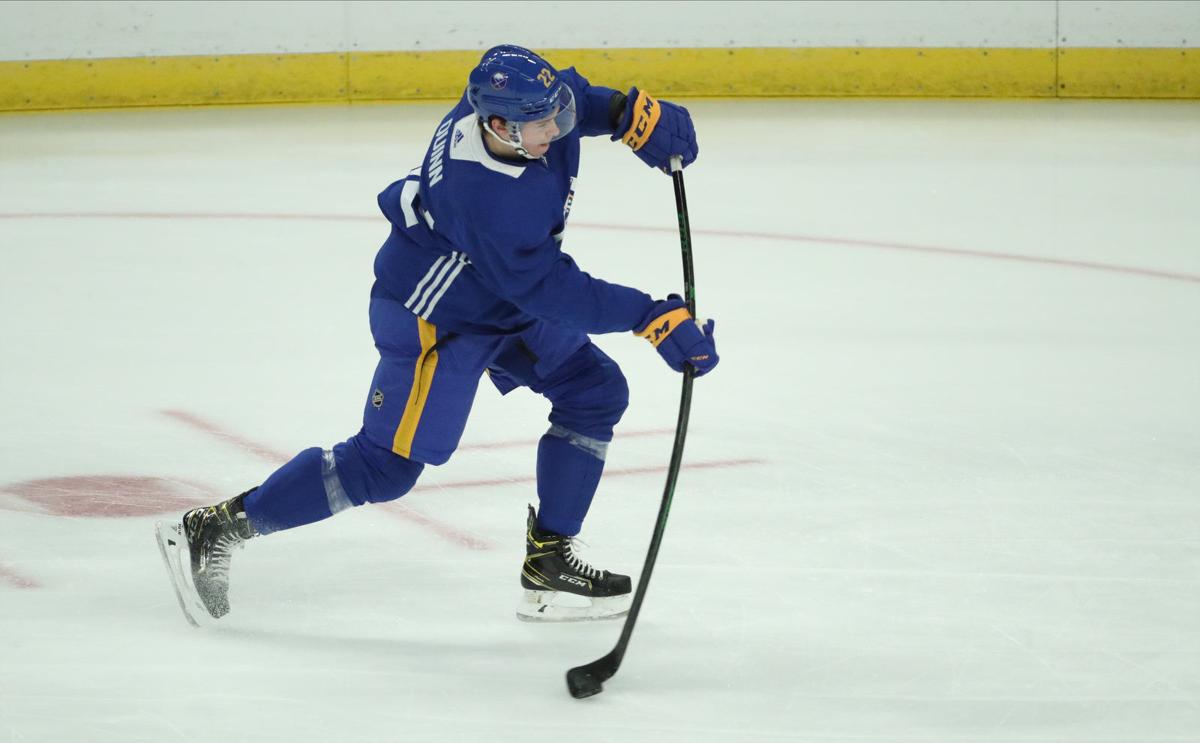 As the Sabres' second practice session concluded Friday, assistant coach Don Granato skated over to Dylan Cozens for a chat at center ice inside KeyBank Center.
Meanwhile, at the other end of the ice, Jack Quinn, the Sabres' most recent first-round pick and, like Cozens, a recent arrival to Buffalo, corralled a pass from a Rochester Americans forward and uncorked the right-handed shot that helped him score 52 goals in the Ontario Hockey League last season.
The moment illustrated the expectations for each prospect on their first day of training camp. Cozens, a 19-year-old forward, is trying to get up to speed as he pursues a spot on the Sabres' roster for opening night. Quinn, drafted eighth overall in October, was simply showcasing the skills team brass hope will blossom in the NHL someday. It's unlikely he'll play for Ralph Krueger anytime soon, though.
"It's definitely really exciting to be back," said Cozens on a video call with reporters. "It's been a long time since I've been here. I'm so excited just to be back here, back on the ice in Buffalo. I feel good where I'm at right now, just coming off (world juniors) in game shape, so I just want to go out there and do my best and prove that I can play at this level."
Dylan Cozens is making history ahead of his arrival at Buffalo Sabres training camp.
Cozens and Quinn were the center of attention during the Sabres' second on-ice session, which featured mostly players who will soon head to Rochester for American Hockey League training camp. Cozens used his improved strength to win one-on-one battles for the puck and displayed the elite speed that makes him one of the top prospects in the NHL.
Quinn, a 19-year-old right wing, showed he's more than just a goal scorer, as he routinely fooled opponents with cross-ice passes to create scoring opportunities for his linemates.
Neither player appeared rusty after sitting in a hotel room for two days. Prior to reporting to KeyBank Center on Friday, Cozens and Quinn had to serve a mandatory quarantine after winning a silver medal with Canada at the IIHF World Junior Championship, which ended this week with Team USA's 2-0 gold-medal victory. Flying on a private plane from Edmonton to Buffalo late Tuesday allowed Cozens and Quinn to avoid the NHL's seven-day quarantine because both were subjected to regular Covid-19 testing while in the bubble for world juniors.
The tournament was Quinn's first time representing his country, but he proved he belonged by totaling one goal with four assists in seven games. Quinn also showed in the tournament he can be trusted to help his team close out tight games.
His versatility allowed him to earn a roster spot for his former Ottawa 67's coach, Andre Tourigny. Quinn, though, was not pleased with his individual performance on the international stage.
"I think it's obviously a disappointing result for us," said Quinn. "We would've liked to have been on the other end of the last game, but that's life and you got to move on, I guess. Personally, it was a great experience for me in the tournament. I would've liked to be a little bit better, I think, but like I said, a great experience."
There was a lot of good news in Sabreland Wednesday. But like it seems for several years with this franchise, there's always something.
This camp will provide Quinn with introductory-level knowledge on the Sabres and Krueger's preferred style of play. Granato will have in-depth meetings with Quinn on the team's systems and expectations for all forwards. It's unclear if Quinn will even be on the ice for a second practice in Buffalo, though.
Quinn and Cozens are expected to compete in the team's intrasquad scrimmage Saturday at 7 p.m. Krueger will then trim his roster, as the Sabres are scheduled to shift to one practice group beginning Sunday.
Cozens, who was in camp with the team last fall before returning to juniors, is certain to get the promotion to the top practice group. Quinn, on the other hand, isn't sure what's next. The OHL does not have a start date to launch its season amid the pandemic and the Sabres have yet to decide where Quinn will play. Rochester and Europe could be options for Quinn. 
"Obviously, no one knows what's going to happen, including me," said Quinn, who wore No. 22 on his royal jersey. "So, I think just for myself, I'm not looking too far ahead. I'm just trying to be in the present. I'm in Buffalo now, so I'm just trying to make the most of it every day."
"Dylan, quite clearly, has an advantage having had camp with us last year, having been in contact with our player development personnel for more than a year now, a year and a half," said Krueger. "Dylan is way ahead when it comes to information ... There's no rush. We've got lots of depth right now up front and we're excited to have them here. Let's measure where they're at before we make any other decisions."
Cozens, who was drafted seventh overall in June 2019, hasn't considered what will happen if he doesn't make the Sabres. His offseason workout regimen – including off-ice training in Whitehorse to fill out his 6-foot-3 frame and reach 200 pounds – was designed to prepare him for the NHL.
Cozens totaled eight goals and eight assists in seven games at world juniors. His 25 career points at the tournament – including nine on the way to win gold last January – are the fourth-most all-time by a player representing Canada.
"I think I've noticed it a lot out there at World Juniors, just my strength and being able to win puck battles, being able to take the puck to the net and just fight guys off of the puck," Cozens said. "I think it's a big jump in where my game went from last year and I think it's definitely gonna be a huge part in helping me make the jump to the NHL."
Cozens may have to move to right wing for the Sabres – he was emphatic that he's as comfortable there as he is at his natural position, center – and he'll be tested immediately with a scrimmage against NHLers such as Jack Eichel and Taylor Hall.
With only three practices remaining before the Sabres open the season against Washington onThursday, Cozens doesn't have much time to win a job on an NHL roster that's suddenly crowded at forward. He's ready for the challenge, though.
"Now, since I got to know the guys last year, I'm definitely more comfortable coming in here, more confident," Cozens said. "This year I truly want to show that I can play at this level."
Riley Sheahan will be staying in Buffalo beyond Sabres training camp.
Riley Sheahan will be staying in Buffalo beyond Sabres training camp.
Sheahan, a 29-year-old forward who came to training camp on a professional tryout contract, signed a one-year deal with the Sabres on Friday. The contract is worth $700,000 and Sheahan provides Krueger with an experienced, versatile veteran for the truncated 56-game season.
Sheahan led all Edmonton Oilers in penalty-kill ice time in 2019-20 and his ability to play center or wing will help fill the void created by Zemgus Girgensons' hamstring injury. Girgensons underwent surgery this week and will be out approximately six months.
"I'm ready to roll," said Jeanneret, 78, whose entire schedule consists of home games at Key Bank Center.
The rotation for Sabres play-by-play announcers Rick Jeanneret and Dan Dunleavy will continue during the 56-game season.
Dunleavy will handle 30 of the Sabres' games on MSG, while Jeanneret is scheduled to cover 20. The team also has six games that will be broadcast on either NBC or NBC Sports Network. Crews for Sabres broadcasts on MSG won't travel, and regular pregame and postgame shows are expected to continue.