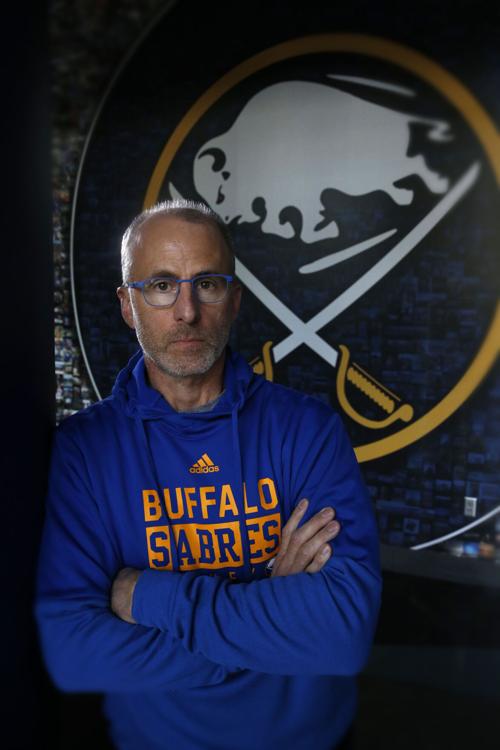 Another long workday had just ended when Don Granato sat on the edge of his seat in a KeyBank Center office adjacent to the Buffalo Sabres' dressing room.
Wearing a Sabres hooded sweatshirt and royal-framed glasses, Granato completed meetings with his coaching staff following a nine-round shootout preseason loss in Pittsburgh the previous night. His players, like most across the league, weren't yet in regular-season game shape and there were mistakes to correct from the night before.
"We are a tight group and we know what we expect from each other," Rasmus Dahlin said. "And everyone's talking about the same stuff. Like, we really want to turn this around and we really want to be a winning team."
"I think as you watch us, you'll see that night to night we'll be getting better and more efficient in different areas, and eventually it will all start to add up," Granato explained.
The 54-year-old showed no signs of panic or concern. He exudes calmness and belief, the biproduct of 28 seasons in coaching and scouting. His team's 10-year playoff drought is tied for the longest in NHL history and his roster is filled with young, talented – albeit unproven – players. Few outside the building are predicting the Sabres to do anything but endure another season of hardships.
Unlike other coaches forever linked to the drought, Granato has produced results in similar situations. He took an expansion United States Hockey League team to the championship in its second year, won a title during his first season in pro hockey, developed the nation's brightest young stars into NHLers at the USA Hockey National Team Development Program and learned from three-time Stanley Cup winning coach Joel Quenneville.
You're not tanking when you're rebuilding with 12 former first- or second-round picks on your roster like this edition of the Sabres, Harrington says. 
Granato's resume is as impressive as the way he explains the game to reporters, yet he doesn't pretend to have all the answers, and he's quick to mention that he's not in this alone. When reflecting on his seven weeks as interim coach in the spring, Granato credited his support staff, everyone from assistants Matt Ellis and Dan Girardi to video coach Myles Fee.
Inheriting what veteran winger Kyle Okposo later described as "one of the toughest situations that I've seen in 14 years of pro hockey," Granato and his staff coaxed more from the Sabres' young core and delivered the only encouraging moments during one of darkest seasons in franchise history. Over 28 games, the club went 9-16-3. They didn't have Jack Eichel, effective veterans were traded shortly after Granato got the interim job and the club used five goalies while he was behind the bench.
His excitement is palpable. With lessons culled from last season, and ample practice time to implement further changes, Granato is determined to move his team closer to contention.
"I love potential," beamed Granato, who was hired as full-time coach on June 29. "Potential is exciting for the player and, to me, it's extremely exciting as a coach, because you're trying to be as creative as the player in getting the player to (reach that potential) as fast as you can get them there. ... And that's fun for me. That's the drive for me."
Here are NHL season predictions by Buffalo News reporters Mike Harrington and Lance Lysowski.
Granato didn't have to wait this long to be an NHL head coach. In 2001, only six years after he coached a group of underage players with the USHL's expansion Green Bay Gamblers to a 9-38 season, Granato was named the American Hockey League Coach of the Year for leading Worcester to the second round of the playoffs. He earned the honor over men who went on to lead NHL benches, including Mike Babcock and Bruce Boudreau.
Granato insists he wasn't ready to lead an NHL team at that time, despite his name being mentioned for openings. He didn't want to be an overwhelmed, underequipped coach, unable to handle the blend of on-ice strategy and crisis management that comes with the job. And Granato was picky.
His first professional head coaching gig with the East Coast Hockey League's Columbus Chill lasted only two seasons because the franchise was folding in response to the city receiving an NHL expansion team. There were 11 vacancies in the league that offseason, Granato recalled, and he applied for only two.
Granato was an alternate governor with the league and knew each owner well. His colleagues were taken aback by his decision to limit his options so early in his career. Granato was only willing to go somewhere he could win and with ownership he trusted. The following season ended with him leading the Peoria Rivermen to a league championship.
"You always need to think ... 'this is going to go on your track record,' " Granato said. "When you put 20-some years in, you better make sure you have good ownership, good people, good players and good discipline or you don't take it."
During a season in which you'll read more prospects coverage in The Buffalo News, here's a glance at the 15 to watch in 2021-22.
The same holds true for his current job. When Granato was weighing whether to become the Sabres' seventh coach since 2012-13, he called mentors and confidants to ensure he wasn't making the same mistake he tried to avoid for decades.
"They were all like, 'You've got to get that job,' " Granato recalled. "I just needed to bounce it off them. And then because of where we're at, this goes on your resume. This is your career."
There was anecdotal evidence to show Granato that he could revive the Sabres. In 1994, he sold Green Bay ownership on the idea of selecting young players, rather than adding older guys who were promised prominent roles in previous stops. Granato knew his first season would be difficult and, he acknowledged recently, "My career could have been over before it even started." But he believed in his ability to develop. The Gamblers won back-to-back championships after that trying first season.
At the USA Hockey National Team Development Program from 2011-16, Granato and his assistant coach, Nick Fohr, developed future NHLers Auston Matthews, Matthew Tkachuk, Noah Hanifin, Zach Werenski, Charlie McAvoy, Colin White, Seth Jones, Brady Skjei, Jacob Trouba, J.T. Compher, Quinn Hughes, Tage Thompson and Josh Norris, among others.
Sabres general manager Kevyn Adams interviewed double-digit candidates this summer when deciding who to hire as the franchise's full-time coach. Amid a roster rebuild, and the inevitable departure of Eichel, Granato's track record stood above the field.
"The arch of his career and all the different experiences from the national program to college hockey to being an assistant coach in the NHL, all the way down to the East Coast league, and even having management experience, all of that came together to what is in his DNA: helping players get better," Adams said. "That's what we saw."
Mittelstadt's immediate impact shouldn't have come as a surprise. He thrived under Don Granato during the second half of 2020-21, totaling nine goals and 17 points while averaging 17:17 of ice time in the final 22 games.
When Adams fired Ralph Krueger on March 17, there was no time for Granato to reflect on his coaching journey. His thoughts immediately went to strategizing. He had a style of play in mind – fast-paced, relentless and, in many ways, simple – to challenge young players and coach to their strengths. Granato showed video to Ellis and Girardi, who immediately embraced and understood how to implement the philosophical shift. Lineup changes were set for the following night when the Sabres were scheduled to host the Boston Bruins.
Then, Granato and his players were unable to hold a morning skate because of Covid-19 protocols. There was no time to make significant changes, but Granato wanted to get a message across to his players, all of whom had struggled to recover from an abbreviated training camp and Covid-19 outbreak that paused their season for two weeks.
Granato told the group, "Nothing is broken." He spoke with conviction when telling his team that improvement would come through subtle changes, but execution would remain elusive until their conditioning improved.
"I felt our team, through the Covid issue, through no training camp, we never got in the game condition that we needed," Granato said. "My mind went right to, if we're gonna make any noticeable change, our players have to feel better. … I felt we were in survival mode from a conditioning standpoint. The third periods weren't good. We were losing puck battles, conserving energy, because we didn't have it. I felt practice intensity was going to be important."
Following his first game as coach, a 4-1 loss, Granato showed his players video of positive moments from across the winless streak. The run of futility reached a franchise-record 18 games, but the Sabres became a hard-working, competitive team and took calculated risks that produced clear signs of improvement.
"Within a 30-minute meeting, their belief system changed," Granato said.
For now, the Buffalo Sabres' 23-man roster for their opening-night game Thursday appears set…
When attempting to diagnose the problem, Adams watched the Sabres practice from the lower bowl in Long Island's Nassau Coliseum in early March and noticed a troubling trend.
"Quite honestly, last year, I didn't think we practiced hard enough," Adams said.
The effort in practices and morning skates carried over into games. The Sabres were sloppy and fell apart in the final 20 minutes of regulation. They had a negative-13 third-period goal differential under Krueger.
The challenge was practice time. Granato had only 12 on-ice sessions across his seven weeks as coach, a result of the compressed, 56-game schedule amid the Covid-19 pandemic. And none of those practices occurred following a day off.
While the Sabres' 3-1 victory Saturday reminded fans what style of play to expect from the club under Granato, it's unclear who will be in the lineup when the regular season opens Thursday in Buffalo against Montreal.
Granato had no choice but to push his players. In his mind, even one week of exhaustive sessions would make a difference. When the Sabres were ready, Granato implemented changes to their 5-on-5 game. Defensemen were allowed to carry the puck into the offensive zone. Forwards were able to use their speed and skill on the rush. There was no overthinking. Young players didn't fear making mistakes and were challenged to handle difficult assignments.
The results were transformative.
Casey Mittelstadt, a 22-year-old drafted eighth overall in 2017 who Krueger viewed as a long-term winger, thrived at center. Across the final 22 games, Mittelstadt had nine goals and 17 points.
Dylan Cozens, a 20-year-old drafted seventh overall in 2019, showed maturity at center while lining up against some of the best in the league, including Sidney Crosby and Patrice Bergeron.
Rasmus Dahlin, selected with the first pick in the 2018 draft, returned to form and began to show his otherworldly talents with the puck. Henri Jokiharju, Rasmus Asplund, Tage Thompson and Arttu Ruotsalainen also thrived.
 The move means the Sabres will go with seven defenseman on the initial roster.
"This year, I can start on the right page," Dahlin explained. "I can start playing my own game and build on that the whole year. I think that's going to be the good thing. The structure we're working on here, it fits everyone in the locker room. Every single guy is a skilled guy and will like having the puck and create stuff."
Additional practice time this season will allow Granato to spend more time coaching his special-teams groups, a luxury he didn't have last spring, and continued improvement is needed at 5-on-5. Practices will be more effective with conditioned, rested players. There's also the task of developing a winning culture amid a chaotic situation. Everyone on the outside is wondering if Eichel's stalemate and trade request will become a distraction.
It's not a concern for Granato. His approach to coaching, specifically an emphasis on pushing players to improve, mixed with the personalities in the dressing room, give him confidence that positive change is occurring. In no way is this a tank season. A winning culture is needed, but Granato said that will occur through accountability and the personalities in his dressing room.
"Donny's style is he's very calm," Adams said. "He's detailed in the way that he looks at the game we're playing. … The players clearly trust him and like playing for him. Now, when you have that trust, you can push them because they know that he understands their game and has their back. That's the relationship that's important between coach and player. He knows where he wants this team to get to and how we get there."
The sense you get is that fences are being mended in what had been a toxic situation.
Rather than allowing mistakes, Granato is urging his players not to fear the inevitable. Reacting to difficult moments is more important and will determine how quickly they evolve into consistent difference-makers. Wins are still important, especially how the Sabres are producing those results. But he also wants to see steady growth from individuals.
While his roster has fewer proven talents, and the Eichel saga drags on, the young Sabres with limitless potential have an unwavering desire to build a winner together in Buffalo. That, above all else, led Granato to this seat in KeyBank Center and the task of accomplishing what others could not.
"For me, I have to do things that I feel good about, and this is the job I wanted. So, the way the guys finished the season, the fact that they were excited to wear a Buffalo Sabres jersey proud, I was happy," Granato said. "It was just nice when the season ended to feel like you did something good. The guys felt good about themselves, about their game, about Buffalo, about the Sabres and, honestly, it was just nice to feel that. I know what this franchise can accomplish."