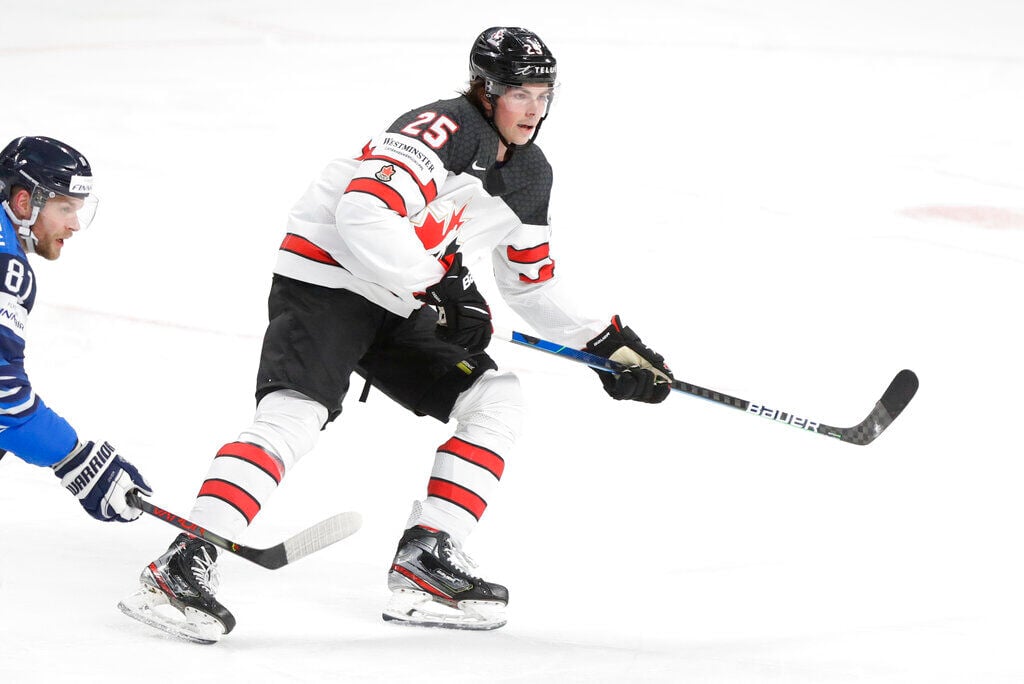 Flanked by boisterous hockey fans of the city's beloved NHL franchise inside the Seneca Sports Lounge at KeyBank Center, Buffalo Sabres General Manager Kevyn Adams waited at a podium to announce the next foundational player for his roster rebuild.
Adams wasn't willing to tip his hand ahead of the NHL Draft, no matter how many scouts and analysts unanimously predicted who would be the fourth No. 1 pick in Sabres history. This event included more suspense than the one in 2018, when everyone in the hockey world knew that Rasmus Dahlin was headed to Buffalo.
Adams, amid his second offseason on the job, could have filled the club's need for a forward with William Eklund of Sweden or Matthew Beniers from the University of Michigan.
In the end, Adams announcement during the ESPN2 broadcast was the one everyone anticipated, as the man spearheading the Sabres' push to snap a 10-year playoff drought made it official by selecting University of Michigan defenseman Owen Power.
When the pick was revealed, and Power celebrated with family in Burlington, Ontario, fans at the Sabres' draft party shouted, "Owen! Owen!"
Power, a 6-foot-6 left shot defenseman ranked by NHL Central Scouting as the top North American skater in this class, is coming off an impressive freshman season at Michigan and a remarkable performance against much older competition at the IIHF World Championship in Latvia.
"I think it's pretty special, just being able to have a whole bunch of my family behind me and trying to celebrate with me," Power said during a conference call with reporters. "I think it was pretty special and even better than the way I thought it was going to turn out."
Adams wasn't done there. The Sabres also owned the No. 14 pick in the first round after acquiring the selection as part of a trade that sent defenseman Rasmus Ristolainen to Philadelphia. Although the top two goaltenders in the draft were still available, Buffalo picked Swedish winger Isak Rosen, an 18-year-old who played 22 games in the country's top professional league last season.
Rosen improved his draft stock this spring by leading Sweden with seven goals in seven games at the IIHF Under-18 World Championship, an event attended by five members of the Sabres' hockey operations staff, including Adams and associate general manager Jason Karmanos. Rosen was ranked by central scouting as the No. 8 European skater in this class.
The addition of Power gives the Sabres a potential dynamic blue line that, in the future, may include Dahlin, Henri Jokiharju, 2018 second-round draft choice Mattias Samuelsson and 2019 first-round selection Ryan Johnson.
Dahlin, now 21 years old, is expected to step into a prominent role, possibly as the club's No. 1 defenseman, during his fourth season in the NHL. Drafted first overall in 2018, Dahlin's 50 power-play points since 2018-19 rank ninth among all NHL defensemen and he showed significant improvement under Don Granato during the final weeks of last season.
By selecting Power, the Sabres may have fortified two of their defense pairings and both power-play units for the long-term.
"I think Owen was extremely impressive," said Adams. "The way he handles himself on the ice in all parts of his game. With the puck, his poise. The defensive reads he makes. The great stick. His hockey IQ. I love his length. I love his skating. He's just an all-around good player that we really think is going to continue to get better and better. And he's a really high character kid, who's excited about being in Buffalo. ... We're really excited about him. It was a great day for our organization today."
The question, though, is when Power will join Dahlin in Buffalo.
Since 2000, only one No. 1 draft pick did not make an immediate jump to the NHL: defenseman Erik Johnson spent one season at the University of Minnesota after his selection by the St. Louis Blues. Alex Ovechkin had to wait a year in 2004 because the NHL lockout delayed his debut in North America.
However, Power has expressed an interest in returning to Michigan for his sophomore season. The 18-year-old appeared in every game for the Wolverines as a freshman, totaling three goals and 16 points in 26 appearances. His 0.62 points per game helped him secure rookie of the year honors from the College Hockey News, and he was a Big Ten Freshman of the Year finalist.
Power has yet to speak to the Sabres' about their plan for him this season, and Adams said it's too early to make a determination.
"I think I can step in and play, so I don't think the decision will be whether I'm ready to play," said Power. "It's whether or not it's better for my development. At the end of the day, I don't really think there's a bad option. Like I said, it's something we've got to figure out later."
Power, though, is the only prospect in this draft who has shown he can perform well against NHL competition. He was given a lesser role with Team Canada at the start of the world championship this spring, skating under eight minutes in the team's opening game.
However, injuries thrust Power into a prominent role, as he was named player of the game after earning 24:07 of ice time against Russia. He skated for more than 27 minutes in a semifinal win over the United States. In the final, Power was on the ice for 24:17 to help Canada earn gold at the annual event for the first time since 2005.
Power finished the tournament with three assists, 17 shots on goal and a plus-1 rating while averaging 20:07 of ice time in 10 games.
"This is a complete package, and I think he's going to have a powerful impact in the National Hockey League," said Dan Marr, director of NHL Central Scouting. "And, you know, and I hate doing the comparables, but I get forced into it a lot. He's going to be the best of Alex Pietrangelo and Seth Jones combined. And that's a player who can go out and play in any situation. He's such a rangy, deceptive skater. He is going faster than what he looks. He can skate his way through any situation out there, and he's got the quickness with his read-and-react game and his hockey sense to make those plays on the fly."
Lauded for an elite skating ability, Power needs to learn when to play fast when carrying the puck out of his own end and he has not been able to use his size to punish opponents. Officials in the NCAA call a tight game and Power was typically the biggest, strongest player on the ice, making him an easy target for penalties. This caused Michigan coach Mel Pearson to ask Power to play a more conservative style, prioritizing stick-on-puck while defending as opposed to using his strength to knock opponents off the puck.
Power and Rosen join a prospect pipeline that needs an infusion of talent, though the Sabres made two significant additions last October by drafting Jack Quinn and J.J. Peterka, both of whom are likely to begin this season with the Rochester Americans.
The Sabres have five more selections in the top 100, including two apiece in the second and third rounds. But acquiring the top player on their draft board is a fine start for a franchise on the precipice of another rebuild.
"The team, they've got a lot of young prospects and I think a promising future," said Power. "I'm excited for what's to come."