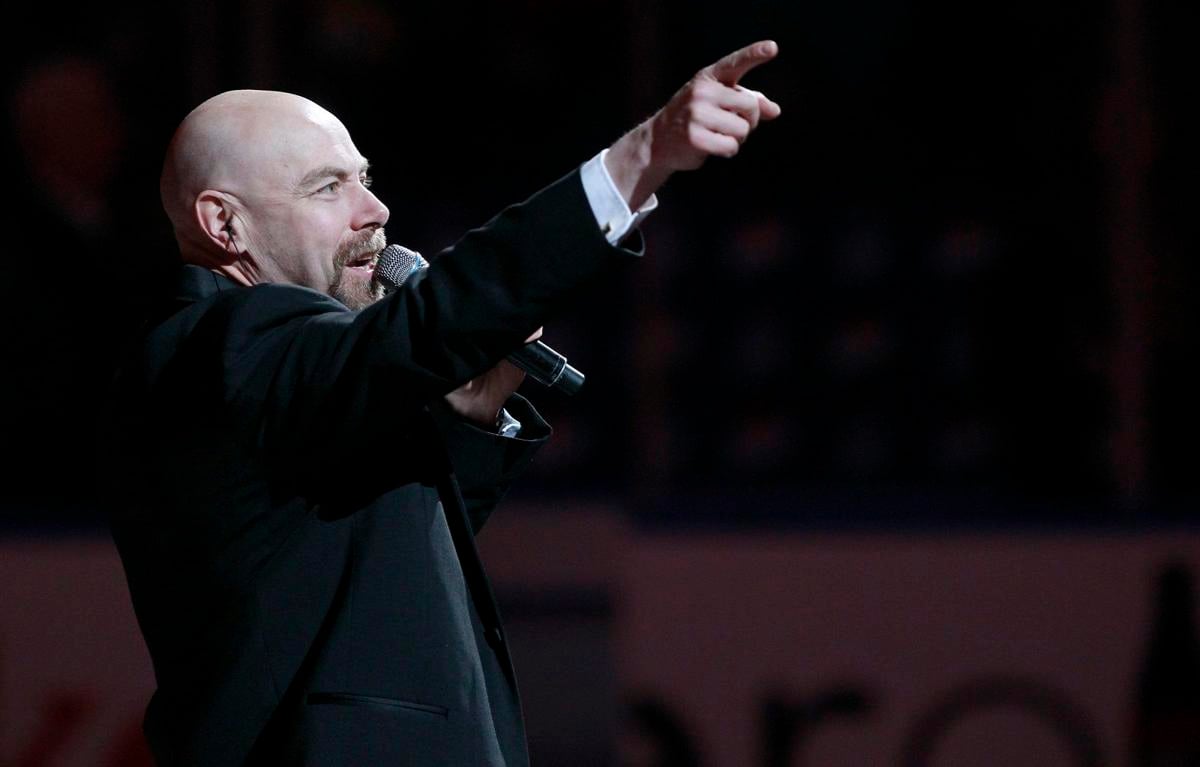 Doug Allen, the tuxedo-clad anthem singer known for his rich voice and dramatic point at the end of "The Star-Spangled Banner," has been an iconic figure to Buffalo Sabres fans for more than two decades.
But his run is now halted and quite possibly over – because he won't get vaccinated.
Doug Allen is the 'Anthem Guy' at Sabres games. Away from the arena, the devoted family man is facilities coordinator for the Buffalo City Mission's program for homeless men, a job he's held for nearly 23
Allen, who is 57, announced Saturday evening that in response to the team's policy that spectators and game-day employees must be vaccinated for Covid-19, he is stepping away.
"I am not anti-vaccine," Allen wrote in a letter to Sabres fans, which he shared with media outlets, including The Buffalo News. "There are many people at risk who should get it. But, I am old enough to understand the importance of choice and the freedom of being an American. I had Covid in January of 2021. I now have natural immunity, so I am choosing to not get vaccinated."
Allen elaborated on his decision in a telephone interview Saturday with The News, explaining that he had "sniffles for five days – that was it" and that one of his two young-adult sons lost taste and smell for about a week. (The other two people in Allen's household – his wife and other son – "never got it," he said.) Allen reiterated his belief that he will be protected by the natural immunity from his illness – something that legions of doctors and scientists have said is neither simple nor assured – and added, "I just don't think it's right that the government can say you've got to get this vaccine, or you can't do anything."
The Buffalo Sabres are 100% vaccinated, General Manager Kevyn Adams told reporters Thursday …
Allen's situation is similar to that faced by thousands of people whose workplaces are now requiring vaccination for entry, or even for employment. A Sabres spokesperson told The News on Saturday, "We are committed to following all local and state health guidelines in order to provide the safest environment for all fans and employees entering KeyBank Center."
Allen, who has publicly professed both his deep Christian faith and strong conservative beliefs, said his decision to go unvaccinated is not a political or religious one.
"I could have asked for an exemption for religious reasons or medical reasons or whatever," he said. "That wouldn't be truthful. I could go the whole religious line, but it wouldn't be honest, because my choice is my own, and I just don't feel it's necessary for me."
Doctors and scientists broadly disagree. While medical experts widely acknowledge the antibodies produced by natural infection do afford some protection, they also caution the reliability and durability of that immunity is difficult to predict or measure. They also warn that contracting an earlier version of the virus may not provide adequate protection from a newer variant. And while some studies – including a much-publicized one from Israel – have suggested natural immunity is as good or better than vaccination, doctors also warn that there are too many variables to consider them conclusive.
"Some people probably get a great response (immunologically, from natural infection) that's protective and may be as good as, if not better, than the vaccines," said Dr. Thomas Russo, chief of infectious diseases at the University at Buffalo's Jacobs School of Medicine and Biomedical Sciences. "Other people? Not so much. It's really quite unpredictable, particularly if it's mild disease or asymptomatic disease."
For Bills games, all fans must have at least a first dose of a Covid-19 vaccine to attend the team's next home game Sept. 26.
Russo noted that people who are sicker with Covid-19 also tend to develop a stronger immune response, and by contrast, people who have milder cases are more likely to have a lighter response.
"The safest course of action to get the most reliable immunity is through vaccination," Russo said, adding that people who have had Covid-19 and then get vaccinated are "going to have a great level of protection."
The Sabres official noted that employees and vendors who are fan-facing "must be vaccinated and wear a mask," and "a limited number of employees/vendors who are not vaccinated can work but must be stationed behind plexiglass and/or have no direct contact with the public. All of these employees must be masked as well."
Allen, whose Sabres' gig was part-time, regularly visited with fans on the 100 level during the first part of each game.
Stadium and arena goers must be fully vaccinated to attend games and events by the end of October. The only exception is for children younger than 12, who must wear a mask inside the stadium.
In his interview with The News, Allen expressed gratitude to the Sabres. "They let me sing for nearly 30 years," he said. "They've been so good to me. I don't want to harm that relationship, and hey, maybe there will be a time in the future when I can sing again. I don't know."
Allen, who works full time at an auto parts store, acknowledged that he would consider getting vaccinated if his employer required it. "I'm going to have to think really hard about that, because obviously I have to work," he said. "The Sabres is a wonderful opportunity, but it's not making my living."
Here is Allen's full letter:
This letter is to inform the great Hockey fans of Western New York and Canada, that because of the vaccination policy adopted by the Sabres Organization, I will not be singing the National Anthems to start each Sabres home game this year. I am not anti-vaccine. There are many people at risk who should get it. But, I am old enough to understand the importance of choice and the freedom of being an American. I had Covid in January of 2021. I now have natural immunity, so I am choosing to not get vaccinated.
This was not an easy decision. I have no ill will toward the Sabres Organization. I cannot thank the Sabres and the fans enough for the joy it has been to sing for you. For more than 25 years I have felt at home on that carpet sharing a patriotic moment with all of you. I pray that I will soon be able to do it again. Go Sabres! God Bless America!