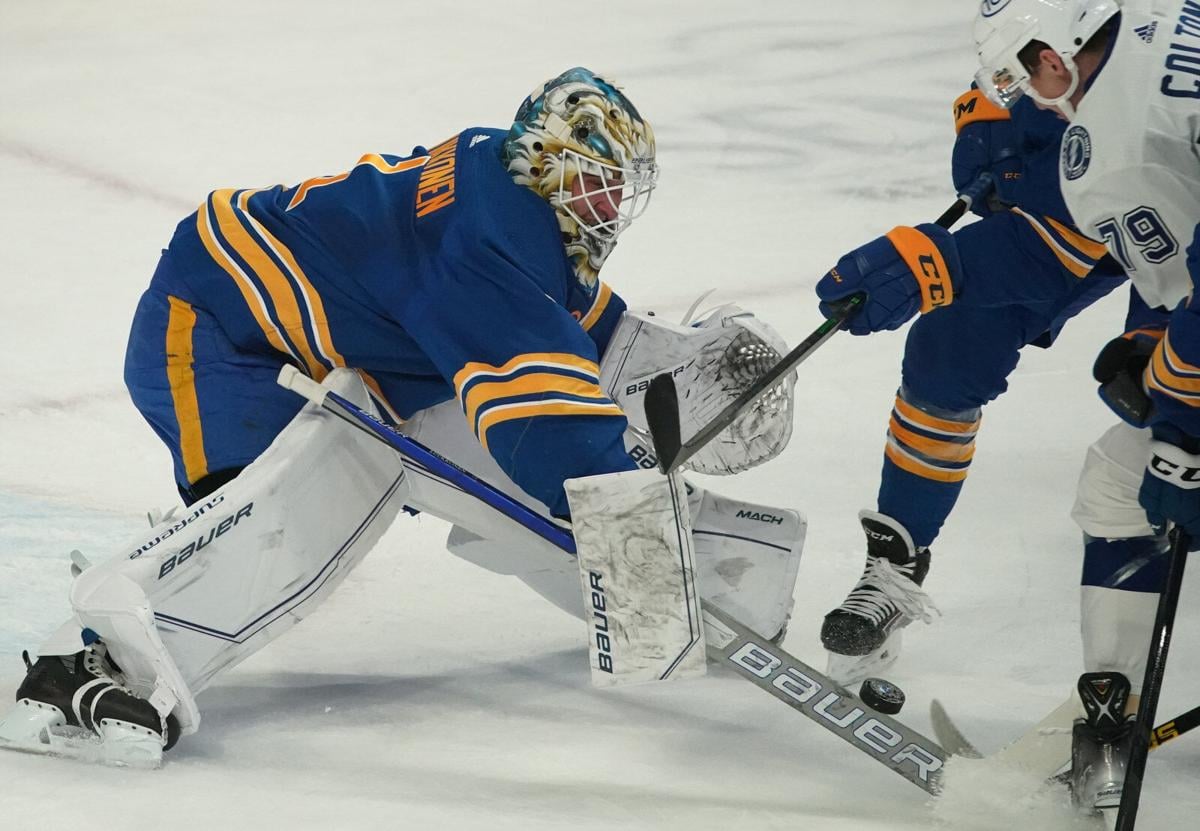 There are tough games in a season and then there are abject disasters.
Put the Buffalo Sabres' 6-1 loss to the Tampa Bay Lightning here Tuesday night in the latter category.
When you sit through annihilations like Tuesday's 6-1 drubbing at the hands of the Stanley Cup champion Bolts, a Sabres' turnaround still feels a long, long way away, says Harrington.
The Sabres were outclassed by the defending Stanley Cup champions in every way. They were outshot 36-18 and trailed for nearly 58 minutes. As if all that wasn't bad enough, it got worse Wednesday morning when the team reported back to KeyBank Center for practice.
That's when the word spread that the club had lost both of its goaltenders in the game for an indefinite period.
Rookie Ukko-Pekka Luukkonen, who had seized the No. 1 job, will be out week to week with a lower-body injury suffered in the first period. Malcolm Subban, who had a solid grasp on the backup role, is in even worse shape. He's going to be out month to month with what appeared to be a hand/wrist ailment after Tampa Bay forward Pat Maroon fell on him in front of the crease late in the second period.
The former No. 1 overall pick looks to be the best candidate for the Atlantic Division team on the Buffalo roster. He has six goals and 16 assists, on pace for a career-high 51 points, and could become the first Buffalo defenseman with a 15-goal season since Alexei Zhitnik in 1997-98.
So that makes four goalies on the shelf when you add in Craig Anderson (upper body since Nov. 2) and Dustin Tokarski (Covid-19 since Dec. 2). Aaron Dell – who went 0-5 in his first stint with the Sabres – was recalled from Rochester and, with no other NHL goalies in their system, the Sabres transferred Michael Houser's AHL contract to a one-year, NHL deal with a cap hit of $750,000.
Unless general manager Kevyn Adams makes some sort of deal, it's going to be Dell and Houser manning the Buffalo nets for the foreseeable future. Coach Don Granato said his "inclination" is to start Dell on Thursday night when the Sabres hit the road to meet the Western Conference-leading Nashville Predators in Bridgestone Arena.
"It's unlucky and it's not fun," defenseman Rasmus Dahlin said. "'Uppy' (Luukkonen) is having a great few games here lately and it stinks when they get injured for sure. Four goalies out. What can you do? We have other goalies that can stop pucks. We're a team. So new goalies came in and we really trust them now, too."
The phones between Rochester and Buffalo were burning up while the loss to Tampa Bay was still going on. Dell said Amerks coach Seth Appert rang him as soon as the second period started and Appert noticed Luukkonen had been replaced by Subban. Houser said he texted Luukkonen in the dressing room around the same time and the Finnish rookie acknowledged he was banged up.
"It is shocking," Granato said. "We didn't know after the game because doctors have to do imaging and find out severity of injuries. In both cases,  we get the news that definitively this is the situation. You just adjust and acclimate to it. You have to pay attention, be a little bit more detailed defensively to support."
While Tampa Bay rolled to a 6-1 win over Buffalo, Quinn showed why he's considered a significant piece of the puzzle for the Sabres.
That's hardly going to be easy. Dell is 0-5 for the Sabres this year with a 4.52 goals-against average and .872 save percentage – but is 5-0, 2.76/.910 in Rochester. Houser (5-4, 2.98/.900 for the Amerks this season) was one of the most unlikely stories in the NHL in May, getting four starts for the Sabres and earning his first two NHL wins on back-to-back nights against the New York Islanders after spending much of the previous eight seasons in the ECHL.
"Houser was an inspiration last year and did exceptionally well," Granato said. "He's an overachiever – and that's exactly what we're about right now."
Houser had hoped to get an NHL contract after last year, but none materialized and he returned to the Sabres organization to play in Cincinnati and Rochester. And then came the NHL deal he was waiting for, albeit under bizarre circumstances.
"I'm very grateful for the Sabres organization that they give them that first chance in the NHL and have still been giving me chances," Houser said. "It's my job to take these chances and try to run with them as best I can."
Granato was also heartened to see Dell put together a 28-save victory in Rochester last week and said the veteran looked like a different player than the one who struggled mightily for the Sabres in November.
"Very exciting to get guys back in," coach Don Granato said. "These are guys that have felt well for days now and they're just waiting to be cleared. They're excited."
"I feel like I'm starting to get into a bit of a groove," Dell said. "With the last few years, I haven't been playing a ton of games, and I think getting that game experience back in the last little while has really helped me get back to where I want to be."
The Subban injury nearly put the Sabres in position to need to use emergency backup Travis Moore, a 36-year-old who played for Buffalo State in 2007-08. Subban was clearly shaking his arm and wrist on the ice after the Maroon collision. He finished the final 3:39 of the second period and battled through the third with the injury, stopping 10 of 11 shots.
Said Dahlin: "Malcolm battled it out and got injured ... He backed us up the whole game, so I really appreciate that."
"He played through it, made some great saves in the third period as well," Granato said. "He's proven that he's a team guy. He works hard for his teammates. He cares about his team and teammates. And that was a perfect example."
Dell has 121 NHL games on his resume and is familiar with the wild setting in Nashville that he'll likely see tonight from his days in San Jose. The good times are back again in the Music City. The Predators lead the Western Conference with 50 points and are 12-1-1 in their last 14 games.
"It's always crazy there. It's one of those places their crowd is definitely a big factor," Dell said. "You have to be able to kill that a little bit. Sometimes you have to be able to weather the storm at the beginning, just kind of get through it. That's going to have to be part of the plan."