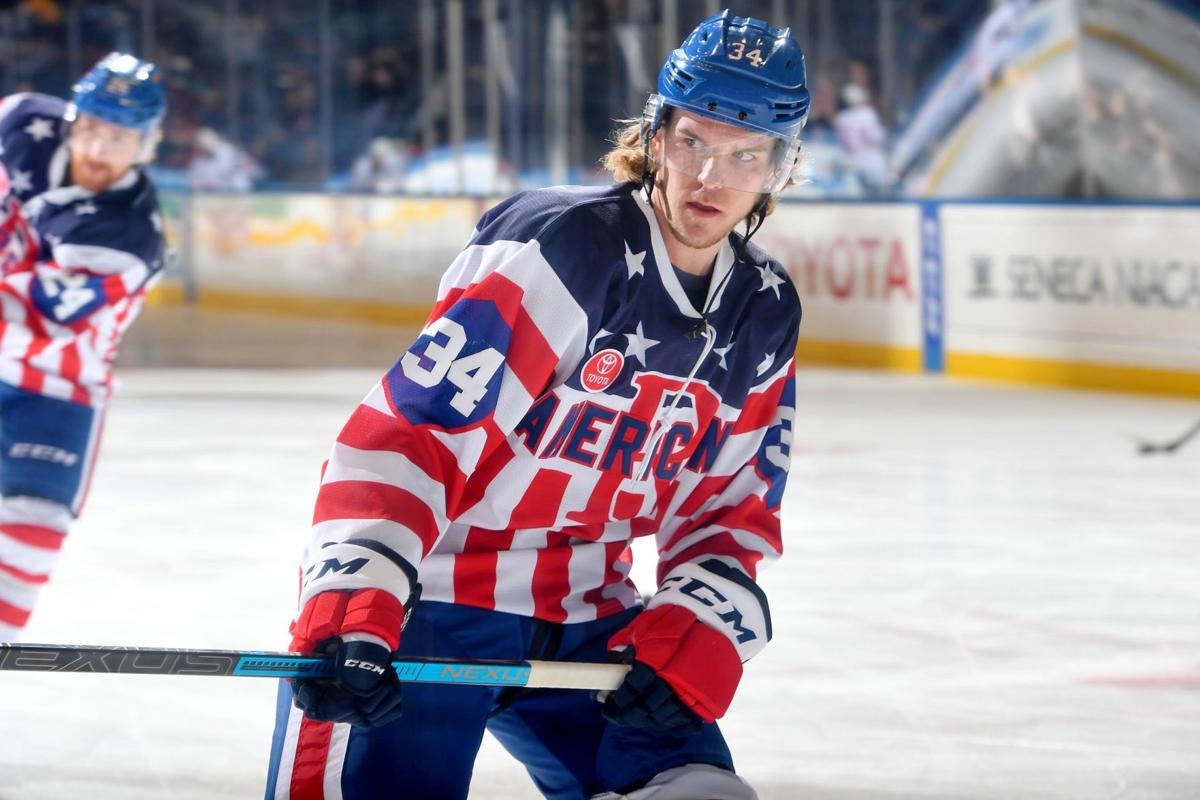 ROCHESTER – Casey Nelson couldn't even finish one shift Friday. Just 39 seconds into the defenseman's American Hockey League conditioning assignment, Springfield's Dryden Hunt checked him from behind, knocking his throat into the dasher board.
"Not how you want to start off," Nelson said after the Americans throttled the Thunderbirds 7-1 in Blue Cross Arena. "It woke me up a little bit."
After spending a few minutes in the dressing room, Nelson, 26, returned and kept taking his regular shift beside Brendan Guhle.
Nelson hadn't played since suffering an upper-body injury with the Sabres on Dec. 4.
Waiting 66 days for some game action – "Very antsy," he acknowledged – was difficult.
"I've been out for two months," Nelson said. "It feels like years."
Nelson said his first couple of shifts "felt a little weird."
"But it's definitely coming back pretty quick," said Nelson, who has compiled one goal and five points in 22 outings with the Sabres this season.
Nelson said his conditioning stint will likely be reevaluated after a few games. The Amerks play a road game against the Utica Comets on Saturday.
"He played very well for his first game," Amerks coach Chris Taylor said.
Of course, having played 98 games with the Amerks over the past two seasons, the 6-foot-2, 185-pound Nelson knows the AHL well.
"Very physical, a lot of speed," he said. "A little less structure."
He added: "It's a tough league to come in."
The Amerks made Friday's victory, their 29th this season, look easy.
Winger Victor Olofsson recorded his first hat trick as a professional and added an assist. The Swede, who possesses a lethal shot, scored an even-strength, power-play and short-handed goal.
"He's a game-breaker," Taylor said. "He's one of those guys that loves to score, which is hard these days to find. Guys don't like shooting the puck. He loves shooting the puck and he's good at it."
Olofsson's center, Rasmus Asplund, scored a rare five-on-three short-handed goal in the third period.
The Amerks have a season-long 10-game point streak.
A lower-body injury sidelined Amerks winger Alexander Nylander for the second consecutive game.