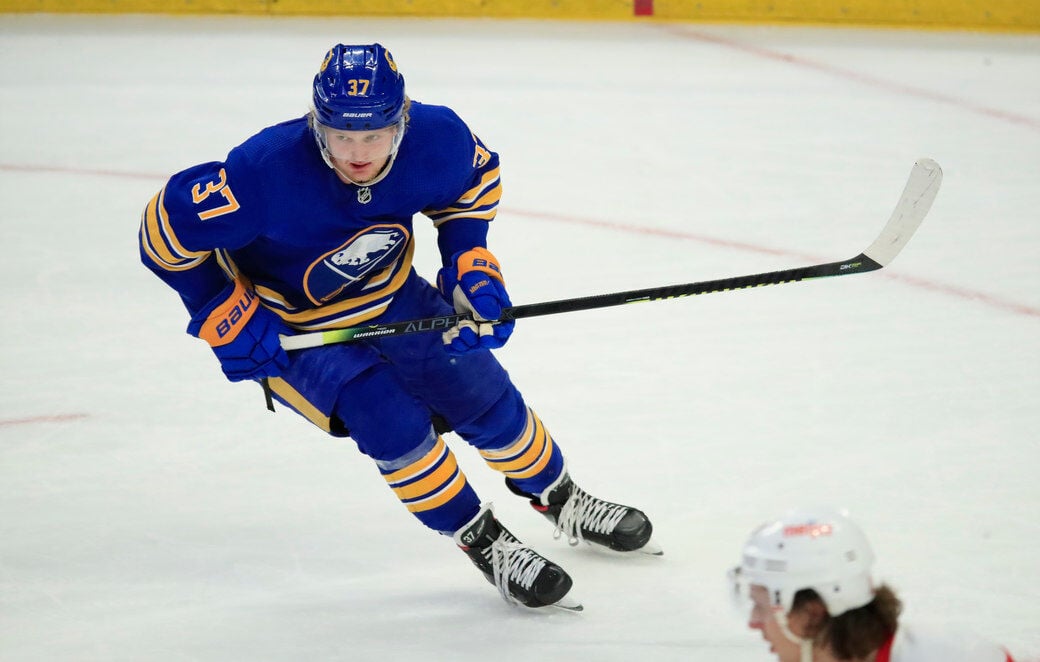 It's easy to forget Casey Mittelstadt spent much of the summer and almost all of training camp being projected as the Buffalo Sabres' No. 1 center in the absence of Jack Eichel. But in the second period of the season opener Oct. 14 against Montreal, Mittelstadt suffered an upper-body injury and he was not seen again until Wednesday.
Mittelstadt took the ice in KeyBank Center in a noncontact yellow sweater during the Sabres' morning skate prior to the game against the Boston Bruins. There's no timetable on his return but he was nonetheless thrilled to have made enough progress to rejoin the group and not be limited to solo workouts.
"Today was a huge step in the right direction, both physically and mentally being out there with the guys and getting to laugh and have some fun and practice and not skating alone," Mittelstadt said. "We haven't really put an exact date (on a return). I think it's more so gonna be how I feel, especially when we get into the contact and things of that nature. But it's been getting a lot better, especially the last week, I would say it's improved a lot. So obviously, the second I think I'm ready to play, I could be in there. I'm champing at the bit so I wouldn't rule anything out."
"The biggest challenge is our limited practice time," said coach Don Granato. "We need to get him involved in contact. Obviously, we don't have a lot of practice days because we have game days here. I don't have an answer for you on that. We're gonna continue to read it day by day to see how he feels. But he does need to go through at least a couple practices and I would say with some contact before we feel comfortable even assessing where he's at. But certainly a positive signs that he's on the ice with us."
Mittelstadt participated in all drills and stayed on the ice working on his own for several minutes after the team portion of the skate ended. He was injured in the second period of a 5-1 win over Montreal after passing the puck to Vinnie Hinostroza for a second-period breakaway while being chased from behind by Montreal winger Brendan Gallagher.
"It's been long but I haven't really had any setbacks," he said. "I think more than anything, it's just kind of a tricky injury and just been slower than expected and something you can't really mess with too much."
Mittelstadt, who had 10 goals and 22 points in 41 games last season, said he felt primed after camp for a big breakout and the injury quickly ended his momentum.
"That probably has been the hardest part for me, especially seeing the opportunity in front of me," he said. "It was hard at first watching the guys get off to such a good start (5-1-1). Not being part of it was really tough for me. And now obviously they've been struggling (2-8-1) and it's only gotten harder. I want to go out and help the team. So that part of it's been been pretty tough."
"Eight minutes of ice time this season and we lose him," Granato said. "I spoke a lot to you guys over the summer, how excited he was. He was one of those guys who didn't want to leave here at the end of last year and trained extremely hard. Very excited to have him back here. And I think everybody collectively in that locker room when I mentioned he was going to join us in practice, guys were energized. And I know he is."
In other items from the morning skate:
• Aaron Dell (0-3, 3.72/.874) gets the start in goal after relieving Dustin Tokarski on Monday against Columbus and stopping 14 of 15 shots. Arttu Ruotsalainen, a healthy scratch the last two games, will return to the lineup at left wing but Granato declined to say who he will replace.
Said Granato on the goalies: "(Tokarski's) confidence didn't look great. He didn't look like himself the other night, and we obviously want him to be himself. We want him to be fearless. Dell is in a bit of a groove. ... He's progressed and been better. He's the hotter guy right now. And we based the decision on that. And we hope that they would give 'Ticker' a chance to sit back and breathe and get back to form, which we know he will."
• The Bruins were scheduled to start ex-Sabre Linus Ullmark in goal but coach Bruce Cassidy said the choice is a game-time decision because Ullmark suffered an undisclosed muscle tweak during the morning skate. Jeremy Swayman could fill in.
• The Sabres have given up 17 goals in the last three games and four or more goals in eight of the last 10 games. Their goals against for the season has soared to 3.39 per game and that's 28th in the NHL, ahead of only Montreal, Arizona and Ottawa. 
"We gave up too many goals through hesitation, through just taking a step back instead of engaging quicker," Granato said. "So what we've tried to do is find just the subtleties that we can do better. It's probably being a little bit more physical in the corners and closing out defensively, the first initial contact being physical and quicker and more decisive."