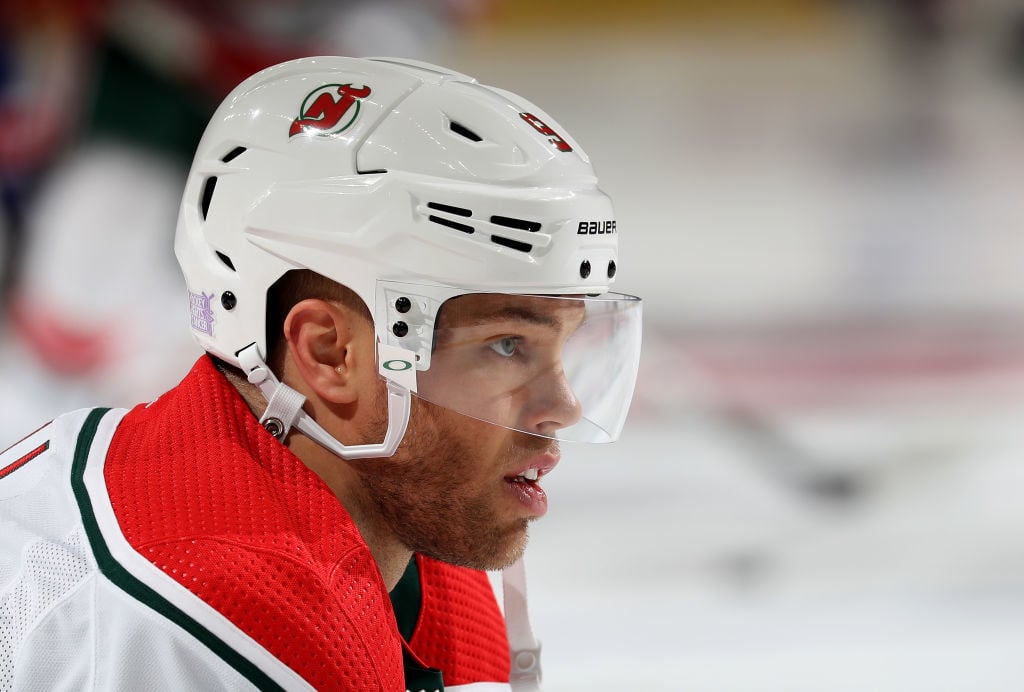 The sales pitch that brought Taylor Hall to Buffalo did not include a guarantee from coach Ralph Krueger that the former Hart Trophy winner would skate alongside Jack Eichel on the Sabres' top line.
Krueger, though, provided Hall with a detailed explanation of how the two superstar talents would complement each other, calling them the only two players he has coached who possess a combination of "skill and competitive levels that is world elite."
The thought of playing with Eichel was not the only factor in Hall's decision to bet on himself by signing a one-year, $8 million contract with the Sabres, but the presence of the team's talented 23-year-old captain convinced the top free agent in the NHL that success is attainable in Buffalo.
"There's no doubt about it that him being there is a big reason why I chose Buffalo," Hall said of Eichel. "He's an amazing hockey player. ... Now it's about can we find a way to get him in the playoffs and really produce on a stage that I feel that he deserves."
A union with Eichel could help Hall rebound from a difficult 2019-20 season in which he was not the same dynamic scorer that totaled 39 goals to win the MVP two years earlier. Such a scenario would allow Hall to cash in next offseason with a lucrative long-term contract and he's "very interested" in making this an extended stay in Buffalo.
Is it realistic for Krueger and General Manager Kevyn Adams to make that sort of financial commitment when they may soon have to give big money to Victor Olofsson, Sam Reinhart and Rasmus Dahlin?
According to CapFriendly.com, the Sabres' combined cap hit for their three-highest paid players – Eichel, Hall and Jeff Skinner – is $27 million, or 34.4%, which is tied for fifth in the NHL. Their salaries are the seventh-highest total.
Only Toronto, Tampa Bay, San Jose and Chicago are committing more cap space to three players next season. The latter two might be entering a short-term rebuild, while the Maple Leafs and Lightning had very little money to spend on free agents.
Hall's salary would appear low for a 28-year-old left wing whose resume includes five NHL All-Star Game selections, six 20-goal seasons and a league MVP, but he acknowledged Monday that he had a subpar year in 2019-20. Rehabbing from a knee injury the previous summer, as well as a midseason trade to the defensive-minded Arizona Coyotes, contributed to his 16 goals and 36 assists in 65 games.
He and other free agents were also impacted by revenue shortfalls resulting from the coronavirus pandemic. And while the NHL might have a flat salary cap beyond 2020-21, a rebound in revenue and a big season on Eichel's wing could position Hall for the sort of payday Skinner received in June 2019.
The Sabres handed Skinner an eight-year, $72 million contract after he scored 40 goals on Eichel's wing. The 28-year-old's second season in Buffalo was a disappointment, ending with only 14 goals and raising questions about the decision to retain him.
Perhaps Hall's ties to Buffalo would help the Sabres in negotiations. He and Krueger were in Edmonton together from 2010-13, capped by the latter's one lockout-shortened season as head coach. Hall also trains in Toronto every offseason and Buffalo is close to his parents' home.
Regardless, though, a long-term contract after a successful year could approach $10 million.
Reinhart, a 24-year-old right wing, can be retained through salary arbitration over each of the next two seasons, but he will become an unrestricted free agent in 2022. He finished last season with 22 goals, three short of the career-high 25 he scored in 2017-18, and his 50 points through 69 games were 15 shy of his 65 in 2018-19.
Since the start of the 2017-18 season, Reinhart's 165 points are 65th among all NHL forwards — more than Nashville's Filip Forsberg, Vancouver's Bo Horvat, San Jose's Evander Kane and Winnipeg's Nikolaj Ehlers. Recent contracts signed by players with comparable numbers indicate Reinhart's annual salary should account for approximately 7% of the $81.5 million salary cap, or roughly $6.52 million.
The number will increase if Reinhart has another productive season, and he's the early favorite to skate on the top line with Hall and Reinhart.
Olofsson also filed for arbitration after a 20-goal season that led to his selection on the NHL all-rookie team. A source told The Buffalo News that Olofsson's agent has been negotiating with the Sabres since July. If the two sides were to sign a long-term contract now, Evolving-Hockey.com predicts an average annual value of $4.977 million. Depending on the term, that could be a significant gamble given he has played in only 60 NHL games.
Perhaps more significant, the Sabres will eventually have to pay defenseman Rasmus Dahlin, who has totaled 84 points over two seasons despite his second-pairing usage. Dahlin, 20, will become a restricted free agent next offseason and although the Sabres can push the long-term contract by taking advantage of arbitration, the price will only increase as the former first overall pick's role and production increase.
Alex Pietrangelo, the top defenseman on the market this offseason, signed a seven-year, $61.6 million contract with Vegas on Monday.
The Sabres could receive some cap relief next offseason when they lose a player to the Seattle Kraken through the expansion draft, and three prominent players are entering their respective contract years: Eric Staal, Brandon Montour and Jake McCabe.
The balancing act will require the Sabres to receive production from players on entry-level contracts, particularly recent first-round draft picks Dylan Cozens and Jack Quinn. This could also explain why Adams was willing to give Tage Thompson a three-year contract worth $4.2 million despite the 22-year-old winger having played only one NHL game since March 2019.
Proving to Hall that Buffalo is the right fit is half the battle. Making this work with the salary cap will be a juggling act that could force Adams to make some difficult decisions on who to sign and who to let go.
"We believe in Taylor as a player and a person, and we hope this turns into a long-term relationship for both sides that works," Adams said.
Be the first to know
Get local news delivered to your inbox!