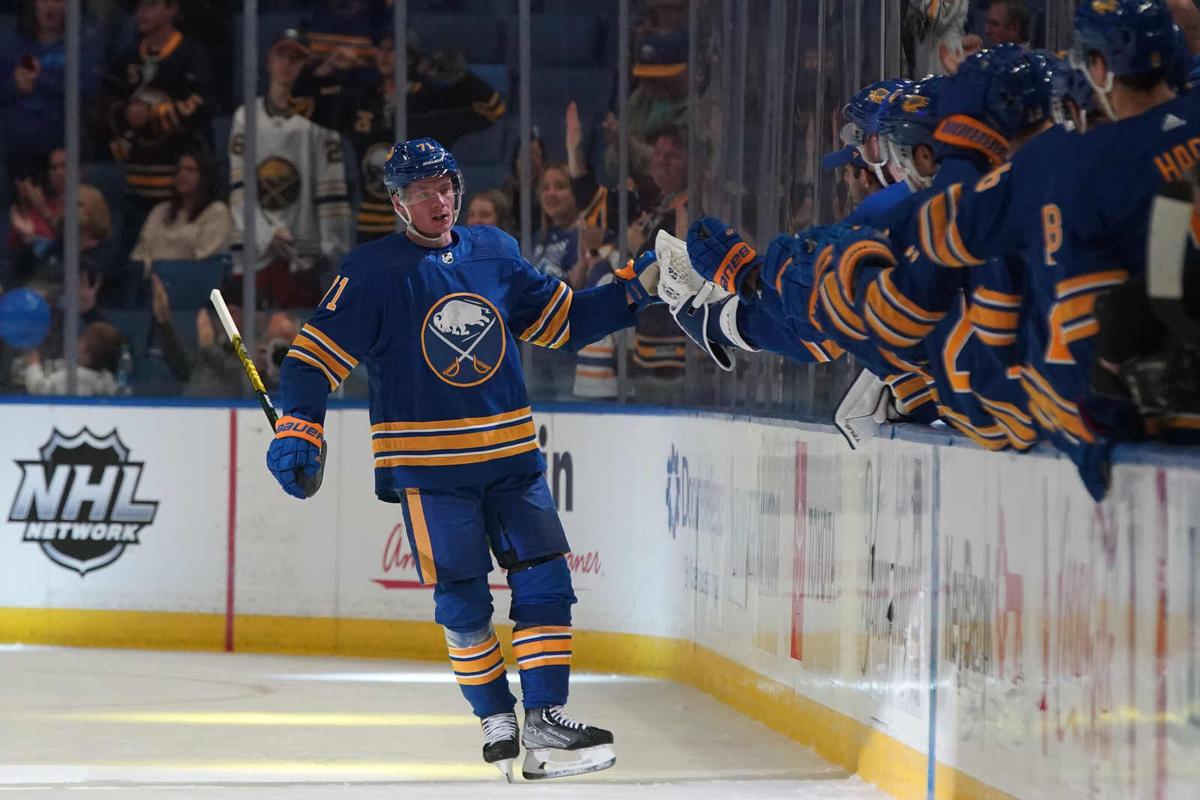 The quick analysis of the Buffalo Sabres' 2-1 win Tuesday in Pittsburgh was that goalie Dustin Tokarski saved the night. He made a career-high 45 saves, 19 in the third period, so that doesn't require deep thought.
Goalie Dustin Tokarski delivered a career-high 45 saves, including 20 in the chaotic third period, to hold off the Penguins and secure a 2-1 win for the Sabres on Tuesday night.
Coaches, of course, dig much deeper when reviewing a game and looking to the next one. What gave the Penguins huge momentum and where do the Sabres have to start seeing some production so everything isn't on Tokarski's shoulders when Calgary comes to KeyBank Center on Thursday night?
Also an easy answer: The power play. It should be generating momentum for you, and not for the other team.
The Sabres went 0 for 5 on the power play in Pittsburgh and things went even worse than that sounds. That's because the Sabres had just three shots on goal with the man advantage – and gave up seven shorthanded shots to the Penguins. The struggles have been a theme for weeks.
The Sabres went 4 for 8 with the man advantage in the first two games of the season and that's why their overall numbers seem decent. They entered Wednesday tied for 16th in the NHL with Tampa Bay at 19.1% and were 13th at home (21.7%).
But over the span of Games 3-15, the Sabres are 30th at just 11.8% (4 for 34). In the last eight games, they're 2 for 22. In the last four, it's 0 for 13.
Some of it is missing personnel. Casey Mittelstadt was injured in the season opener and hasn't played since. Winger Victor Olofsson, the team's top sniper on the flank, has missed seven games and counting with what's believed to be an oblique issue. The club is 2 for 20 without him.
But a lot of it is execution as well. Making simple zone entries has routinely proved to be confounding. Passing, both moving up the ice and when set in the offensive zone, often goes haywire.
Coach Don Granato said this week he wants his players to not overthink things on the man advantage. Especially if the game is going well up to the moment when the Sabres are thrust into 5-on-4 play.
"If there's a simplest way to to say it, it would be a have a 5-on-5 mentality," Granato said. "I think we sometimes get fused that it's a power play so we run to a setup. It's still a 1-on-1 situation in the corner, a faceoff battle. I think we're thinking too much of power play, which is a natural instinct.
"You have to get to the power play. Even though it's 5 on 4, you've got to break pressure and work and support as if it were 5 on 5 and you get to that point where the penalty kill backs off. And that's probably been our biggest challenge. Psychological probably more than physical."
Jack Quinn's remarkable start to the season in Rochester hasn't gone unnoticed by Sabres coach Don Granato.
Granato's postgame reflection Tuesday made it clear there's still work to do in that area. The Sabres took the day off Wednesday and we'll see what adjustments are made during Thursday's morning skate.
The Sabres entered the third period Tuesday with a 2-0 lead and were looking for the power-play goal that could have given them a complete stranglehold on the game. Instead, they started Pittsburgh's downhill roll that lasted the entire 20 minutes.
The most grievous play was a blind backhand pass through the neutral zone by Rasmus Dahlin. It was intercepted and Teddy Blueger sped in on a breakaway, only to see Tokarski stop his shot with his left shoulder.
Another early man advantage saw former Sabre Evan Rodrigues stopped on a 2-on-1 break and Brock McGinn also stoned by Tokarski on a one-timer from the slot.
"A couple tough power plays to start and it just killed any momentum that we had built up in the first two periods," said winger Kyle Okposo. "It made them feel good."
"I'm pretty certain we gave up more quality chances against on the power play in the third than we did in the first two periods 5 on 5," Granato said after the game. "They had four (players) and they outworked us. When you don't have that work ethic as a foundation and you're getting outworked, it's going to look ugly and it certainly did."
Tokarski's signature stint came when he stoned Connor McDavid & Co. by making 14 saves in the final 7 1/2 minutes of a 3-2 win over the Edmonton Oilers on Friday.
• The Sabres entered Wednesday's play 13th in the NHL in save percentage at .911, a big jump from being tied for 26th last season. And that's counting the .808 put up by Aaron Dell in his lone start Saturday against Toronto. If you take that away, Tokarski and the injured Craig Anderson have combined for a .920 – which would be third.
• Among goalies who have started at least six games, Anderson and Tokarski are 14-15, respectively in the league in save percentage at .921 and .920. Tokarski's big night in Pittsburgh pushed him to .927 at even strength, tied for 14th with Columbus' Elvis Merzlikins.
• Tokarski has stopped 78 of 81 shots (.963) in his last two games, wins over Edmonton and Pittsburgh. He's at .971 in the third period of those games (33 of 34). 
"He has been just really solid for us all the way from the first day of camp," Okposo said. "You can see it in practice. Every little puck, every second puck, third puck. He's competing hard and it definitely shows in the games."