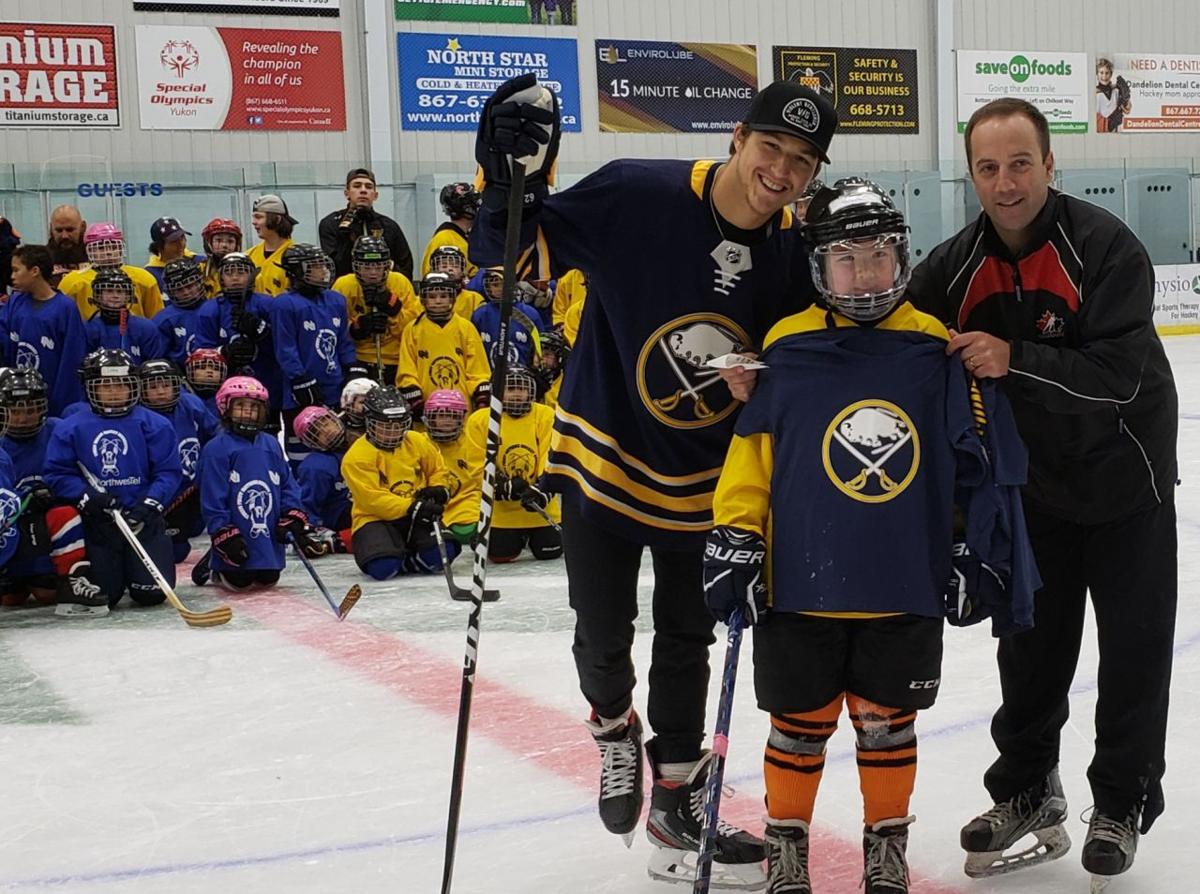 Talent was never Brandon Montour's problem.
He has always had an effortless stride and possessed the skill to play forward during his junior career. Yet Montour, now a 25-year-old defenseman for the Buffalo Sabres, wasn't seen by many scouts and went undrafted by the Ontario Hockey League in both his years of eligibility.
That forced him to play tier-two junior hockey for three years before he went to the United States Hockey League, UMass-Amherst, the National Hockey League and, most recently, the IIHF World Championship.
His story resonates with children, particularly those of indigenous heritage. Montour spent part of his childhood in Ohsweken, a village in the Six Nations of the Grand River reserve near Brantford, Ont.
Montour wants to use his platform to show children there is hope, no matter their socioeconomic background or heritage. He spent almost two days at an indigenous camp in Whitehorse, Yukon — the small town that produced Sabres first-round draft pick Dylan Cozens — and attended another in Prince Edward Island, Ont., with former Sabre Cody McCormick last summer.
"It's good to give back in general," Montour said. "For my culture that's even bigger, and they can see it's bigger. Whether they're native or not, I want to help kids. It's not just aboriginal kids that need help. Everybody experiences that. I'm glad I could help."
Montour did not have an NHL player to deliver that message to him as a child. His inspiration was his parents, Cam and Tammy. Cam's career as an iron worker forced him to be away from home a month at a time, and the location of some job sites prevented him from seeing his sons' hockey or lacrosse games. He would travel home on weekends when he was within driving distance.
Tammy, meanwhile, would prepare dinner for her three boys in the afternoon, pick them up from school and take them to the rink. Colin, Brandon and Cameron used to practice consecutively before going home for the night. The sacrifice was not lost on Brandon. Though he also excelled in lacrosse, hockey was always his first love. His talent allowed him to play AAA midget hockey in Brantford, and he later joined the Junior-B level Greater Ontario Hockey League.
Montour went undrafted by the OHL during his first season of eligibility and attended a tryout with the Guelph Storm. He performed well enough to earn a roster spot but was told he would likely spend the season as an extra defenseman. That led Montour to Caledonia, a small town east of Brantford, for another season of Junior-B level hockey.
Montour had 103 points over his final two seasons in the GOHL. The problem was exposure. Only family and friends sat in the bleachers of the small rinks in which he played.
"He's always taken the back way to get where he is, like not playing in major junior," his father said. "He's never really been on the radar because of that. He never really went the mainstream route. In that short time, playing on different teams and stuff, more and more people would talk about how he would skate."
Montour left home to play in the USHL for Waterloo (Iowa), where he finally had the opportunity to play in front of NHL scouts. He was ranked the 92nd-best North American skater in the 2014 draft class by NHL Central Scouting, and the Anaheim Ducks selected him in the second round that June.
Montour has since recorded 76 points in 197 regular-season games between Anaheim and Buffalo, appeared in 21 playoff games with the former and represented Canada on the international stage at the IIHF World Championship last May. The latter accomplishment was surreal, given Montour was not viewed as a elite junior prospect in Ontario.
"How many kids can experience the world championships after doing that? Montour asked. "The idea of being able to do that, having the belief for kids coming into that, not being drafted or whatnot, keep pushing and you'll never know what can happen.
"I got my opportunity and here we are."
About 110 children from the 13 First Nations communities across the Yukon Territory attended the camp in Whitehorse in July. Montour skated with two of the three groups, spoke to the children about his path to the NHL and reminded them to never get discouraged.
Montour viewed his time in Whitehorse as mutually beneficial. The trip provided him with an opportunity to see the mountainous landscape around Whitehorse — Cozens offered a few travel tips to Montour prior to his departure — and views these camps as an opportunity for personal growth.
Some children in Whitehorse have to travel hundreds of miles to play hockey competitively, while others' only on-ice obligation is the Yukon Native Hockey Tournament every March. Many don't have the financial means to pursue hockey beyond a recreational level. Local sponsors donated to offset the cost of attending the camp.
"It's really an eye-opener for the community kids to see someone like Brandon come to Whitehorse and hangout with them," said Karee Vallevand, who organized the camp for Yukon First Nations Hockey Association. "They realize he's just a regular guy. He's just like them. They had so much fun. He was really cool with the kids and this isn't just for indigenous children. It's for everyone in the surrounding communities. We want everyone to have access to hockey players like Brandon."
Many reserves across Canada deal are isolated and have been ravaged by drug and alcohol abuse. Montour's trip to the First Nations reserve on Lennox Island, which is located off the northwest coast of Prince Edward Island, showed him what other challenges children in these communities may face.
The ice surface on which the children skated was the same size or smaller than the Sabres' dressing room inside KeyBank Center, Montour recalled. Though McCormick spoke glowingly of the reserve's leadership and dedication to providing extracurricular activities to youth, Lennox Island is isolated. A visit from current and former NHL players provides a respite and, in some ways, hope.
" You go to a lot of rural areas and you see the same thing," said McCormick, who is of First Nations heritage and has continued to visit reserves across Canada since his 11-year NHL career ended. "It's not always great. The isolation, the abuse, the alcohol and drug abuse that a lot of these places face. The youth have to kind of persevere through that. Brandon doing that sort of thing is amazing to see because of the platform he's on and the influence he can have on the youth. It means something when they see somebody who is a product of the same place they're coming from.
"Brandon coming from a reserve, Six Nations, and he's made it. He may have dealt with some of the struggles that they're facing. He just never made it his identity. He persevered through it. For him to come back and talk to the youth in different communities — I know that means a lot to them."
The visits remind Montour how fortunate he was to have two parents working diligently to ensure he and his brothers would have the opportunity to pursue their dreams. He called his job with the Sabres a "privilege," and expressed gratitude for his parents' sacrifice.
The past nine months have been somewhat of a homecoming. Montour's trade to the Sabres last February allows his parents to make the 70-minute drive down the Queen Elizabeth Expressway to attend games or have a family dinner. His father often has to stay home because of his work commitments the following morning.
However, Cam Montour called off work on May 10 to watch Brandon represent Canada for the first time at the world championships. Though Montour and his countrymen suffered a 3-1 loss to eventual champion Finland, the game reminded both father and son that sacrifice could make anything possible.
"It makes it all worthwhile," Cam said.