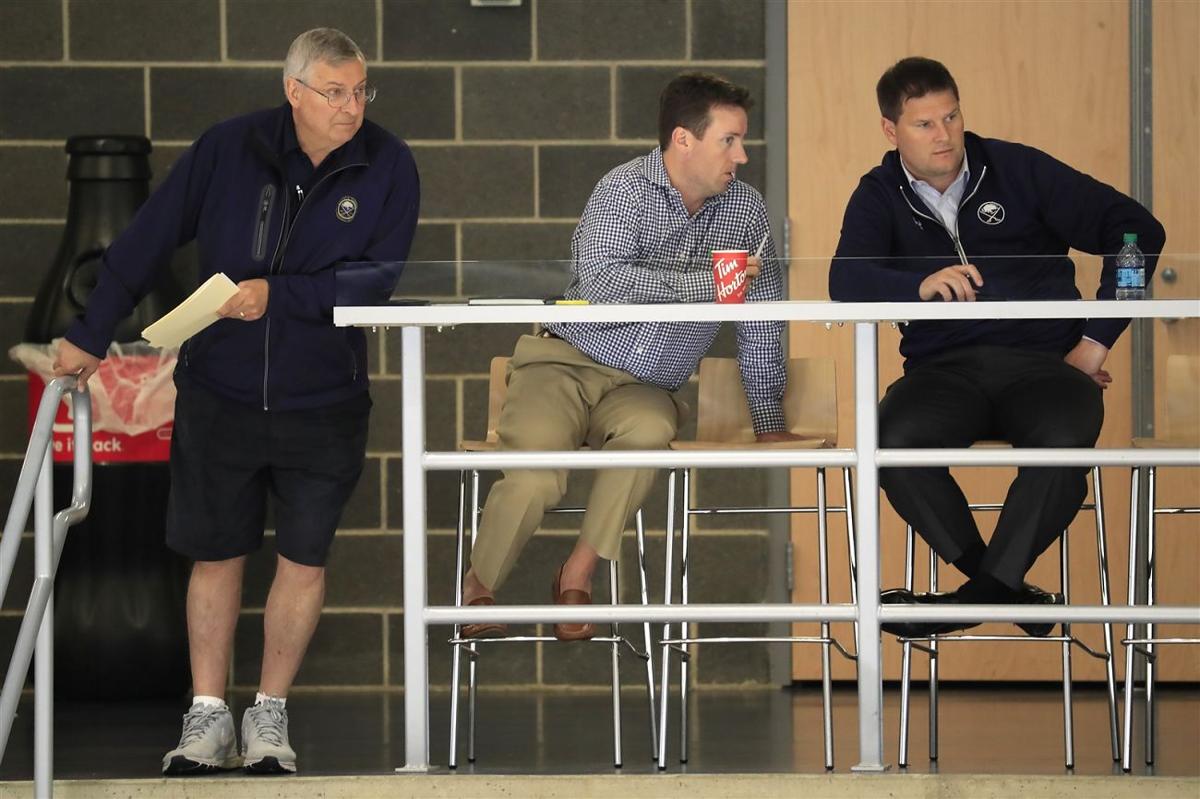 Former Buffalo Sabres General Manager Jason Botterill's top two lieutenants in hockey operations, assistant general managers Randy Sexton and Steve Greeley, received two-year contract extensions this season, multiple sources confirmed to The Buffalo News on Saturday.
The midseason extensions, which were requested by Botterill and approved by ownership, ensured he and his two assistant general managers would be under contract through the 2021-22 season, and seemingly would have provided a sense of job security.
But Botterill, Sexton and Greeley were among the 22 employees fired Tuesday in a sweeping overhaul of the Sabres' hockey operations department.
An industry source told The Buffalo News an assistant general manager carries an approximate average annual salary between $300,000 and $400,000. Owners Terry and Kim Pegula are paying former General Manager Tim Murray, whom they fired in April 2017, through the end of this month.
Multiple sources confirmed to The News on Thursday that Botterill had verbal agreements in place to extend the contracts of Rochester coach Chris Taylor and player development coach Krys Barch. However, neither deal was completed before Botterill's firing, and Taylor and Barch were also let go. Sportsnet's Elliotte Friedman was the first to report the agreements.
Botterill was replaced by Kevyn Adams, who previously worked as the Sabres' vice president of business administration. Adams played 11 years in the National Hockey League before joining the organization as a player development coach in 2009.
The Pegulas cited "philosophical differences" after Botterill's firing and the scope of the overhaul was not known until late Tuesday. Among those fired were amateur scouting director Ryan Jankowski; assistant amateur scouting director Jeff Crisp; 10 of 14 amateur scouts; one of three pro scouts; two of four development coaches; Rochester coach Chris Taylor and his coaching staff; and Dennis Miller, head of rehab and development. Another amateur scout resigned last month to spend time with his family.
During a Zoom conference call with reporters Tuesday, Terry Pegula told reporters the hockey operations department would become "leaner," a vision that did not align with that of Botterill, who was hired in May 2017.
The Sabres failed to qualify for the NHL's 24-team return-to-play format because they finished .007 percentage points behind the Montreal Canadiens.
Sexton, who also ran the Sabres' top minor-league affiliate, the Rochester Americans, worked with Botterill in the Pittsburgh Penguins organization from 2010-17. Sexton was the Penguins' director of amateur scouting, while Botterill ran the team's AHL affiliate in Wilkes-Barre/Scranton.
Greeley joined the Sabres in 2017 after spending two years as the New York Rangers' assistant director of player personnel. He was an assistant coach at Boston University during Jack Eichel's only season with the Terriers in 2014-15 and began his hockey operations career with a seven-year stint as a scout in the Los Angeles Kings organization.
Be the first to know
Get local news delivered to your inbox!