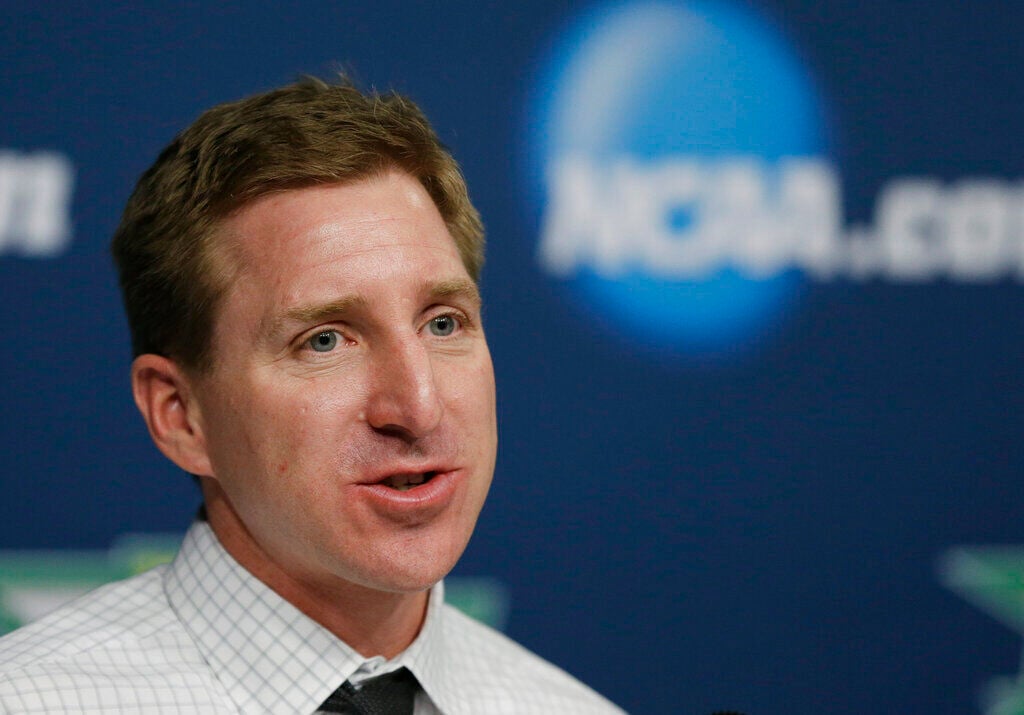 Don Granato did not use his end-of-season media availability to lobby for the Buffalo Sabres coaching job.
However, the 53-year-old credited by the Sabres' young core for their improved play over the season's final month told reporters Wednesday that only some of what he can provide the ailing franchise was on display during his 28 games as interim coach.
"I'm going to have talks with (general manager Kevyn Adams) and share more extensively my philosophy and approach," Granato said. "Obviously, I coached to the situation this season and tried to maximize what we could maximize, work with what we had to work with. You saw some of my coaching, but you obviously haven't seen it all." 
Adams plans to conduct a thorough search that will include candidates from "a lot of different backgrounds," but he said coaches with a strong track record in player development will have an edge.
With that in mind, here's a look at who could fit Adams' criteria:
Granato, now 53, has coached for eight teams at various levels, building a résumé, and calculated approach to developing talented athletes, that has him as a leading candidate for the coaching vacancy in Buffalo.
John Tortorella, free agent: Tortorella and the Columbus Blue Jackets mutually agreed to part ways following a season in which they finished at the bottom of the Central Division. Tortorella, 62, led the franchise to its first playoff series wins. His track record is unmatched by anyone on this list, as Tortorella has reached the playoffs 11 times in 16 seasons. He's won the Stanley Cup and has twice been named coach of the year.
Tortorella was an assistant coach with the Sabres from 1989-95 and later won a Calder Cup as head coach of the Rochester Americans. While Tortorella would bring accountability, he's not the best fit for this young roster, especially if Jack Eichel and Sam Reinhart leave.
Bruce Boudreau, free agent: The 66-year-old has led his teams to the playoffs in 10 of his 13 seasons with Washington, Anaheim and Minnesota. He is interested in the Buffalo opening and hails from Toronto. Boudreau, though, hasn't worked with a young roster since his early days with the Capitals.
Rick Tocchet, free agent: A finalist for the Sabres job when Phil Housley was hired in 2017, Tocchet led the Arizona Coyotes to one playoff appearance and a combined 125-131-34 record during his four seasons as head coach. Tocchet, 57, was an assistant coach with Pittsburgh when Sabres associate general manager Jason Karmanos worked for the Penguins.
The Bruins went 12-4-1 since acquiring Taylor Hall and Curtis Lazar from the Sabres and defenseman Mike Reilly from Ottawa.
Gerard Gallant, free agent: This is a pipe-dream candidate. Gallant is highly sought after by the New York Rangers and likely will draw interest from the Seattle Kraken. The cost to hire Gallant also likely would put the Sabres out of the running, as ownership still owes money to Ralph Krueger.
Rod Brind'Amour, head coach, Carolina Hurricanes: Yes, all reports indicate Brind'Amour is expected to sign a contract extension soon, but he will be the top available candidate if those negotiations prove fruitless.
Brind'Amour is close friends with Adams – they won the Stanley Cup together in 2006 and trained together every offseason – and might be the only name on this list that would entice the Pegulas to pay big money. This would give the Sabres a general manager/coach model like the one the Bills have with Brandon Beane and Sean McDermott.
Seattle is a more likely landing spot for Brind'Amour if Carolina can't retain him.
David Quinn, free agent: Quinn, who coached Eichel at Boston University, was fired by the Rangers after posting a combined 96-87-25 record and one playoff appearance in three seasons.
North champions the Toronto Maple Leafs are looking for first series win since 2004.
Rikard Grönborg , head coach, ZSC Lions: Some Sabres fans will roll their eyes because the last out-of-the-box hire was a disaster. Grönborg isn't your typical European coach, though. Born in Sweden, Grönborg spent 20 years honing his craft in North America. He played and coached at St. Cloud State, and he eventually took control of the Swedish National Team.
Grönborg, 52, is highly regarded by many of the top Swedish players in the NHL, including Sabres defenseman Rasmus Dahlin. He guided Sweden to back-to-back gold medals at the world championships in 2017 and 2018. Grönborg also proved he's not simply a tournament coach, as he's led ZSC Lions in consecutive strong seasons in Switzerland. Lauded by players for his direct communication, Grönborg spoke about his coaching philosophy at the 2019 TeamSnap Coaches' Conference in Toronto: "We want their minds to be free. They're making split-second decisions on the ice. There's nothing we can show them on a board that will help them make those plays. It's amazing what you can accomplish when the mind is free."
Nate Leaman, head coach, Providence College: Leaman has 17 years of experience as a college head coach and led Providence to a national title over Eichel's Boston University Terriers in 2015. Leaman, 48, helped the United States capture a gold medal at the most recent IIHF World Junior Championship, capped by a stunning upset of Canada.
André Tourigny, head coach, Ottawa 67s: Respected by Sabres forward Dylan Cozens and prospect Jack Quinn, Tourigny coached Canada to a gold medal at the IIHF World Junior Championship in 2020. A two-time OHL coach of the year, Tourigney developed Quinn and Minnesota Wild prospect Marco Rossi, among others. Tourigny spent three seasons behind an NHL bench as an assistant coach. He has been coach of the year in the Ontario Hockey League and Quebec Major Junior Hockey League.
"If he's going to trade his franchise player, Adams has to keep his eyes on the prize," writes Mike Harrington.
Pascal Vincent, head coach, Manitoba Moose: During his five seasons as head coach of the Moose, Vincent has helped further the development of several players who have factored into the Winnipeg Jets' recent success, including Kyle Connor, Jack Roslovic, Mason Appleton, Brandon Tanev, Jansen Harkins and Logan Stanley. Vincent, 49, spent five seasons as an assistant coach in Winnipeg under Paul Maurice.
Troy Mann, head coach, Belleville Senators: Amid his eighth season as an AHL coach, Mann, 51, has done an outstanding job developing young players in each of his stops, including Hershey, where he led the Bears to the Calder Cup Final in 2016.
Lane Lambert, assistant coach, New York Islanders: Lauded for his work with the Washington Capitals' forwards ahead of their Stanley Cup win in 2018, Lambert is the top assistant coach thought to be ready for a head job. Lambert, 56, is amid his 11th season working under Barry Trotz and previously was head coach of the AHL's Milwaukee Admirals (2007-11), where he had a hand in developing Patric Hornqvist and Norris Trophy winner Roman Josi.
Mike Vellucci, assistant coach, Pittsburgh Penguins: A coach of the year in the AHL and OHL, Vellucci led the Charlotte Checkers to the Calder Cup in 2019 despite operating with a budget that was a fraction of what other top teams had. Vellucci also helped the Checkers' top forwards become NHL ready, particularly Martin Necas, Morgan Geekie and Warren Foegele. Vellucci received high marks for his work with the East Division's first-place Penguins this season. He worked with Karmanos in Pittsburgh.
Steve Ott, assistant coach, St. Louis Blues: The 38-year-old former Sabres captain is amid his fourth season as an assistant coach. Not far removed from a playing career – Ott retired following the 2016-17 season – he was on the coaching staff when the Blues won the Cup in 2019.
Rocky Thompson, assistant coach, San Jose Sharks: The 43-year-old led the Chicago Wolves to the AHL Calder Cup Final in 2019 before joining Bob Boughner's staff in San Jose. Thompson's approach to creating offense is highly-respected among NHL decision-makers, as he's had success in the AHL and OHL.
Todd Reirden, assistant coach, Penguins: Fired after back-to-back shortcomings in the Stanley Cup Playoffs, Reirden led the Washington Capitals to a combined 89-46-16 record across two regular seasons. The 49-year-old was an assistant coach under Trotz when the Capitals won the Cup in 2018.
Reirden has earned high marks this season with his coaching of the Penguins' defensemen. The power play has also flourished under his watch, as Pittsburgh ranks first in the NHL since March 25, despite having Evgeni Malkin for only four games during that span.