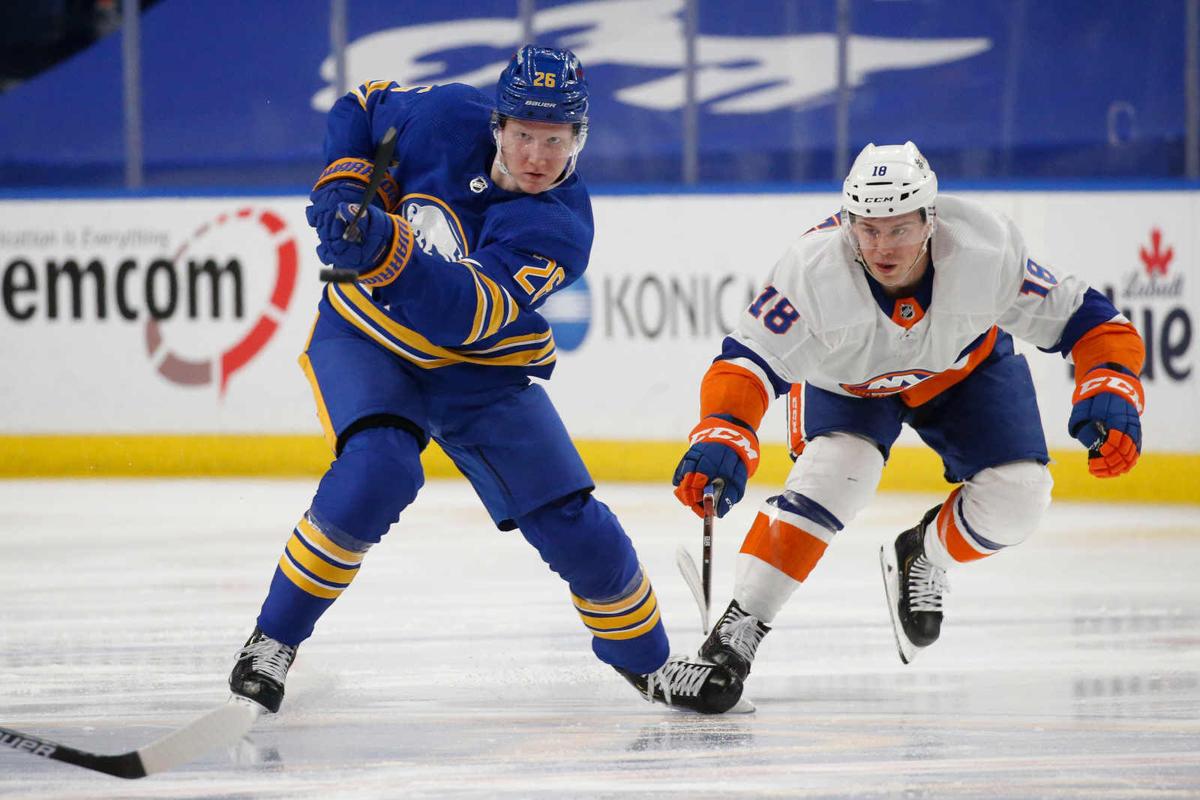 For Stanley Cup finalists Tampa Bay and Montreal, it was the shortest offseason in NHL history at just 80 days. The Buffalo Sabres, of course, are used to long offseasons. Their latest one is now over.
What the NHL hopes will be the first 82-game grind since 2018-19 officially opens Wednesday at sites around the league as players report for the start of training camp. The Sabres will be coming to KeyBank Center for physicals and have their first on-ice sessions slated for Thursday.
The club started camp with some good news Wednesday morning, announcing defenseman Rasmus Dahlin has signed a three-year, $18 million contract. Dahlin was Buffalo's only unsigned player, as its lone restricted free agent.
The 21-year-old was one of the NHL's four prominent RFAs as teams and players weighed the pros and cons of a long-term extension or a shorter "bridge" deal. The group also included the Vancouver duo of Elias Pettersson and Quinn Hughes and Ottawa's Brady Tkachuk.
A fifth player, Calder Trophy winner Kirill Kaprizov of Minnesota, signed a five-year, $45 million contract Tuesday night to remain with the Wild after a summer of rumors he might stay at home in Russia and play in the KHL.
Dahlin struggled mightily last year under Ralph Krueger, but blossomed under coach Don Granato. In the final 20 games of the season after the coaching change, Dahlin led the Sabres in 5-on-5 ice time, averaged 23:16 per game overall and totaled 11 points.
It was much more reminiscent of the kind of play the Sabres saw from Dahlin after he entered the league as the No. 1 overall pick in 2018. Dahlin's 84 points before his 20th birthday were the second-most by a teenage defenseman in NHL history, trailing only Hockey Hall of Famer and former Sabres coach Phil Housley (143). 
When Don Granato leads the Buffalo Sabres' first training camp practice Thursday, it's a forgone conclusion that he won't have his captain, Jack Eichel, on the ice.
This will be the first training camp for Granato as Buffalo's head coach, with Granato and general manager Kevyn Adams slated to have their first media briefings of the season on Thursday morning. But the on-ice work threatens to be overshadowed immediately by whatever is taking place with captain Jack Eichel.
Eichel, who continues to haggle with the team over the method of surgical treatment for the herniated disk in his neck, is expected to be on hand to have his physical with his teammates Wednesday. There is no media access on physical and testing day, a departure from past years. 
Eichel wants to have an artificial disk replacement surgery, while the Sabres continue to maintain they want a standard fusion procedure. A recent Sportsnet report said the sides had a meeting last month in Buffalo, with representatives from the NHL and NHL Players' Association present, and no common ground was found as Eichel and the team both maintained their positions.
Lance Lysowski and Mike Harrington of The Buffalo News provide their opinions on five notable topics at the start of camp.
Eichel then fired longtime agent Peter Fish on Aug. 27 and replaced him with NHL super agent Pat Brisson, but there has yet to be any movement on the situation.
Assuming Eichel fails his physical, he can simply stay on injured reserve and collect his $10 million salary while the sides continue to work on an arrangement. The Sabres could really throw the situation into chaos if they tried to suspend Eichel for not following the club's medical recommendations – which is their right in the CBA – to withhold his salary. 
Sportsnet's Elliotte Friedman even speculated in his "32 Thoughts" blog posted early Wednesday morning that the Sabres could strip Eichel of his captaincy, assuming he fails the physical.
Adams has been trying to trade Eichel all summer, and the issue came into the open the week after the regular season when Eichel openly spoke of the "disconnect" between him and the organization during his end-of-season video call with reporters. It's the last interview he's done. 
The GM, of course, has been driving a hard bargain in looking for a large package, but teams are naturally hesitant to pay his asking price until they know Eichel's physical status.
The camp roster contains 58 players, including 34 forwards. Many of them are players on AHL contracts who will stock Rochester. A few could even end up in Cincinnati of the ECHL.
Adams and Granato likely will be asked to address the club's Covid-19 vaccine status for the first time as well. The NHL is expecting 98 percent of its players to be fully vaccinated, and Columbus president John Davidson made waves Tuesday when he revealed that veteran tough guy Zac Rinaldo declined to get vaccinated and was not welcome at camp. 
The Sabres want the Czech native to refine his game and become a mature pro while still agitating.
Theme Nights added to schedule
The Sabres unveiled a promotional schedule of "Theme Nights" for the 2021-22 season Tuesday and confirmed that legendary announcer Rick Jeanneret will make his final call in the TV/radio booth for the season finale here on April 29 against Chicago. Jeanneret, who joined the club in 1971, announced recently that he will retire after the season.
The Chicago game will be one of four "White Hot Fridays", when the club will wear its white jerseys at home. The first is Oct. 22 vs. Boston. There also will be a pregame happy hour, appearances from alumni, and giveaways.
Nov. 6 vs. Detroit will be Val James Night as the Sabres will honor the 40th anniversary of the night James suited up for the Sabres and became the first Black American player to appear in an NHL game.
The club also announced that Nov. 29 vs. Seattle will be the annual Hockey Fights Cancer Night, Dec. 11 vs. Washington will be Native American Heritage Night, Jan. 6 vs. San Jose will be Hometown Heroes Night, Jan. 22 vs. Philadelphia will be Youth Hockey Day, March 6 vs. Los Angeles will be Kids Takeover Night and March 10 vs. Las Vegas will be Pride Night.
The club said it will announce more promotions at a future date.