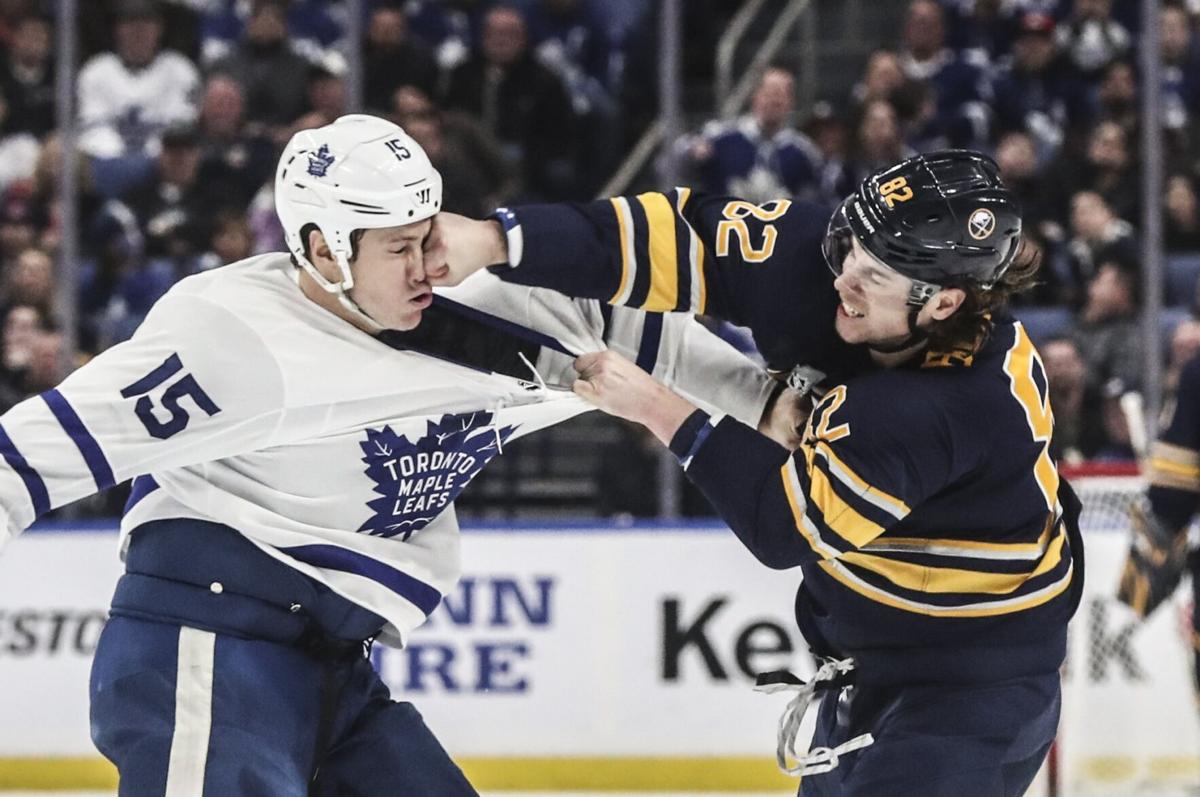 Nathan Beaulieu doesn't mince words when it comes to the Toronto Maple Leafs.
"I've had hatred for them since I was born," the Buffalo Sabres defenseman said Thursday night. "Growing up close to Toronto, I was never a Leafs fan."
Beaulieu obviously gets pumped up for games against the Leafs, but his team wasn't ready for the start of this one. So late in the first period, with the Sabres in a 2-0 hole, the defenseman challenged Toronto tough guy Matt Martin.
It was an old-school hockey fight. Both players tossed haymakers, hooks and overhand rights. Beaulieu buckled Martin's knees with one blow, but the Maple Leafs forward got up and kept punching until they both tumbled to the ice.
The sellout crowd in KeyBank Center roared its approval, and players on both benches tapped their sticks in a show of respect.
"We've been off for a long time, and it just didn't seem like we were into it right away," said Beaulieu, whose team hadn't played since Saturday. "I just wanted to spark the boys a little bit."
Buffalo scored less than a minute later to make it 2-1, but that was as close as it would get in a 5-2 loss. Defeats are common, but the spirited show of fisticuffs is rare in today's NHL.
"There's not much," Beaulieu said. "A couple times I've been looking to try to get the guys going, and they're tough to find now. You've got to go straight to the heavies if you're looking for it."
Martin qualifies. The 6-foot-3, 220-pounder has 93 NHL bouts to his credit, according to HockeyFights.com. The 6-2, 200-pound Beaulieu ran his total to 12.
"Sometimes it's just something you need to do," Beaulieu said. "I have a lot of respect for him over there to give me the opportunity."
The opportunities are indeed dwindling. The NHL is nearing 1,100 games played this season, and HockeyFights.com has tallied 251 fights. Just four years ago, there were 469. In 2009-10, there were 714.
"It's pretty quiet," said Sabres forward Jordan Nolan. "There's not too many guys out there. I think it's different when you have a rivalry with a team or you're close in the standings with them, but lots of teams that come in here, they're not looking to get into it.
"But I thought it was a pretty intense game, and Nate stepped up for us."
Concussions have changed the fighting landscape. Pugilistic Ottawa defenseman Mark Borowiecki told the Athletic on Thursday that he'll turn fights down now after suffering a severe concussion in November. Players have read about the lawsuit filed by retired players against the NHL, and they know there could be long-term damage caused by head injuries.
"It's difficult," Beaulieu said. "You've got to worry about your safety first. You've got to know how to protect yourself. I'm confident I can protect myself. You've got to worry about your career and your living."
Beaulieu appeared to suffer a concussion during a January fight in Calgary. He was on the losing end of a battle with Curtis Lazar, and his chin bounced off the ice. He missed four games.
"Right after Calgary I wanted to get another one right away just to keep the brain sharp and remind myself that I can do it," Beaulieu said. "It was a difficult bounce for me, so it was good to get one in."
The one against Martin was memorable.
"It really got the bench going," Sabres coach Phil Housley said. "Nate did a good job stepping up like that, just trying to create some energy and some momentum for us."
Given the medical data and the lack of willing combatants, the fighting numbers are expected to continue to dwindle. It makes the action-packed bouts more noticeable.
"It's gone down a lot because the game's gotten a lot more skilled," Beaulieu said, "but I feel like there's still sometimes a need for it."
Be the first to know
Get local news delivered to your inbox!