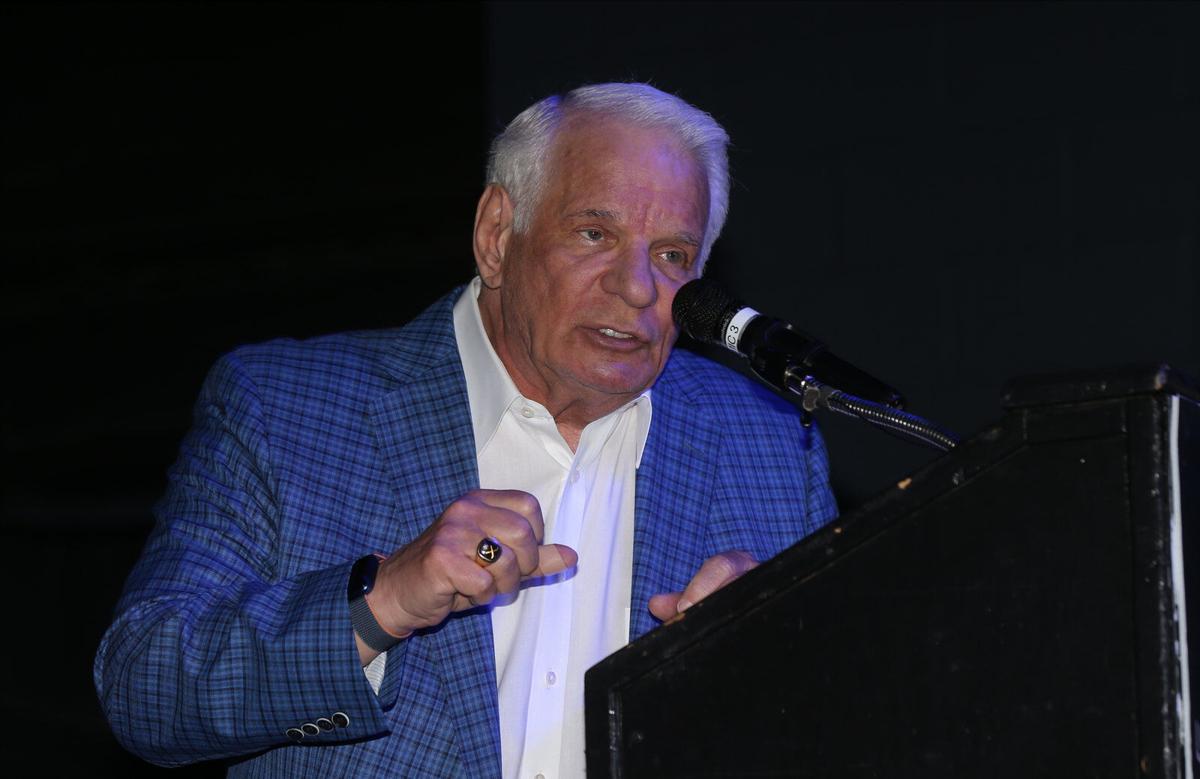 This is part of a series on the Class of 2021 of the Greater Buffalo Sports Hall of Fame. The induction ceremony is Oct. 13 at the Buffalo Niagara Convention Center. For tickets, visit buffalosportshallfame.com.
Hockey fans who spent years reveling in Mike Robitaille's work on radio and television might find this nugget hard to believe: He's really no fan of public speaking.
When he agreed to speak at a news conference on behalf of the Class of 2021 for the Greater Buffalo Sports Hall of Fame earlier this summer, Robitaille confided he was painfully nervous about it.
The GBSHOF introduced this year's class Wednesday afternoon at RiverWorks. 
As it turned out, the former Buffalo Sabres defenseman everyone calls "Roby" did just fine.
He said he was in awe of the honorees and all they've done for Western New York. And he paid particular tribute to the 1958 University at Buffalo football team, the school's iconic group that stood up for racial injustice and opted out of that year's Tangerine Bowl when two Black players were prevented from playing.
What has always been the key for Robitaille in his quarter-century on radio and TV? Talk to the people out there as though it's a one-on-one connection. Forget the camera. Just talk.
"That's what I was doing. I was talking to them and wasn't talking to the man on the moon," Robitaille said. "I always felt like I was very gun-shy about going on the air. It didn't come easy. So I get some advice from a lot of people on what to do and it was all about just talk to the people like you're talking to them personally, and it got a lot easier that way."
Robitaille is one of 12 inductees to the Class of 2021, which will be honored at the annual induction dinner Oct. 13 in the Buffalo Niagara Convention Center. Tickets are available at Buffalosportshallfame.com and are discounted to $95 (or $850 for a table of 10) through Sept. 24.
Robitaille, who played seven seasons as an NHL defenseman with the Sabres and three other teams, joined the Sabres broadcast team in 1989 and stayed for the next 25 years. He's most remembered for his role on Empire's "Hockey Hotline," the hugely popular postgame show on the network during the Sabres' heyday in the late 1990s and early 2000s, and for his weekly radio appearances on "The Sharpshooters" with Jim Kelley, the late Hall of Fame columnist from The Buffalo News.
Empire became a giant on the Western New York sports scene in the 1990s and early 2000s before signing off in 2005.
"The guy that taught me some balance on my work was Jim Kelley. We talked a lot about that," Robitaille said. "And I balanced my work out a little bit because of him. He said something to me I'll never forget: 'In God's name, don't sell out to anyone. Just be honest and be fair.' "
Robitaille's analysis was sharp-tongued, insightful and entertaining all at the same time. And many words or phrases were not in your average dictionary.
"I haven't got a great formal education, so I had to do an awful lot of work in preparation and I'd have little trigger words I'd put down before," he said. "Forechecking, backchecking, hitting, a lot of basic stuff. And I would be able to look down about certain things I want to talk about. I just pieced it off the pregame work."
Of course, sometimes he would deviate, too. Co-host Brian Blessing never really knew what was going to come out of Robitaille's mouth.
"The 'Robyisms' were special," Blessing said in an interview with The News last year. "Whatever was in his head came out of his mouth and they made the show. There was one after a check one night by Brad May where he said something like, 'They walk the cow down the ramp to the slaughter and hit the cow in the forehead with a mallet.' I said, 'Well, I just think you turned a lot of hockey fans into vegetarians.' It was like stupid stuff like that. It was utterly hilarious."
The Buffalo Bisons won the Calder Cup 50 years ago this week. Mike Robitaille played in just five games for that final Bisons hockey team before the arrival of the Sabres, but he wears his championship ring proudly. "That ring means a lot to me," he said. "It opened the door to a lot of things." Robitaille would go
Robitaille made sure to soak up tricks of the trade from broadcasting veterans whenever he could. He vividly remembers one from Al Trautwig, a longtime voice on MSG in New York City, who said to tape interview questions on the wall he was facing to always have them at hand.
But one night, Sabres general manager and former teammate Gerry Meehan took away his friend's crutch.
"I was never stuck, but then Gerry Meehan goes and takes the thing off the wall just before we're going on the air. I thought I was going to rip his windpipe out," Robitaille said. "In an instant I lost it. He was just playing around having a joke. We'd joke each other to death, but not that."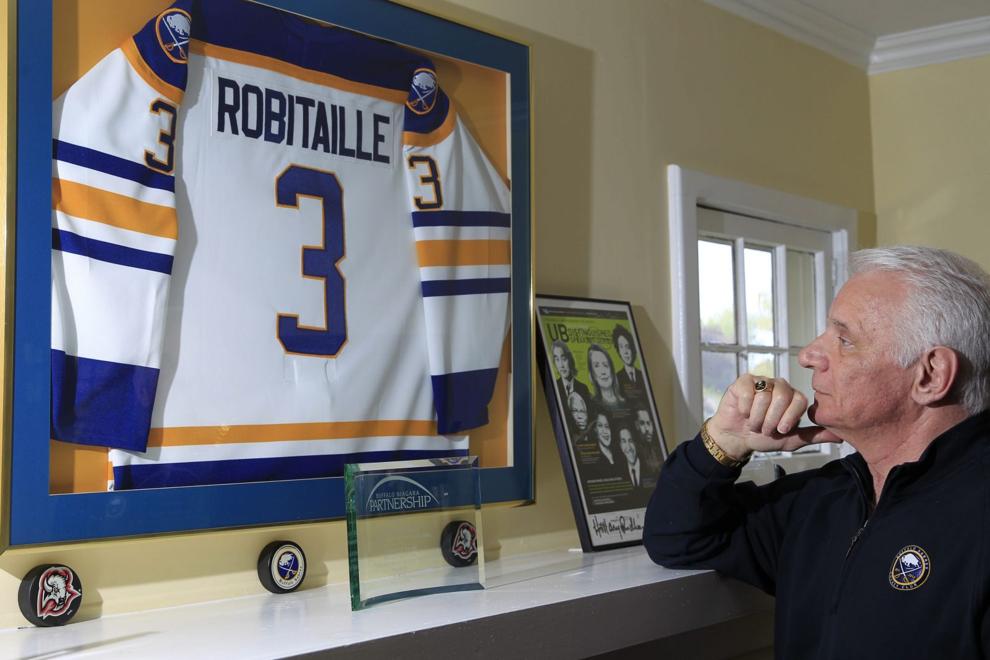 Robitaille never shied away from tough commentary about the Sabres and has long been thankful former owner John Rigas made it a point to tell him to be honest with viewers. Sometimes, players' feathers got a little ruffled. He didn't mind.
"And that's OK because I run into players that played in those days and I get great satisfaction out of the fact they're very complimentary about it now," he said. "They knew what was going on."
Robitaille has lived in Western New York for nearly 40 years, dating to the Sabres' first playoff team in 1973 that took Montreal to Game 6 and was saluted with the memorable "Thank you, Sabres" chant as the clock wound down on the season in Memorial Auditorium. 
"There's value to playing here and as a city to raise your children," he said. "It's not the sexiest city in the world. But you know, there's a lot of reasons why I'm here. I lived in a lot of different cities. And I came here for a reason. And it's worked out. This town will never let you down."