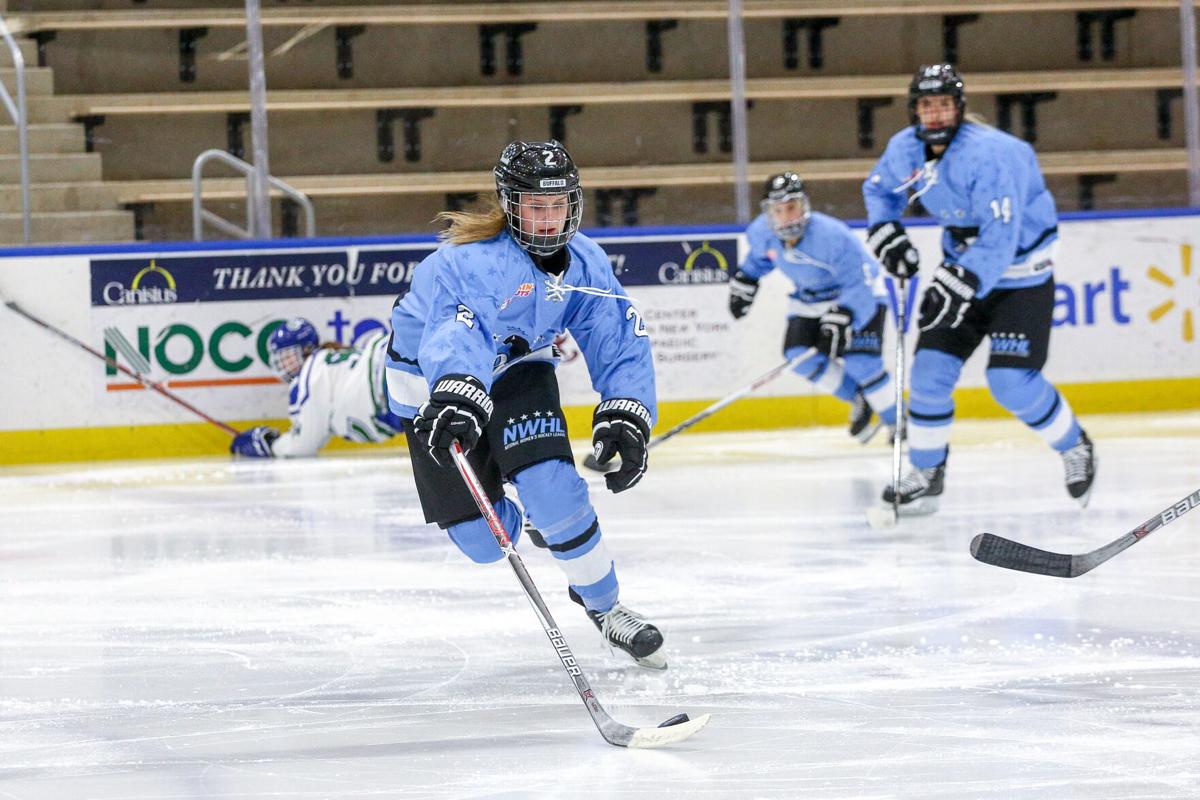 Friends and family of former Buffalo Beauts player Jordan Ott are rallying to support the 25-year-old in her bout with stage 2 invasive ductal carcinoma, a form of breast cancer.
Natalie Wasielewski, a teammate of Ott's at SUNY Potsdam, organized a GoFundMe fundraising page that, as of Thursday afternoon, had raised more than $21,000 to help cover medical expenses accrued through chemotherapy treatments. According to the page, Ott will eventually have to undergo surgery.
Ott appeared in seven games with the NWHL's Beauts during the 2017-18 season. She recorded two assists and contributed to the club's run to the Isobel Cup Final. A native of the Rochester area, Ott has spent the past 15 months as head women's hockey coach at Division III King's College in Wilkes-Barre, Pa.
"The support and love I have been shown over the past few weeks, especially the past 24 hours, has been absolutely incredible and means the world to me," Ott said in a statement sent to The Buffalo News. "As I have grown up, sports have always been the main source of friendships and relationships I've built that have withstood time and distance. I have been in touch with so many people from my past over the past few days that has really brought back positive memories and has given me so much hope moving forward.
"I have received messages and support from people I don't even know personally, but that I have connections with through sports and organizations, such as the NWHL and the rest of the sports community. I could never have imagined this news would bring such a positive into my life, and I cannot even begin to put into words how much the support from those around me has meant to me and my family. The emotional and financial burdens that this experience will ease are so valuable. All I can say is thank you to everyone, and I hope that I can pay it forward following my battle and recovery!"
The Beauts, NWHL, opposing teams and the Professional Women's Hockey Players Association were among the groups to tweet expressions of support for Ott when the news circulated on social media Wednesday.
The Beauts are planning to put a T-shirt on sale in the coming days with proceeds to benefit Ott, General Manager Nate Oliver said. 
"The Beauts and I are going to do whatever we can to support Jordan," Oliver said. "As I always say, 'Once a Beaut, Always a Beaut.' I talked to Jordan on (Wednesday night) and told her that we love her and we have her back. ... Jordan's a wonderful person, and she is going to beat this."
A number of former Beauts, including Sarah Shureb, Paige Harrington, Sarah Casorso, Mandy Leveille and others, have made donations. 
A 2017 graduate of SUNY Potsdam, Ott left the Division III program as its all-time leader in points, points per game, goals, power-play goals and short-handed goals. She was named the United States Collegiate Hockey Organization Division II National Rookie of the Year in 2014. Ott also played softball and was a two-time NFCA all-region selection.
Upon completing her eligibility, Ott was a volunteer assistant coach at her alma mater from 2017-18, running skill sessions with players outside normal practice hours.
Ott made the Beauts through the club's free-agent camp in 2017, which was held at Sabreland in Tonawanda. Her wizardry with the puck earned her a contract from then head coach and GM Ric Seiling. Ott spent most of her time on defense that season, an important player on and off the ice for a Beauts team that had a 12-4 record.
Following her time with the Beauts, Ott became head softball coach at SUNY Potsdam and worked at the school as an assistant director of athletic communications.