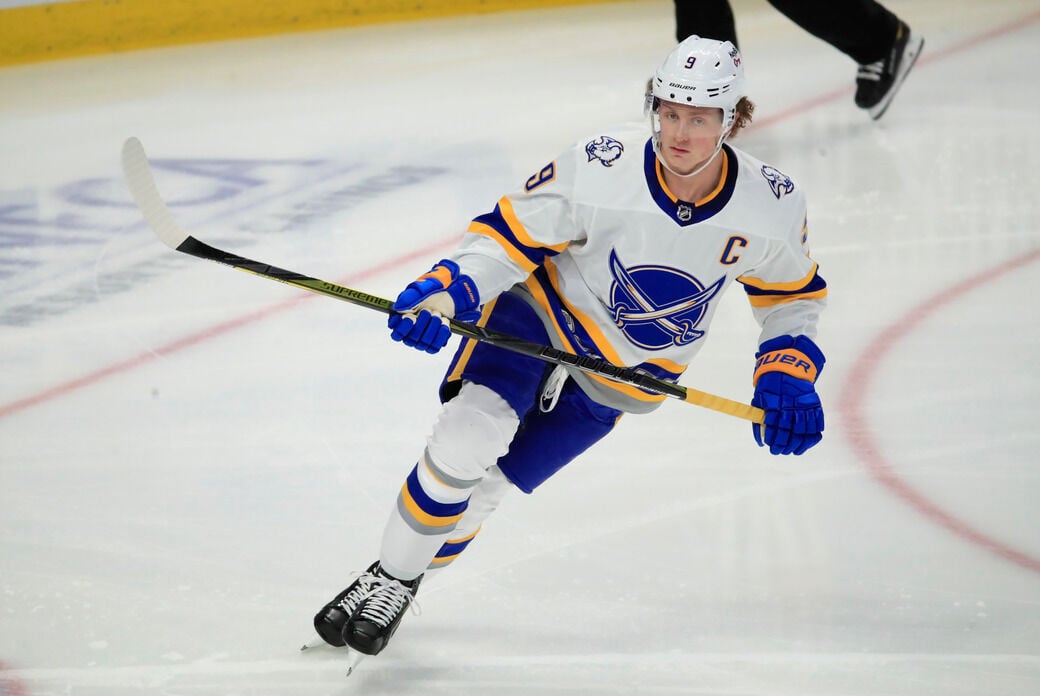 That's how TSN analyst Darren Dreger referred to Jack Eichel on the network's "Free Agent Frenzy" show Wednesday afternoon. While this was the day on the hockey calendar for teams to go shopping, the looming trade of the Buffalo Sabres' captain remained a big topic of conversation.
Linus Ullmark, a goalie beloved by Sabres fans for his on-ice acrobatics and effervescent demeanor, is leaving Buffalo to chase a Stanley Cup with an Atlantic Division opponent.
What's the latest on L'Affaire Eichel? Frankly, not much.
Several teams that have seemed to be good fits to acquire Eichel don't look that way anymore. And semi-retired TSN analyst Bob McKenzie laid out a stark scenario when he said on the same program, "The reality is things are dead quiet on the Jack Eichel front right now. ... It's not an ideal situation for the Sabres and Eichel, but as of right now? Really soft, really quiet."
The Sabres engaged multiple teams heading into the NHL Draft, with a goal of trying to land another top 10 pick. Anaheim, in fact, had the No. 3 pick, and a deal including that choice would have given the Sabres the chance to strike rare draft gold by taking defenseman Owen Power at No. 1 overall and adding Swedish winger William Eklund at No. 3. As it worked out, Eklund fell all the way to San Jose at No. 7.
As their flurry of late-afternoon moves continue, the Buffalo Sabres have re-signed a famili…
The issues are simple: The Sabres want a huge haul for an elite No. 1 center who has been here since he was drafted second overall in 2015. But there's not many teams that can handle a contract with a $10 million per season salary cap hit for five more years. Especially for a player who says he needs neck surgery and doesn't have a timetable for when he might be able to play this season.
General manager Kevyn Adams said Saturday he had no problem seeing Eichel still with his club when the team reports to training camp in September, but that remains unlikely. Eichel's agents told Sportsnet's Elliotte Friedman on Sunday that every conversation with the Sabres is about finding Eichel a new home.
Here's a rundown on some of the most likely suitors:
Anaheim: The Ducks re-signed captain Ryan Getzlaf to a one-year deal worth a reported $4.5 million but were otherwise quiet on Day One of free agency. According to Capfriendly.com, they have $18.4 million in cap space. They also have top prospects, veterans and an experienced general manager in Bob Murray who is under pressure to stop the slide of a franchise that was in the Western Conference final in 2017. They still seem to be one of the best bets for an Eichel trade.
Vegas: The Golden Knights' stunning trade of Marc-Andre Fleury to Chicago was essentially a salary dump to open cap space but on Wednesday, they traded Nick Holden and a third-round pick to Ottawa for Evgenii Dadonov, who comes in at $5 million per year. 
CapFriendly.com has them already $2 million over the cap (you can be 10% over in the summer) so the real question is how much NHL talent would they be willing to pare off their roster to fit in Eichel? They're the closest suitor to a Stanley Cup but do they think Eichel is the missing piece?
Los Angeles: Another Eichel possibility for the last several weeks doesn't appear to fit after the Kings signed Montreal center Philip Danault to a six-year, $33.5 million deal Wednesday, a cap hit of $5.5 million per season. The sense is they've moved on.
Sabres General Manager Kevyn Adams will have to look at external options to fill the club's …
Minnesota: Veteran Wild beat writer Michael Russo of the Athletic tweeted Wednesday that the club is stepping away from Eichel talk for now, not interested in paying the price in assets it would require such as center Marco Rossi and winger Matthew Boldy.
They remain focused on extensions for Kirill Kaprizov and Kevin Fiala after Wednesday's signing of center Freddy Gaudreau (two years, $2.4M) and defenseman Alex Goligoski (one year, $5 million). Their cap space is $22.8 million. They could still make an Eichel deal – and general manager Bill Guerin's special assistant is Randy Sexton, who was Jason Botterill's assistant GM here.
Montreal and the New York Rangers: It's well-known that the Sabres prefer to deal Eichel to a Western Conference team, and the two most prominent East teams don't have the prospect haul to satisfy what the Sabres want. It seems unlikely that the Canadiens would part with Cole Caufield or Nick Suzuki, just like the Rangers aren't going to part with Adam Fox or Alexis Lafreniere.