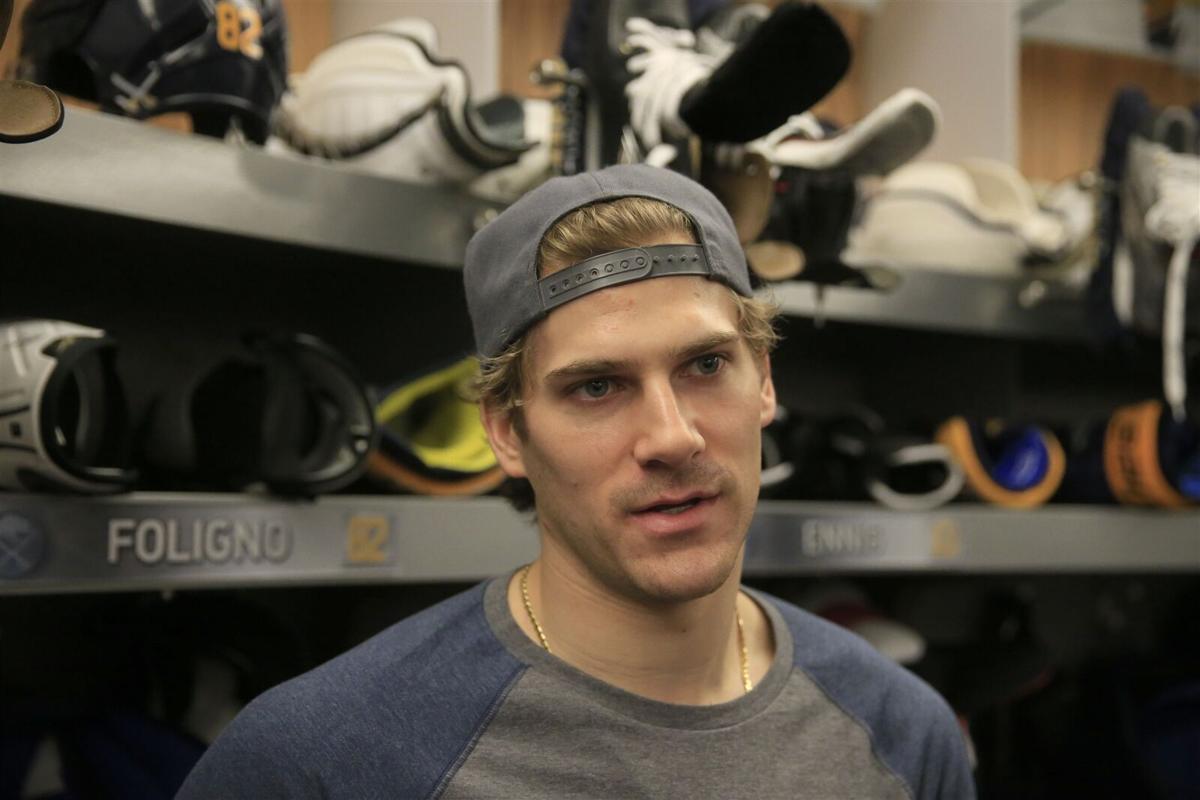 Marcus Foligno knows there were times he couldn't keep up with Jack Eichel. He also knows that by driving the net and acting as bodyguard, he gave Eichel more room to show his skills.
Foligno hopes that was enough to stay next to the Sabres' high-scoring center.
No left winger played more with Eichel this season than Foligno. They were on the ice together 32.4 percent of the time, according to LeftWingLock.com, and each has career-high totals to show for it.
Primarily the Sabres' shutdown winger, Foligno had a good time on the scoring line alongside Eichel and right wing Sam Reinhart.
"I hope I'm back there next year," Foligno said as the Sabres cleaned out their lockers. "Obviously, you want to be with the best players on the team. We had some good games with Jack and Sam."
Foligno set a career high with 13 goals, with 12 coming at even strength. He and Eichel combined on seven goals.
For that number to rise, Foligno will have to add a few offensive weapons to his game. The 6-foot-3 power forward plays a simple, straight-ahead style, while Eichel thrives on speed and creativity.
"It's just to make sure I get more space for those guys, maybe get a little bit more offensive awareness when I'm with them, make a little extra pass or hold on to pucks," Foligno said. "Sometimes I wasn't a little bit too skilled for them. I had to be a little more creative out there for those guys.
"But for the most part I liked playing with them and liked their game when we were out there. I think Jack had a lot of room out there to do his things, and he had a great year. We'll see what happens next year."
The search for Eichel's long-term left winger could also include Evander Kane, Alex Nylander, Justin Bailey and Hudson Fasching. Buffalo may look outside the organization. No matter who it ends up being, Foligno feels he's shown he can be a key member of the Sabres.
Before Johan Larsson got hurt, Foligno joined the center and right wing Brian Gionta in forming the shutdown line. Foligno was also a penalty killer who scored one of Buffalo's three short-handed goals.
He did it while playing a career-high 80 games. He missed the final two with a minor knee injury.
"I was surprised I got to play 80 games this year," he said. "I was in the gym quite a bit, making sure I was staying strong and on top of my workouts. I just felt really good the whole year. My body and shoulders are good, nothing like I've had in the past where I've had some shoulder injuries."
Foligno remained in the lineup despite using his body as a weapon. He averaged 3.5 hits per game, second among NHL forwards. He trailed only Toronto's Matt Martin (3.7).
"You're up in there leading in hits in the league, and that takes a toll on your body," Foligno said. "There were some games where I didn't feel 100 percent all the time, but it was definitely a good season, something I need to build off of."
The 25-year-old, who finished his sixth NHL season, is reaching the point where his family experiences a growth spurt. His brother, Nick, had a pedestrian sixth season, recording six goals in 45 games during lockout-shortened 2012-13. He scored 18 goals in his seventh year and 31 in his eighth.
Nick became the Blue Jackets' captain and led them into the playoffs this year.
"I talk to Nick every day," Marcus said. "He's a tremendous leader for their team in Columbus, and he's got a ton of respect in that dressing room. He's done a lot.
"You just take little things. As a leader sometimes, you've got to lead by example on the ice. That's the biggest thing. If you're not playing your best, others won't follow."
Foligno had a $2.25 million salary this year and will be a restricted free agent this summer. He knows changes are coming. He's never played a postseason game, but he wants to be around when the Sabres finally make it back to the playoffs.
"I felt really good about my game this year," Foligno said. "I think the consistency's there with physicality, all that stuff. I think offensively, there was a time where it was going really well and then there was a little bit of a blunder.
"I felt like I was a leader for this team when it came to being hard and playing a physical role. Sticking up for teammates is what I do best, and I have no regrets this season. It could have been better offensive numbers, but the majority five-on-five and penalty kill, you can only do so much.