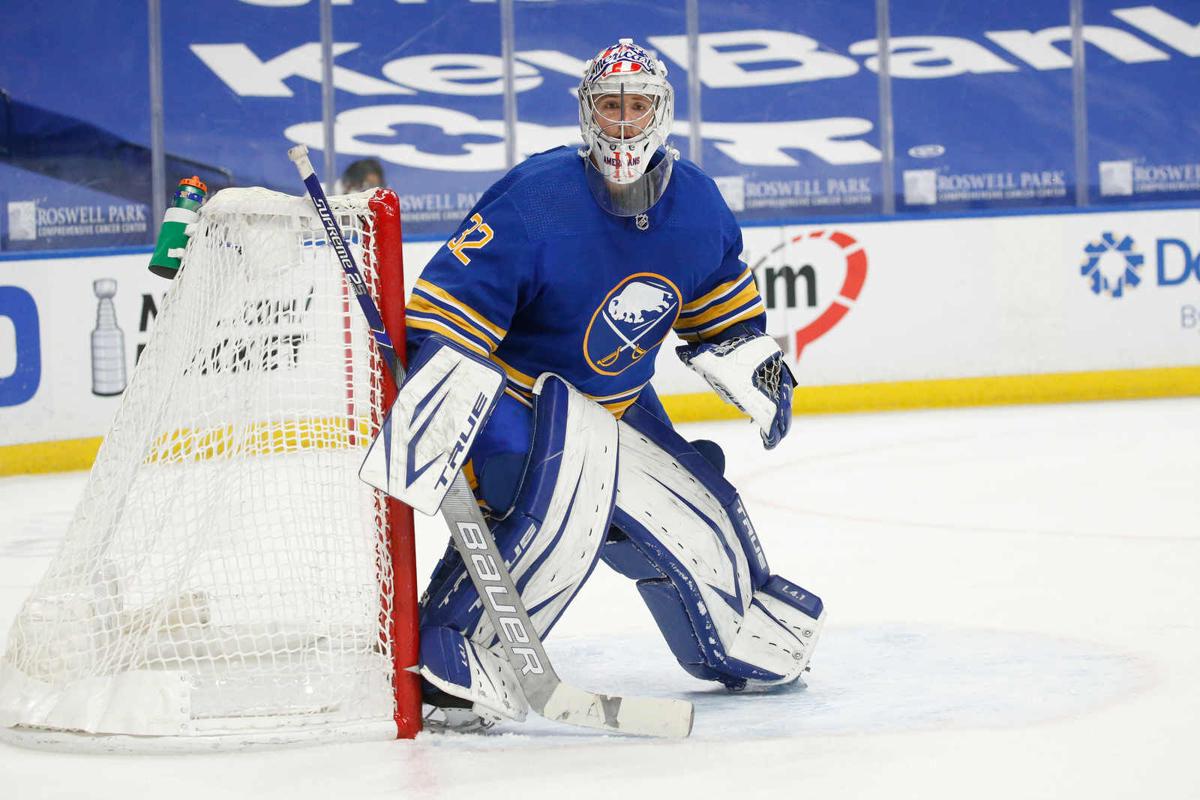 Away from the bright lights of the NHL, the Michael Houser story continued over the weekend in Rochester. 
After his four-game tour of duty in the NHL brought two wins against the New York Islanders and lots of notoriety in the final week of the regular season, the sixth goaltender used by the Sabres in 2021 put up more strong performances with the Rochester Amerks.
Houser went 1-3 in four starts for the Amerks, but compiled a 2.33 goals-against average and .924 save percentage. And he did it while playing four games in five nights, including all three over the season's final weekend.
The win came in Sunday's season finale, when Houser made 28 saves in a 2-1 victory over Utica and came within 37 seconds of a shutout. He was a tough-luck loser against Utica on Wednesday (3-1 with an empty-netter) and Friday (1-0), despite stopping 60 of 63 shots in the two games. His one tough outing was Saturday's 5-3 loss to Syracuse.
Playing in his first game at any level since March 7, 2020, Houser stopped all 15 shots he faced in the third period, standing tall to help the Sabres rally from a two-goal deficit to defeat the New York Islanders 4-2.
"It has been coming really fast at me. I guess it hasn't all really sunk in quite yet," Houser said Monday on the Amerks' breakup day. "Just because it was eight games in two weeks, I just tried to stay in the moment as best I could just because it's been so much hockey. Two months ago, I would have taken a week or two like this over not playing any time. So I'm never going to complain about playing too much. It's been pretty crazy. I think, eventually, I'll have time to think about it over the next few days here. And it will be pretty cool."
Amerks coach Seth Appert said the group in Rochester was thrilled to see Houser get his NHL contract, let alone have success.
"He brought a lot of confidence and it was earned," Appert said. "We were so happy for him. It was hard to describe how happy the room was and the coaching staff and support staff was when he was having that success in Buffalo. We were thrilled when he signed his NHL contract. Guys were hugging him. He's such a great teammate, great human."
Appert said that Sabres goalie development coach Seamus Kotyk noted that Houser always prepared like he would be in the NHL someday, even though he had only been in the ECHL with Cincinnati during his time with the Sabres.
"So when he did get the opportunity, he was prepared and he wasn't overwhelmed by the moment," Appert said. "And then he came down here and he was really strong."
A season beset by a Covid-19 outbreak, significant injuries and a coaching change finally ended Saturday.
The biggest mistake Houser made in the NHL? Losing his cell phone at the Sabres' team hotel in Boston.
"I was glad people were signing their name on the end of their texts," he said sheepishly.
On the ice, however, Houser said he carried his Buffalo experiences back to the AHL.
"Over the past few weeks, I felt my confidence was growing and growing each game. I think that just has to do with playing more often," he said. "The more you play, the more comfortable you feel. And then confidence kind of follows that. A little bit of success. I was happy to end the season on a strong note (Sunday). And that's nice going into summer break. I won twice in the NHL and then felt like I played pretty well here, but it was such a short season, still only played eight games. So I don't want to get too ahead of myself with outrageous expectations."
Houser said he was happy with three of his four games in Rochester, much like his time in Buffalo, where only an 8-4 loss May 6 in Pittsburgh was a tough night for him. He said he was thrilled by Sunday's win, even though he came tantalizingly close to his first AHL shutout since 2014 in San Antonio.
Anders Bjork scored twice in regulation to tie the score and added the game-winner in the second round of a shootout as the Buffalo Sabres defeated the New York Islanders 4-3.
"It was more of a bummer just because I don't think I played the goal very well. I dropped my glove a lot on it," he said. "And I was pretty confident going into that, too. That was I guess the biggest bummer, but in terms of shutout or not shutout, it's irrelevant. I was on a personal five-game skid and I just really wanted to win a game going into the summer."
What happens now? Houser is an unrestricted free agent. When May started, he probably wasn't on very many radars. That has likely changed. The Sabres could pair him in Rochester next year with Dustin Tokarski if they feel they can go with Ukko-Pekka Luukkonen and Linus Ullmark or another veteran signee in Buffalo.
But things would be tight here if Buffalo brass opts to start Luukkonen in Rochester with Tokarski. Houser seemingly could get an AHL deal now and not have to return to the ECHL.
"I guess all you can hope for is an opportunity again," he said. "I love the Buffalo organization and they're the team that's given me my chance, my first opportunity. So whatever happens in summer,  I'm really grateful for that. I'm happy to at least throw my hat in the ring again and have my name back out there as a guy that can step in if needed. Teams can feel confident that I can go out there and win a game for them at the NHL level. And I think that's all I really wanted to prove."