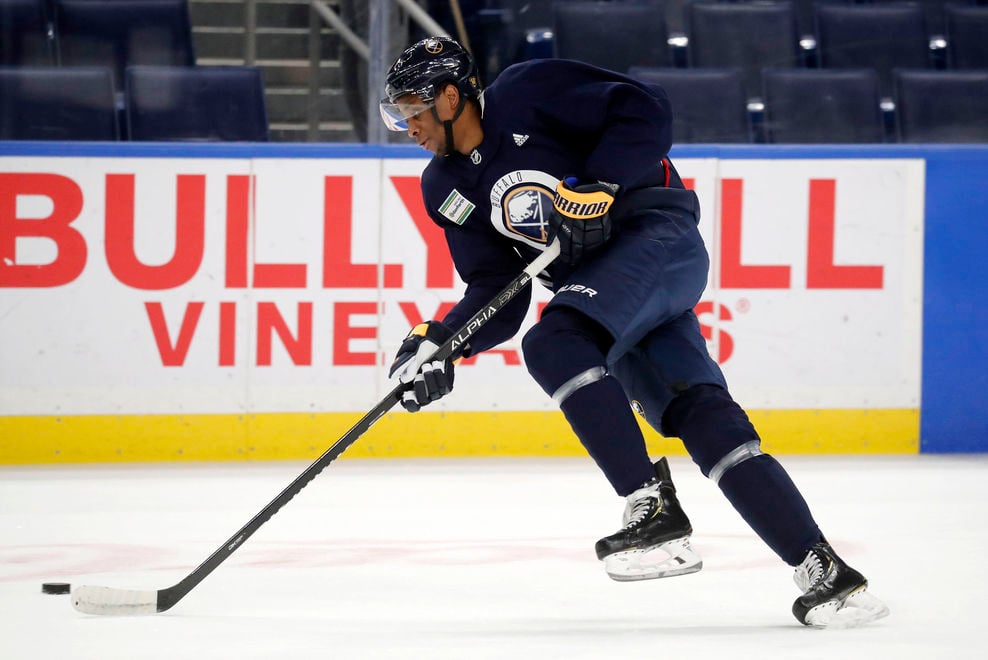 Travis Yost has been involved in the world of hockey analytics for a decade and is part of TSN's Hockey Analytics team. Prior to joining TSN, Yost was a contributor at the Ottawa Citizen, the Sporting News and NHL Numbers, and he has been a consultant for an NHL franchise. He will be contributing breakdowns on the Buffalo Sabres for The Buffalo News this season. Follow Yost on Twitter: @travisyost.
You might have been surprised to see such a visceral reaction to the Sabres acquisition of forward Wayne Simmonds at Monday's trade deadline. A team seemingly out of the playoff hunt using a draft pick on a forward who has been underwhelming for some time might have seemed unconventional at first, but it doesn't necessarily make it a bad decision. In fact, I would argue the opposite.
The Sabres are competing with a multitude of issues here, most of which are a direct result of mismanagement, poor coaching, and poor roster development over nearly a decade. It spans multiple front offices and multiple coaching staffs.
Here the Sabres sit during the 2019-20 season, surging in the win/loss column – I use that in the relative sense only – and now living in what can only be considered standings purgatory. They have just a 1 in 20 chance of reaching the postseason, but are comfortably ahead of nine teams in the standings. (If you are a Buffalo Bills fan, you know this story well – not good enough for a playoff berth, not bad enough for a meaningful draft pick.)
While much of this is Buffalo's own doing, I'm sympathetic to the spot they are in. Logically, the Sabres would be sellers, except (a) there isn't much to sell on such a top-heavy team; and (b) the team already has a considerable amount of cap flexibility. They also are competing with an understandably ravenous fan base that wants to see a team play meaningful hockey. But Buffalo can't in good faith be buyers – a 5% playoff probability seems small, but it's quite large when you remember that it was less than 1% three weeks ago.
In other words: A team that wanted to be sellers really couldn't, and a team pressured to win now can't seriously be buyers, either.
That brings me back to Simmonds. A power forward years ago, Simmonds has seen his game deteriorate with age, and so too has his value around the league. The Devils took a flyer on Simmonds this past summer and a mere eight goals later, it's been a disastrous fit. So much so that New Jersey could only yield a fifth-round pick – or a one in six chance of finding an NHL player – for Simmonds and his expiring contract at the trade deadline. And New Jersey had to retain half his salary.
But here's what makes this an interesting low-risk bet. Buffalo gets a free look at a forward who, fairly recently, was an impact forward. And while Simmonds has looked rough, so has most of the New Jersey roster, too.

If you are looking at a bright side of things, Simmonds has been a pretty decent individual offensive contributor despite a regular changing of environment – this three-year data set spans time in Philadelphia, Nashville and New Jersey.
In the two seasons predating New Jersey, Simmonds posted middle-six scoring rates while getting middle-six usage. What's really changed considerably year to year is what's happened defensively. On teams with questionable defensive players in Philadelphia and New Jersey, Simmonds' numbers went in the tank. In 2018-19, when Simmonds was able to play with competent defensive defensemen in Radko Gudas, Roman Josi and Ryan Ellis? He looked just fine.
Simmonds isn't the same player he once was, but I think there is real value in figuring out just how much of that degradation is real. The cost is immaterial, and if there's a chance that the environment around Simmonds was taking a capable middle-six forward and making him look like a fourth-line winger (with comically low shooting percentages, which we are seeing this year), it's worth something to find that information out.
And make no mistake, Buffalo builds a bit of goodwill here with Simmonds, too – plenty of contenders looked at Simmonds and scoffed at an already low price. Buffalo did not.
It's possible Simmonds is what he is at this point and Buffalo gave up a conditional fifth-round pick to find that out. It's also possible that Simmonds isn't as bad as he's shown in New Jersey, and if that's the case, the Sabres have the inside track on a player most of the league has quit on. Add in the fact that his price tag this summer is going to be exceptionally lower than what New Jersey paid for him this year, and you can use the final 20 games to stress test a player for a nominal fee.
Data via NaturalStatTrick, CapFriendly, and Hockey