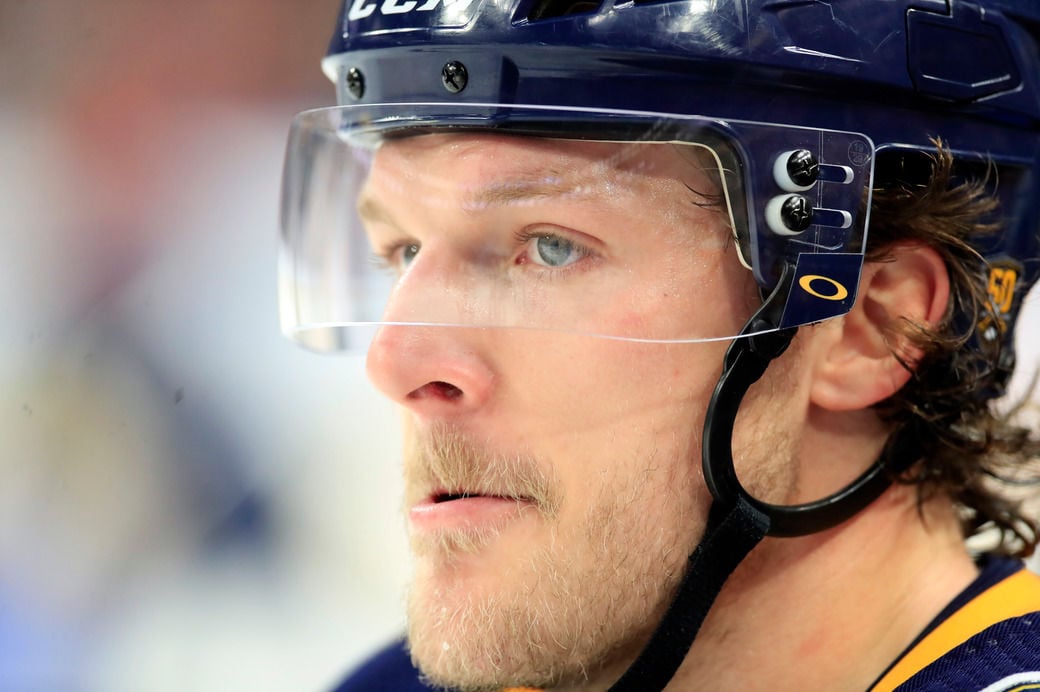 In lots of areas, Jake McCabe felt all kinds of conflicting emotions but also plenty of peace Monday.
For starters, the veteran defenseman could have been back on the ice with his team had the Buffalo Sabres been part of the NHL's return-to-play training camps, which opened in 24 locales around North America. The Sabres, of course, are one of seven teams who didn't qualify for the expanded playoffs so they are not skating.
The Sabres haven't played a game since March 9 and don't figure to play again until December but all this pandemic-induced down time has been a boon for McCabe and his wife, Gaby, who watched the birth of daughter Georgia Rae on April 20.
"It's frustrating to realize that we don't get a chance to compete in the playoffs and how much longer it's going to be for next season to begin," McCabe told The News from his offseason home in Chicago. "We don't even totally know when that's going to be. You're just trying to manage the proper workload and just figuring out how you're going to go about your training schedule.
"It would have been a tougher pill to swallow for me if I just didn't have my daughter. I've been able to focus on family and being a dad for a little while. But what happened to our team has sunk in and it definitely stinks at how long we have to wait to get back on the ice."
The fact the Sabres are not playing now, of course, was a big reason Jason Botterill was fired as general manager last month and replaced by Kevyn Adams. McCabe admitted players were as surprised as everybody else when Terry and Kim Pegula announced their decision.
"It definitely was a surprise to see the amount of changes and the number of people gone but it goes along with the circumstances we're in unfortunately," he said. "When you don't produce a winner, that's the risk you run. I feel bad. I've been in the on-ice product and we haven't got the job done. There's a lot of good people I've gotten to know who are looking for jobs elsewhere. I take that to heart and I feel bad for those families. Especially at a time like this, which is not easy."
McCabe was drafted in 2012 and Adams was an assistant coach as McCabe attended development camps. Their relationship continued as McCabe became a regular in Buffalo while Adams became an executive at HarborCenter and then with the Sabres.
"I'd skate at HarborCenter before camp and he was there and I've gotten to know him pretty well the last 6-7 years," McCabe said. "I'm excited for him and he brings a great attitude. He reached out a couple of days after he was named GM and we had a good chat. It's one of those things where we're a very optimistic group, (coach) Ralph Krueger is an optimistic guy and Kevyn follows suit with that. We had a great conversation and it's just frustrating to wait as long as we have to for us to get back at it."
McCabe said he's hopeful the NHL camps and playoffs will forge ahead as teams deal with new protocols developed to deal with the coronavirus. While the on-ice portion of the league is tenuous, the Sabres' player representative is thrilled where the game is off the ice.
In the midst of a global pandemic, the players and owners agreed to a new collective bargaining agreement that runs through 2026. Neither side utilized its opt-out option from the CBA last fall, setting the stage for a spirit of collaboration that has been impressive to view.
"Going into this, we were both wanting the best deal possible and looking at the impact on the game," McCabe said. "I don't know if that's the reason the negotiations were so peaceful but it helped. We have a history with Gary (commissioner Gary Bettman) that might not be the best in the eyes of older players, who have been through the '12-13 stoppage and the '04-05 lockout. Maybe there's not the highest level of trust for guys who went through that and understandably so.
"But watching baseball be all over the media the way it has been has really been too bad for that sport and for the fans. Nobody wants to hear the old 'millionares vs. billionares' argument, especially now when you have millions of people filing for unemployment amongst this whole mess. So I was very encouraged the way our talks went."
Although escrow from their paychecks rises to 20 percent at the start of the deal, it can get down to 6 percent by the end. There's other perks for the players, most notably Olympic participation in 2022 and 2026.
"It really seemed like a win-win for us and the owners and you don't say that too often," said McCabe, who lauded the work of Players Association head Donald Fehr. "It's not a perfect system or a perfect agreement but given the circumstances, I think both sides probably feel it's the best they could have done.
"For me the Olympics is such a good way to grow the game. You get so many new fans. Look at the last time in Sochi (in 2014) and people still talk about T.J. Oshie's shootout magic. That wasn't even a gold-medal game or bronze medal game and people still talk about it, all the shots he took and made in that game. That just shows how big of a stage it is."
McCabe is optimistic the NHL will get revenue jolts from its new television deal that will be negotiated next year, as well its Olympic participation. The Seattle expansion franchise will boost revenue as well, although the players don't get any of the $650 million expansion fee.
"Everybody thinks we're 50-50 partners but when you see that $500 mllion Vegas fee and the $650 million Seattle fee and you realize we don't get a sniff of that, we're very much not 50-50 partners," he said. "The tough part about negotiating a CBA with 750 players in a different spot in their career is you're not going to make everybody happy. But the downside of not getting an agreement here would have put us in serious trouble the next couple of years because they're expecting a pretty serious revenue drop, especially if you have no fans."
McCabe said he's starting to ramp up his summer skating this week. He's a huge Cubs fan and is hopeful baseball and the NBA can get their seasons going. And he's looking forward to more down time with his newest fan.
"It's been a pretty awesome thing, a bright spot of this pandemic to have a new baby," McCabe said. "She's definitely a sweetheart."
Be the first to know
Get local news delivered to your inbox!