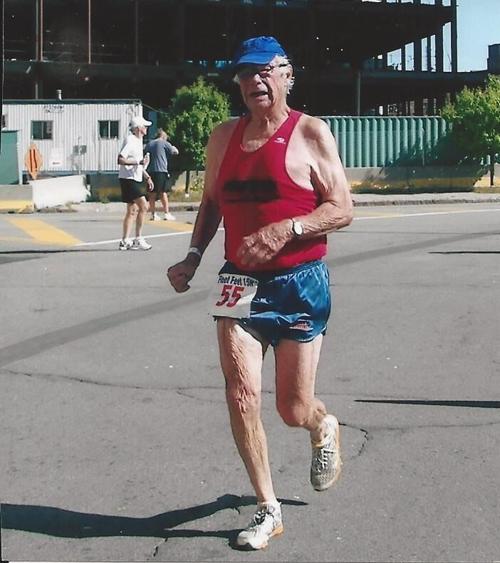 Many devotees of the sport remember Richard "Sully" Sullivan as the "father of Western New York running." He certainly was one of the most active, enduring and fun-loving athletes on the local road racing scene.
Sullivan, who ran in 1,569 road races in his career, including 32 Boston Marathons, died July 9, just nine days before his 93rd birthday.
He started running in 1969 and is perhaps best known as the founder of Belle Watling, one of the most prestigious running clubs in Western New York. He was a mentor to many local athletes who went on to earn college scholarships and compete at the highest levels, including U.S. Olympic Marathon trials.
Besides his runs in Boston, Sully's racing resume included 50 other marathons, 32 Utica Boilermakers, 40 Lockport YMCA 10Ks and 50 Turkey Trots in Buffalo. At age 82, he won the 80 and over category of the Turkey Trot with a time of 50 minutes and 38 seconds. 
Sullivan was a seven-time age group winner in the Buffalo News Runner of the Year series and still holds age-group records as he regularly beat runners half his age.
He won 15 medals in the Empire State Games.
"He was a fixture at the Subaru Buffalo 4-mile race, always competitive, did not want to lose to anyone in his age group, and had many pink flamingoes (awards given out at the race) in his yard," race director Jim Nowicki said. "During the post-race party, it was the flamingo in one hand and a beer in the other."
Sully was enshrined in the Western New York Running Hall of Fame in 2014. His memory will be honored Sept. 3 at the annual Tom Donnelly Hall of Fame 5K race in Elmwood Village, where he lived.
A housepainter by trade, Sullivan was active until he was 90, still climbing ladders for his work and running the company with his son, Chip.
Sullivan often had his tongue firmly in his cheek when it came to running. Belle Watling was named for a prostitute in "Gone with the Wind." The club was home to mostly over-40 Masters runners.
"Ah, nobody wants to join us anymore," Sullivan complained when asked about Belle Watling's membership requirements by Buffalo News reporter Gene Warner in 1994. "But if they do, we have to look them over for at least six months. We have to see if they can drink beer, chase women and act irresponsible."
The club's founding has traditionally been marked annually with the Founder's Day Run in Delaware Park. Sullivan would officiate wearing a pith helmet and carrying a ceremonial sword. One of the park's fire hydrants would be painted bright orange, with an orange fire hydrant becoming the club's unofficial symbol.  
On a serious side, the club once claimed to be the No. 2 team at a Boston Marathon with an average time of 2 hours and 20 minutes per runner.
"We did have a couple of good runners. At one time we had the best runners," Sullivan told Warner. "But they all ran off and joined other clubs or got injured or stopped running."
Born in Buffalo, he attended Bennett High School and rowed for the West Side Rowing Club before studying forestry at Syracuse University. 
He served in the U.S. Army's occupation force of Japan after World War II and then returned home to start a lumber company. 
He relocated for a time to Detroit before returning to Buffalo to join his brothers in the family business, Sullivan Lumber. 
He is survived by his wife, Jean, of Shrewsbury, Mass.; five sons, Larry, Chip, Dan, Tim and Sam; eight grandchildren and two great-grandchildren. He is predeceased by a daughter, Roberta Jane. 
Funeral arrangements are incomplete but they will be private. A celebration of life will be held at a later date.