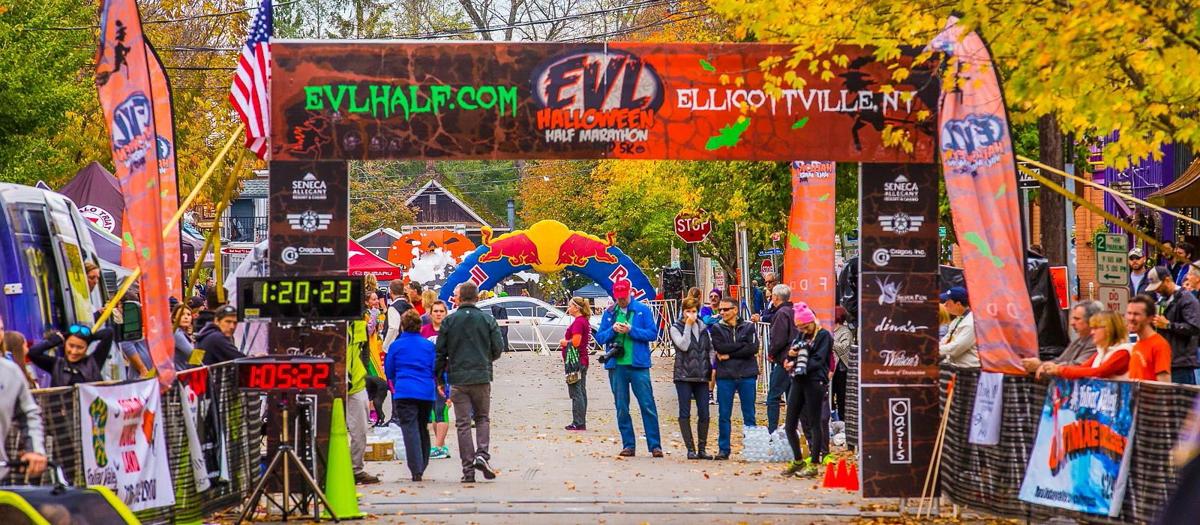 It's the de facto motto of races that are still holding in-person events this year. Participant numbers are limited. Runners start in waves, instead of all at once. And the postrace party, one of the key attractions for Western New York runners, is now a goodie bag to go.
Finding the right balance of racing and Covid-19 safety is tricky.
Right now, no one spells it out better than the EVL Halloween Half Marathon and 5K scheduled for Oct. 24 in Ellicottville. The race will allow approximately half the number of runners as it did in the past. For reference, last year's race featured 635 half-marathon finishers and 914 finishers in the 5K.
And there's a lot to spell out.
First, no packet pickup. Race bibs will be mailed to runners in advance with t-shirts collected at the finish line.
During registration, runners must select a race start window with waves approximately 10 minutes long. Runners are required to stay in their car until their race window time begins and officials will do a "trickle start," with individuals going off roughly every five seconds to attempt to maintain 6 feet of distance.
Runners must wear a face mask until they cross the start line and after crossing the finish line.
Water stops will still be available, but cups will not be handed out to runners. Instead, water will be poured by race staff and spaced out on a table for runners to grab.
Finishers' medals, snack bags and water will be at the finish line.
And spectators will not be allowed at the race venue.
Like most everything else, organizing a road race is not how it used to be.
Youth track and field program Begins
Former Buffalo News Runners of the Year Pete and Kelsey Gratien have taken their love of running to the youngest athletes with a new Snyder track and field program.
"We have three kids, ages 6, 4, and 3, who were our inspiration for creating the running program," the couple wrote on their website. "We incorporate the right amount of skill building and exercise to get kids to sleep well on the nights of practice – unless they are like our nocturnal 4-year-old."
The seven-week program begins Sept. 3, running Thursdays at the Harlem Road Community Center. Ages 3-5 will meet from 6-6:35 p.m. with a focus on the basics of track and field – running, jumping and throwing – with games and relay races. Ages 6-10 will meet from 6-6:45 p.m., building on foundations, learning form drills and stretching, along with practicing running different speeds and distances and learning field events such as shot put and long jump.
This is my last running column for The Buffalo News. I have enjoyed being able to write about the running community and, more importantly, being of this great network of people who share their pain, their triumphs, their struggles and their successes. My goal was always to give information, insight and a little inspiration while showing the variety of people who are runners in Western New York.
I've always believed that if you run – regardless of pace, age, gender, physical ability, size, shape, color – you are a runner. My hope is that the local running community continues to explore ways to be more inclusive and that we continue to encourage each other on this incredible journey, whether it's running one lap around a track or chasing an ultramarathon.
Allegheny River Running Fest, 9 a.m., Half Marathon and 10K, War Veterans Memorial Park, 551 E. State St., Olean
Glen Iris 5K, 9 a.m., Trout Pond, Letchworth State Park
Spring Lake Winery Fall 5K Trail Run, 4 p.m., Spring Lake Winery, 7373 Rochester Road, Lockport
Amish Country Running Festival, Marathon, Half Marathon, 10K, 5K, Mile, 8 a.m., 122 Church St., Randolph
Run Forest Run 5K, 10 a.m., Forest Elementary School, 250 N Forest Road, Williamsville
Sponge Candy 5K, 3:30 p.m., Platters Chocolate Factory, Wurlitzer Building, 980 Niagara Falls Blvd., North Tonawanda
Be the first to know
Get local news delivered to your inbox!