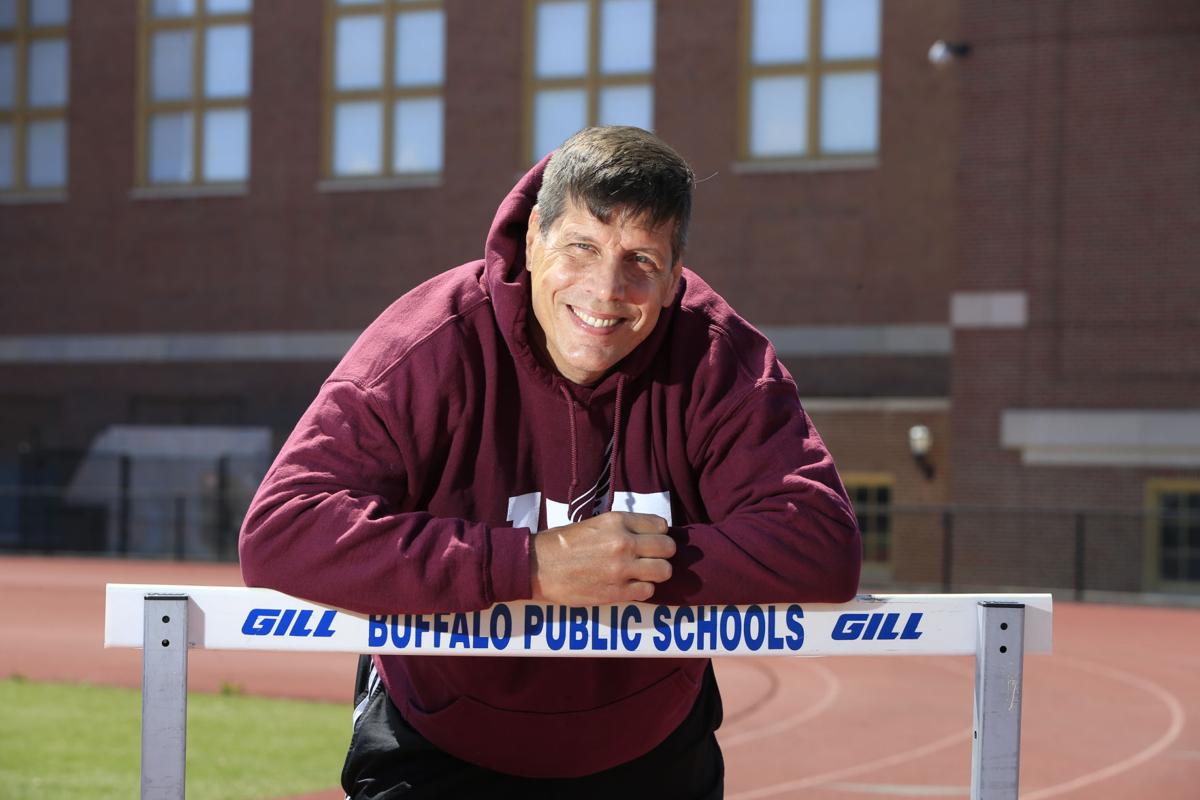 For Dave Sardo, retirement doesn't involve getting out of the race.
"I was never the guy who was going to just sit at home," Sardo said in a phone interview. "I was never going to go make donuts, or paint houses, or anything like that.
"I'm a P.E. person, a sports person. I'm still pretty competitive and that's an important part of my identity."
Sardo, 56, retired this month after 30 years teaching physical education in the Buffalo Public Schools. His coaching career started in 1987 and has been highlighted by more than 50 team championships compiled by his track and field, cross country and girls basketball teams at Cardinal O'Hara, Traditional and his alma mater, Hutch-Tech.
He will continue coaching at Medaille College in a part-time position leading the men's and women's cross country programs.
"It was kind of a perfect storm," Sardo said. "While I was coaching in public schools, I never had an eye toward college. I was already planning to retire. As it was winding down, it occurred to me that I would like to keep helping in some way and coaching kids. It just had to be less hours per day and per week."
Sardo also plans to maintain his presence in high school athletics by officiating indoor and outdoor track and field meets, and continuing to work with retired BPS coach Ken Hans to coordinate the All-High Championships.
"It's a blessing," Sardo said. "Not every coach gets to make a transition like this later in life."
The main motivator of Sardo's decision to retire from full-time teaching and coaching, however, was being able to spend more time at home with his wife, LuAnn, who has multiple sclerosis.
"I'm fairly young to retire, but my wife needs my help, so it was a no-brainer," Sardo said. "For 26 years, she's been my rock. She's been so steady for me while I went out and chased my dragons. Now it's time for me to be home for her more."
An accomplished distance runner in high school, Sardo went to the University at Buffalo to run cross country before transferring to Canisius College and walking onto the soccer team.
Starting at O'Hara after graduation, Sardo's girls teams won two Monsignor Martin championships in track and field and one cross country title in four years. The Hawks previously had not won a league championship in either sport and have not done so since.
After five years teaching in Buffalo primary schools, Sardo returned to coaching at Traditional in 1996. He led the girls basketball team to five league championships in eight years and consecutive Section VI Class A-1 titles in 2000-01. No girls team from the city has advanced to the regional playoffs since. Sardo coached Hutch-Tech's girls basketball team for two stints from 2004-12 and 2014-16. He has 244 career victories, among the top 20 in Section VI history.
Sardo moved over to Hutch-Tech in 2004, "and he just started winning and winning and winning," Hans said. "But it wasn't just the winning. He did it all with class."
Sardo's successor will inherit a 15-year streak of All-High championships in boys outdoor track and field, two shy of Bennett's city record. The Hutch-Tech girls team has won nine outdoor championships and the boys claimed two indoor titles since Sardo started the program in 2017.
Hutch-Tech also claimed 15 of the past 16 All-High championships in boys cross country. The Engineers won the Section VI Class A championship in 2008, becoming the third team from the city and first in school history to win a section title.
"He took a program that could barely win a race and took them to sectionals and won it five years later," said Rob Taylor, who was a freshman during Sardo's first season and is now an assistant coach for the Engineers.
In girls cross country, Hutch-Tech won its third city title under Sardo last fall.
"I was really happy that before I left, we won that girls title," Sardo said. "It was a great little group that worked so hard."
Sardo acknowledged the athletic directors he worked under, Cheryl Buggs at O'Hara, Willie Evans, Dave Thomas and Aubrey Lloyd in Buffalo, his assistants — notably Bob Krug, who is now a rival coach at Hilbert College — and the thousands of athletes he coached over the years.
"I've never won the lottery and I'm a really lousy blackjack player," Sardo said. "But I've been very lucky in my career, from the people I've worked with, the kids I've gotten to coach, and where it happened."
Joking that his coaching career played out "like a cheap Disney movie," Sardo found sentiment in the success he enjoyed at his alma mater.
"I had great times at Traditional, but at Tech, those kids were me, 20 or 30 years ago," Sardo said. "I could see so many similarities in their blue-collar backgrounds. To be able to go back there and help them navigate though life was a total gift."
That was the case with Taylor, who said Sardo influenced his decision to follow his coach's career path after initial plans to study engineering at Penn State. Taylor instead ran cross country for Canisius College and became a physical education teacher in Buffalo.
"My goal has always been to stay in the city and be the same thing for other students that he was for me," Taylor said. "He embodies what a great coach is. Without him, I never would have thought to do what I'm doing now."
In a twist of fate, Taylor has been able to advise Sardo on his new job, having coached Medaille cross country from 2016-18. Taylor expects his mentor to thrive at the Division III college.
"Medaille has found a gem," Taylor said. "He is ideal for the job and is going to grow something out of nothing there."
Be the first to know
Get local news delivered to your inbox!