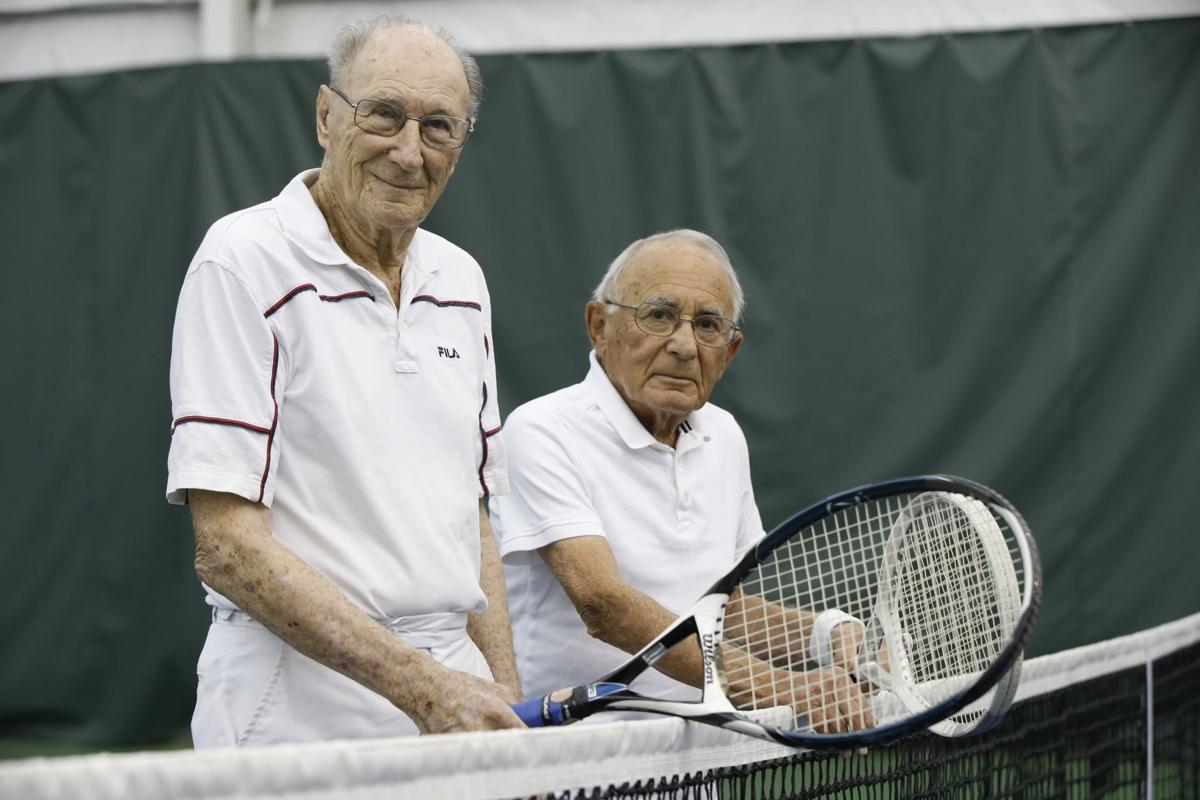 Recently at The Village Glen Tennis Club a few spectators were remarking about the outstanding play of two elderly tennis players on a nearby court.
"To be playing as well as those two players are is amazing at their age," said one spectator "They must both be in their late 70s or early 80s."
When the spectators were informed that Mort Rothstein and Joe Masling are 93 and 92, respectively, they were more than amazed. They were incredulous.
Rothstein still moves remarkably well and covers the net like players 10-15 years younger while playing mostly doubles. Masling, although he has had major back surgery, is very consistent with outstanding strokes with good court placement. Rothstein plays doubles twice a week for 90 minutes and hits with Masling once a week. Masling also plays another two times a week.
Rothstein was 13 when he first started playing in Vancouver. "We played on asphalt courts and would wear out our sneakers every two weeks," he said. "We would play almost every day that we could and would often play 6-8 hours on Saturdays and Sundays. None of my friends or myself ever had any lessons. The only pros were at two local clubs and only the rich could afford the lessons."
Rothstein also played a great amount of squash at one time. He said, "I stopped playing tennis for a number of years. However, when I got to be 65 I felt I was slowing down a bit and decided to go back to only playing tennis."
Masling was 15 when he started playing tennis in Rochester.
"I remember seeing a wooden racket which was in a press in our basement," he said. "The racket was about 14 ounces and the press weighed another pound or more. My friends and I played only on public courts and used tennis balls until they became black. It was during the depression and no one had money to take lessons."
Both players earned PhDs. Rothstein started college at the University of British Columbia and received his doctorate in chemistry at the University of Illinois. He taught at the University of Rochester from 1949-1954, at the University of California from 1951-65, and at UB from 1965-1988, becoming head of the department.
Masling attended the University of Iowa for 1ø years.
"I will never forget that we had a player on the basketball team who stood 6-foot 6-inches tall," Masling said. "He was the tallest player in the entire Big Ten. Today, he would probably just be a guard."
In his sophomore year he joined the army air forces for three years. He then went to Syracuse University and before graduating from Ohio State with a PhD in psychology. Shortly afterward he became a professor at UB and eventually head of the department.
When the players talked about their tennis games compared to years ago, Rothstein said, "Six months a year my wife and I live in Florida where I was on an 80-and-over 3.5 team and then an 85-and- over 3.2 team. I was always the No. 1 player on both teams."
Rothstein's favorite ploy was to put many shots away at the net when his partner would set him up.
Once he turned 90, he could sense that he has slowed down a little bit. As for the secret of his longevity, he said, "I have a wonderful family with my wife, two sons and a daughter. I only eat healthy food and have been fortunate to have never had a serious injury."
Masling said, "When I was younger I could run all day. My nickname was 'The Human Backboard.' When I was teaching at various colleges I would frustrate students that I played tennis with by keeping the ball in play until they made an error."
Even today, Masling continues to talk to himself, concentrates as hard as he can and is very steady. His major back surgery has lessened his mobility. However, when he is asked by some players to play doubles, he replies, "I'm not old enough."
Masling also has vertigo and sees a personal trainer for exercise and balance.
Rothstein and Masling agree that they have had a great friendship both on and off the court. They both feel that their camaraderie, friendship, sense of humor, home life, family, and playing tennis for so many years has been instrumental in keeping them in great mental and physical shape.