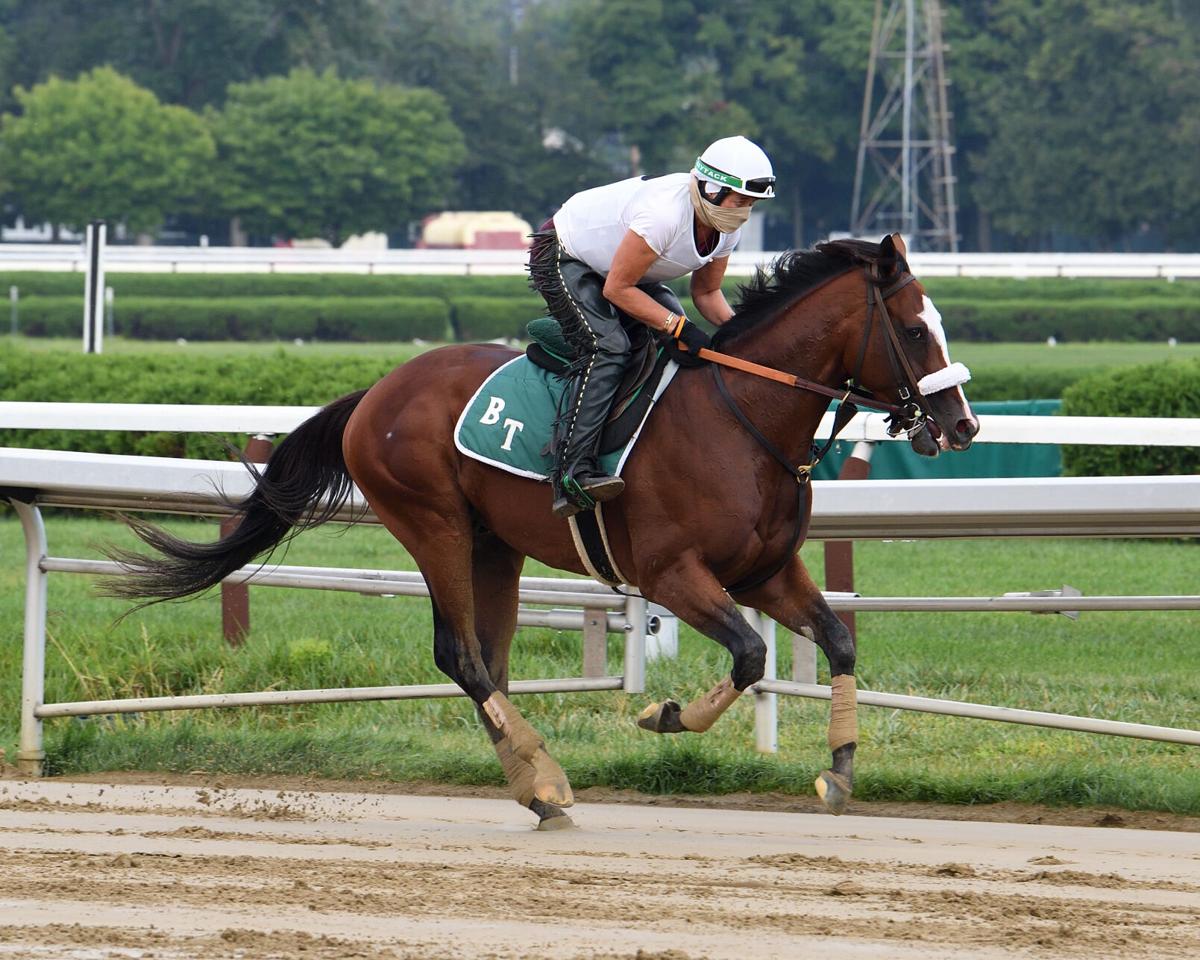 The traditional pill pull for the $3 million Grade 1 Kentucky Derby presented by Woodford Reserve was held on Tuesday morning at Churchill Downs. The draw determined the post positions for this year's 18 starters for the Run for the Roses.
Belmont Stakes winner Tiz the Law will look to add the second jewel of this year's jumbled Triple Crown to his resume with a win in Saturday's Derby under the fabled Twin Spires.
This year's Kentucky Derby was moved from the first Saturday in May to the first Saturday in September, marking the first time since 1931 that the Triple Crown races have not been run in the traditional Kentucky Derby-Preakness Stakes-Belmont Stakes sequence. The Preakness Stakes and the final leg is slated for Saturday, Oct. 3.
The 146th edition of America's most famous race will be televised nationally on NBC (Ch. 2) on Saturday during a five-hour telecast starting at 2:30 p.m. Post time for the Derby (Race 14) is 7:02 p.m.
Churchill Downs will use a brand new 20-horse starting gate on Saturday, replacing the use of an auxiliary gate for posts 15 through 20 which created a lot of early bumping and traffic issues.
The morning line favorite Tiz the Law (3-5) drew the No. 17 post for Sackatoga Stable and trainer Barclay Tagg. The son of Constitution likely will become the first odds-on favorite at post time since Arazi in 1992. He is the lowest priced favorite since 1989, when Easy Goer and his entry mate were 3-5.
The outside draw didn't disappoint Tagg.
"I like being on the outside, I didn't particularly want to be out that far but he seems to handle everything that's thrown at him, so we'll just have to leave it up to him," Tagg said. "It gives you a chance, if you have any speed at all, it gives you a chance to get a better position."
The post time favorite has won the Kentucky Derby in six of the last seven years, with Improbable breaking the streak last year.
This year's field was reduced by one on Tuesday when likely second-choice and Blue Grass Stakes winner Art Collector was ruled out by trainer Tommy Drury due to a minor foot issue.
Drury told Jennie Rees of the Kentucky HBPA that Art Collector would not be entered on Tuesday morning. He said the colt nicked the bulb of his left front heel with a hind hoof while galloping Monday at Churchill Downs. Because of horse racing strict medication rules, the horse could not be treated with an anti-inflammatory this close to the race.
Both Mr. Big News and South Bend were late additions to the entry box to set the field at 18.
The race's top three choices drew the three outside posts, a probability according to TwinSpires' Ed DeRosa of 815-1.
Honor A.P. (5-1), the Santa Anita Derby winner, was listed as the second choice on the morning line after drawing post No. 16 just inside Tiz the Law.
"I just talked to (jockey) Mike (Smith) and he's happy with it. I think it's OK," said trainer John Shirreffs. "There's a long run to the first turn and I don't have to worry about getting pushed down on the outside."
Bob Baffert is looking for a record-tying sixth Derby victory; his two horses Authentic (8-1) and Thousand Words (15-1) drew posts 18 and 10, respectively.
Former Major League Baseball player Victor Martinez will have his first Derby starter in King Guillermo (20-1), a horse named after his father. The five-time all-star told DeRosa at the draw, "To put it in perspective, I think it's a little bit better to walk into Churchill Downs than Yankee Stadium," said Martinez.
Hall of Fame trainer Steve Asmussen was hoping to draw outside with Max Player (30-1), who ended up one of the last pills drawn ending up in post No. 2. "It is what it is and that is where we're going to work from," Asmussen said. "Hopefully he's away from there clean, get a decent position and not get funneled back too terribly far."
Asmussen acknowledged that the hill is steep for the son of Honor Code having to face Tiz the Law for a third straight time.
"Obviously, he's a tremendous horse," Asmussen said. "The Belmont and Travers could not have been more visually impressive. But with horses, he got paid for those days, he has to do it again."
Finnick the Fierce drew the rail post where traffic issues can impair a horse's trip dramatically. The new Derby gate should mitigate that to some extent as the positioning will be several gates farther from the rail than in the past. Ironically, he is the only horse in the field that has finished ahead of Tiz the Law in last year's Grade 2 Kentucky Jockey Club at Churchill Downs on a sloppy track.
Here's a look at the posts and morning line odds for the field:
Program Number Horse Trainer Jockey Morning Line
1 Finnick the Fierce Hernandez Garcia 50-1
2 Max Player Asmussen Santana Jr. 30-1
3 Enforceable Casse Beschizza 30-1
4 Storm the Court Eurton Leparoux 50-1
5 Major Fed Foley Graham 50-1
6 King Guillermo Avila Camacho 20-1
7 Money Moves Pletcher Castellano 30-1
8 South Bend Mott Gaffalione 50-1
9 Mr. Big Moves Calhoun Saez 50-1
10 Thousand Words Baffert Geroux 15-1
11 Necker Island Hartman Mena 50-1
12 Sole Volante Biancone Panici 30-1
13 Attachment Rate Romans Talamo 50-1
14 Winning Impression Stewart Rocco 50-1
15 Ny Traffic Joseph Jr. Lopez 20-1
16 Honor A.P. Sheriffs ME Smith 5-1
17 Tiz the Law Tagg Franco 3-5
18 Authentic Baffert Velazquez 8-1
Gene Kershner, a Buffalo-based turf writer, is a member of the National Turf Writers and Broadcasters Association and tweets @EquiSpace.
Be the first to know
Get local news delivered to your inbox!