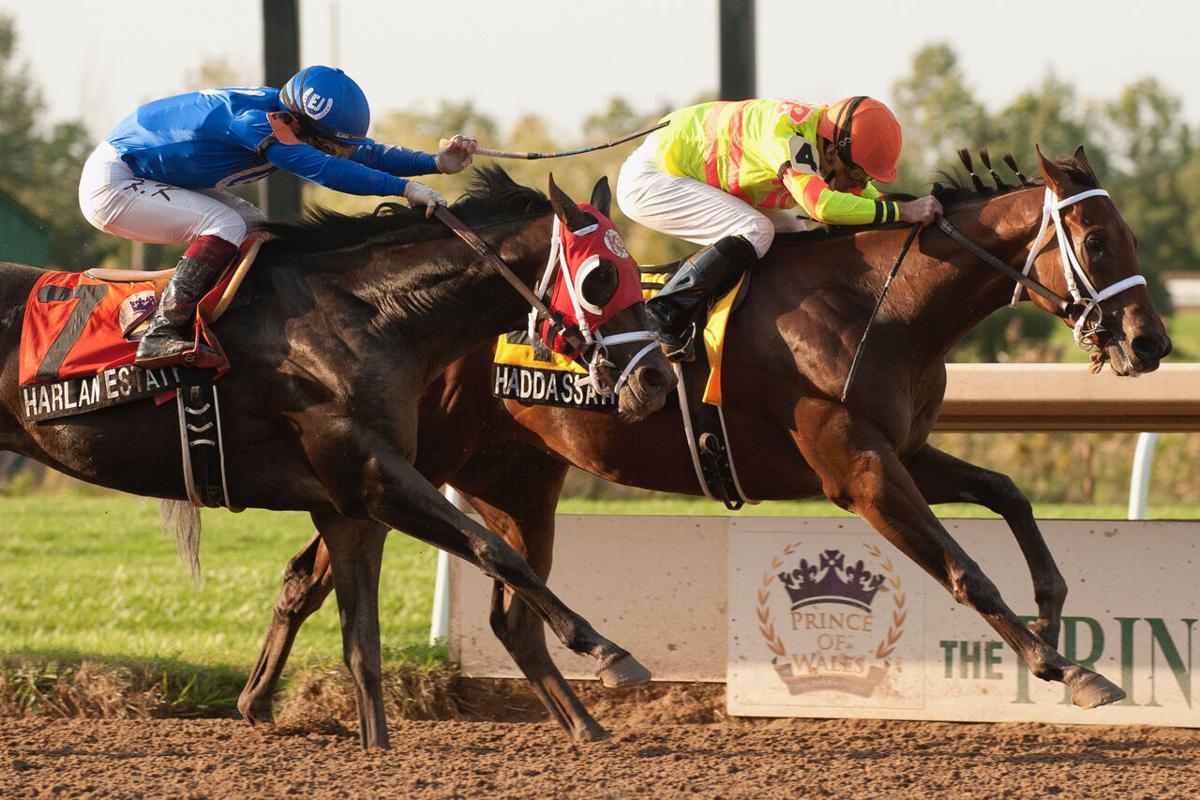 Haddassah co-owner Al Ulwelling was sitting in his father Bill's living room in Minnesota when the satellite went out just as the horses were approaching the gate at Fort Erie Race Track.
The two co-owners of the headstrong gelding jumped up and ran down the street to Al's house in time to see their horse cross the wire first to win the 86th running of the Prince of Wales Stakes.
A competitive field of eight will visit Fort Erie Race Track on Tuesday evening looking to secure the second jewel of Canada's Triple Crown.
"That was a lot of fun, I lost my voice already screaming at the TV," Al Ulwelling said by phone in a jubilant Elk River living room in the Land of the Lakes.
Five years ago, with a reference from long-time Canadian trainer Malcolm Pierce, the Ulwellings enlisted Kevin Attard to train horses for them north of the border at Woodbine.
"They have invested heavily in the Canadian game," Attard said after the race. "This is maybe their second crop of Canadian-breds and here we are, they have a Canadian Classic."
The homebred son of Air Force Blue captured the $400,000 race on a beautiful evening at the border oval. The winner stalked the early leader Ready At Dawn through the first mile. At the top of the stretch, he put away the front runner and never relinquished the lead, holding off late-charging stable mate Harlan Estate by a half-length at the wire.
Haddassah finished the 1 3/16-mile trek in the second jewel of Canada's Triple Crown on the Fort Erie dirt in 1:56.15. The winner went off at odds of 6.75-1 and returned to his backers $15.50 to win, $7.40 to place and $4.60 to show.
Second-place finisher Harlan Estate paid $5.20 to place and $3.50 to show, completing a $2 exacta that paid $65. Post Time top selection Keep Grinding finished third, paying $3.80 to show. The Post Time boxed $1 trifecta of the top four selections paid $148.40.
The final leg of the Canadian Triple Crown, the Breeders' Stakes, will be competed at 1 1/2 miles on the E.P. Taylor turf course on Oct. 3 in suburban Toronto.
Al Ulwelling was perplexed when the morning line came out and his horse was at 12-1 after an eighth-place finish in the Plate, only 3 3/4 lengths behind winner Safe Conduct.
"We didn't understand the odds, he was within a length or two of the other horses (in the Plate), and when we saw the 12-1 morning line come out, we liked what we saw," Ulwelling said. "There wasn't much pace in the race and he has a lot of speed, so we liked him in here."
Rank early in the Plate and having some traffic issues, the lengths he had to make up on Tuesday night were attainable based on the smaller field size and lack of pace in the race.
"I think on the break in the Plate, our jockey said one of the other horses took him out," Ulwelling said. "We felt just as confident in this race as we were in the Plate. The distance was a question, but after the work last week, we felt really confident in the horse."
Canadian Hall of Fame jockey Gary Boulanger, who has had approximately 25,000 starts over his career, won his first Prince of Wales at age 53. He credited Haddassah's work over the track last week as key for his mount. Trainers that bring their horses down to train over the Fort Erie dirt always seem to have a distinct advantage in this race.
"He really took to the dirt," Boulanger said. "He showed that he is starting to mature, he was a lot more settled today, he responded when I wanted him to. He showed a lot of determination."
The lightly raced gelding won for the second time in his fifth career race and has shown flashes of brilliance, but he stepped up big Tuesday night for Attard, who won his first Prince of Wales as a conditioner.
"This horse has always shown a lot of promise and ability, he just hadn't really put it together yet," Attard said. "Obviously, last year as a 2-year-old when he broke his maiden, we really thought we had a serious contender heading into the Queen's Plate. It didn't come to fruition, but he's here today and got the job done and we're really proud of him."
Two of Attard's starters in the race completed the exacta, with Harlan Estate finishing second at 3-1.
"It's extra special, especially when I saw the two of them battling, dog-fighting it down to the wire, obviously you're hoping one of them gets there, ideally they hit the wire together," Attard joked.
Al Ulwelling was happy that it was his horse of Attard's duo that crossed the wire first and that the patience he's shown had finally paid off.
"I think the pandemic really hurt this horse," Ulwelling said. "Early in the spring, this horse was training like a monster and Kevin liked him, the barn liked him and the jockeys like him, the whole time. After the first couple of races of this year, they soured on him, but we never did because they were really tough races. The winners of those races went on to do really good things, like winning graded races and finishing second up there."
The decision to start racing and breeding in Canada came down to the facility and people up at Woodbine, according to Ulwelling, who owns A&B Welding and Construction in Elk River with his father.
"It seemed like everybody was great, and so far after five years everyone has been awesome up there," Ulwelling said. "We always wanted to be a part of that and win the big races up there, so we started breeding up there; we didn't really know anyone. I called Kevin and he probably thought I was nuts for what I wanted to do."
It's one phone call that Kevin Attard is glad he accepted, and they have a Canadian Classic win to show for it.
Gene Kershner, a Buffalo-based turf writer, is a member of the National Turf Writers and Broadcasters Association, and tweets @EquiSpace.