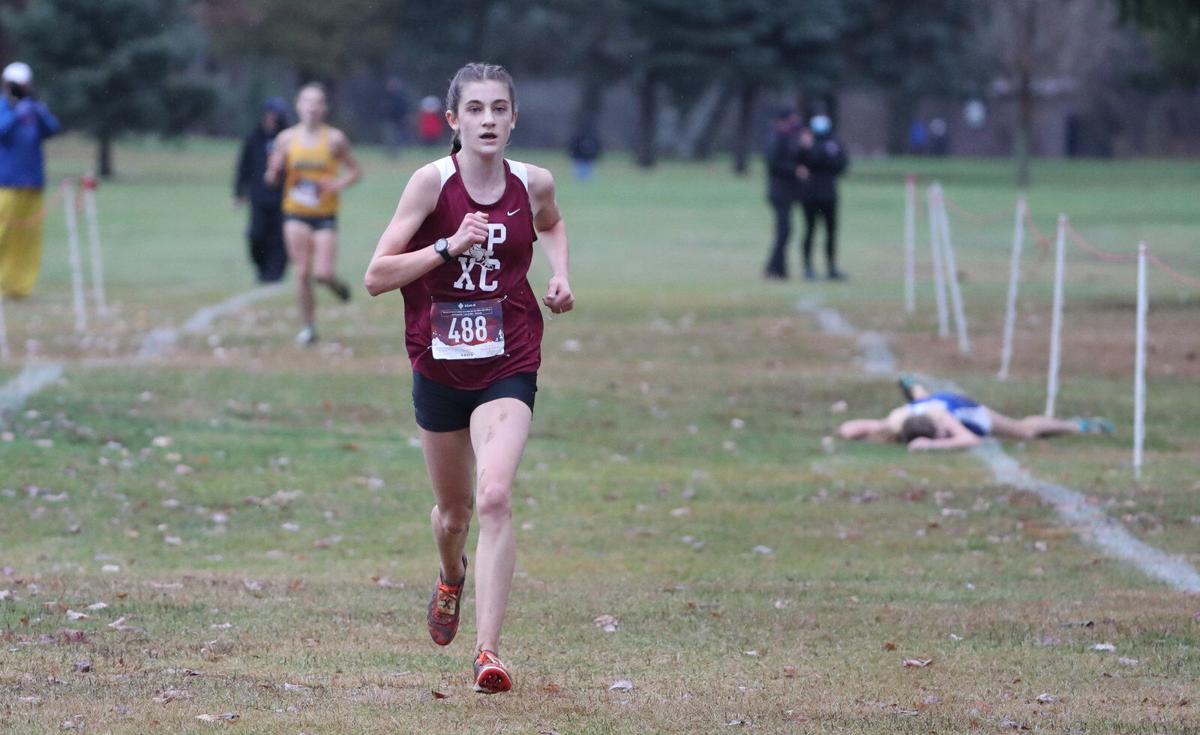 Orchard Park's Noel Barlette thought her chances of winning were next to nil after she got passed by Frontier's Lilly Bogdan, who appeared to be pulling away for victory.
Then disaster struck roughly 50 yards from the finish line. An undisclosed ailment left the Falcon eighth-grader broken hearted and unable to finish, opening the door for the OP freshman to pull out a surprising victory in the Class A race during the final day of the Section VI girls cross country championships.
Barlette, who is in her second year on the Quakers and comes from a family of runners, crossed the finish line in 20:00.13 to capture the penultimate race of the day as wet, muddy and windy conditions at the 3.1-mile Bemus Point Golf Course made footing difficult for all competitors Sunday.
Barlette finished more than 12 seconds ahead of runner-up Marcy Colca, a senior from Williamsville North. Lockport senior Sydney Nowicki came in third. Bogdan was helped off the course by her father, Frank, and a trainer.
"I was getting pretty worried this was going to get canceled," Lew-Port senior and Niagara Frontier League champion Justin Pavan said through a disposable facemask.
"I was assuming that she would win," Barlette said. "I was surprised. … I just hope that she's OK."
Frank Bogdan said Sunday night that Lilly was starting to feel better.
"You push your body as hard as you can, and you don't know how it's going to react," said Bogdan, who coached track and field at Erie Community College and also coached the sport at Buffalo State with his wife, Michelle. "It was a learning experience."
The Class A race provided the most drama as the Class C-2 and Class D race champions won with ease during the final scholastic competition of the fall sports season.
Allegany-Limestone sophomore Angelina Napoleon cruised to victory in C-2 in 19:44.38 – posting the best time of the day in the first race. Frewsburg senior Acacia Barber triumphed in Class D in 20:08.14.
Kayla Schmidt of Williamsville South did not believe an invitational win was possible until …
Normally top individual and team finishers advance to the New York State Public High School Athletic Association championships, but the event was canceled due to the Covid-19 pandemic.
Kids were grateful that they got a chance to compete in sectionals, as they were worried the competition might be canceled due to the recent spike in coronavirus cases in the area.
"It's really something special because last weekend they were saying that this wasn't even going to happen," Napoleon said. "The fact we're racing right now is amazing."
Orchard Park was shorthanded for the competition, as it had a runner in quarantine due to contact tracing.
That didn't stop one of the younger Quakers from capturing her first individual sectional title after being a contributor to OP's team championship run last year.
Barlette had the lead until tendonitis in her knee forced her to slow down during the last mile. That enabled Bogdan to catch up and pass. Barlette admitted she thought her window for winning had closed, especially since Bodgan seemed to have plenty in the tank.
The Section VI cross-country championships will be spread over two days on the Bemus Point Golf Course on Chautauqua Lake.
Until she slipped the first time. Still, it wasn't until Bogdan got up and crumbled again that Barlette realized the opportunity staring her in the face.
"It feels pretty good (to win), but I hope Lilly is OK," Barlette said.
OP finished second in team scoring to Clarence, 39-49. The Red Devils placed five in the top 11, led by junior Charlotte Costich's fourth-place finish. Anna Ridge finished seventh, Maggie Danzer eighth and Lily Wolfley ninth. Lauren Dunn finished 11th.
In Class C-2, Napoleon finished nearly 2 minutes ahead of runner-up Juliana Flick of Silver Creek, who crossed the finish line in 21:36.04. Napoleon, a sophomore in her third year on the team, had finished fifth in her previous sectional races. She came in first at the CCAA All-Star race last week.
She credits training with members of the boys team, which won its first sectional title since 1999, for helping her become stronger.
"They pushed me to be the runner I am today," Napoleon said.
Falconer/Cassadaga Valley won the team title in C-2, beating runner-up A/L, 34-67, as it had five in the top 12. F/CV was led by seniors Mikaela LeBaron, Marie Lemay and Tabitha Clark, who finished third, fourth and fifth overall, respectively.
In Class D, Acacia Barber of Frewsburg triumphed in 20:08.14. Maple Grove runners took second through sixth to win in dominating fashion. Christina Peppy finished second overall for the Red Dragons in 20:27.05. Ava Crist was 30 seconds behind Peppy in third. Abby Brunanavas, Tori Pavlock and Allison Bohall took fourth through sixth.