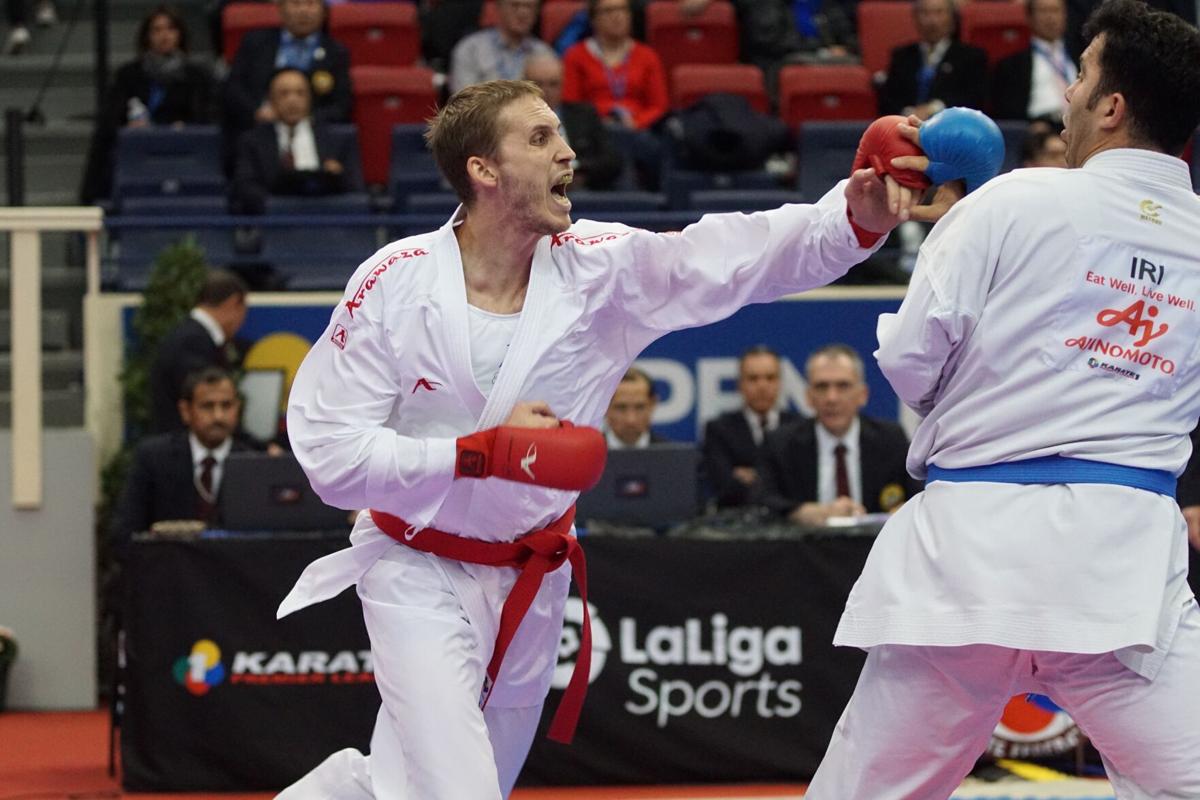 This is the third in a series of stories featuring Western New Yorkers scheduled to take part in the Olympics in Tokyo.
Growing up in Newfane, Brian Irr became fascinated by karate, the martial arts form that is popular worldwide but more so in Japan and other Asian nations.
When he was eight years old, he began training in the discipline and soon was winning competitions in Western New York, the state and the Northeast region.
But in 2016, when the International Olympic Committee approved the inclusion of karate for the 2020 Olympics in Tokyo, Irr really got interested, enough to move from Niagara County and train at the Academy of Classical Karate in Plano, Texas, and set his sights on earning a place on the U.S. karate team.
His move paid off when he qualified as the third member of the first U.S. Olympic men's team for the Tokyo games.
Tennis has taken Jessica Pegula all over the world, and no matter where she is, she always stumbles upon someone from Buffalo or Western New York, or somehow crosses paths with a Bills fan or a Sabres fan.
A 2006 graduate of Newfane High School, Irr will compete in the 75 kilogram class (165.3 pounds) of kumite (sparring). Tom Scott, who teaches at the dojo in Plano, also will compete for the U.S. in kumite. Besides training together in Plano, Irr and Scott have competed against each other since Irr scored an upset over Scott in the 2008 nationals.
Irr enjoys the challenge of facing different opponents in different situations.
"It is always changing," he said. "Every opponent is different. Even if you fight the same opponent again, the next match will be different every time. I love the challenge of testing my athleticism, skills and strategies against others at such a high caliber."
Even though he is competitive, Irr is known for his mild nature. In the ring, it's different.
"It's the attitude that you have in the ring stays in the ring. You're in the competition and you're fighting against somebody," Irr said. "The nature of karate is of respect. Respecting your opponent outside and inside of the ring. Each match starts with bowing to your opponent, showing respect, bowing to the referee, showing respect, finishing the same way. Then, afterwards, maybe you gave someone a bloody nose or a busted lip, shaking their hand, giving them hugs. Having that mutual camaraderie outside the ring is something special."
Alvarez, 24, will compete in her second consecutive Summer Olympics in artistic swimming at the 2020 Tokyo Games.
Ariel Torres of Hialeah, Fla., will represent the U.S. in kata, a non combatant version of karate based on form and athletic movement. Sakura Kokumai, in kata, is the lone American in the women's competition. She was a gold medalist in the 2019 Pan American Games in Peru.
Irr competed in the Olympic Qualifying Tournament in Paris last month. He did not finish in the top three in his weight class, but he received one of the spots in his class allocated for the region. It was far from a political appointment. Irr has his share of accomplishment in the sport. He won gold at the 2019 Pan American games and won bronze at the 2015 Pan American Games in Toronto.
He first began winning national titles in 2007, and captured attention when he won a strategic match at 75 kg against one of the stars of the sport in the U.S., Gabrien Veras of Houston. He defeated Veras 3-2. That was at the U.S. Nationals and Team Trials in Charleston, W.Va.
Irr – 6-foot-4, 190 pounds – turned 33 on Saturday . His competition in Tokyo will be on August 7, the last day for karate. All karate competition will take place over three days in historic Nippon Budokan Arena, not far from the Imperial Palace. The arena was built as the venue for judo in the 1964 Olympics in Tokyo and has been the site of many events, even Beatles concerts.
The honor of competing in the first karate competition at the Olympics is special to Irr and the other karatekas, as karate athletes are known. So far, karatekas are disappointed that karate has not yet been approved for official competition at the 2024 Olympics in Paris. So, karate is on trial in Tokyo.
On the surface, Brian Irr appears to be the typical 17-year-old who might be seen shooting hoops on a playground or carrying a backpack full of books home from Newfane High School. But he's not. Despite his slim build and calm demeanor, Irr is a karate champion who dominates his weight class — the 60-Kilo Division — in the
This will not be the first time that Irr, who has bachelor's and master's degrees in athletic training from Canisius College, has visited Japan or the Nippon Budokan Arena for competition. His only regret this time is that family and friends will not be able to witness his competition because of spectator restrictions in place for the entire Olympics.
Irr's forte is his defensive game, according to Eric Hill, who was his head coach at Seishin-Kan in Lockport, where Irr got his start in karate.
In Plano, Irr has worked as a substitute teacher when he's not training or competing. Teaching the sport and teaching in general are his other passions.
Although he's based in Texas now, Irr has a following – especially among fellow Newfane graduates – in his hometown area. An alumni group was formed to give moral support to Irr's appearance in Tokyo. The goal was to get 6,464 messages of support, the number of miles between Newfane and Tokyo.