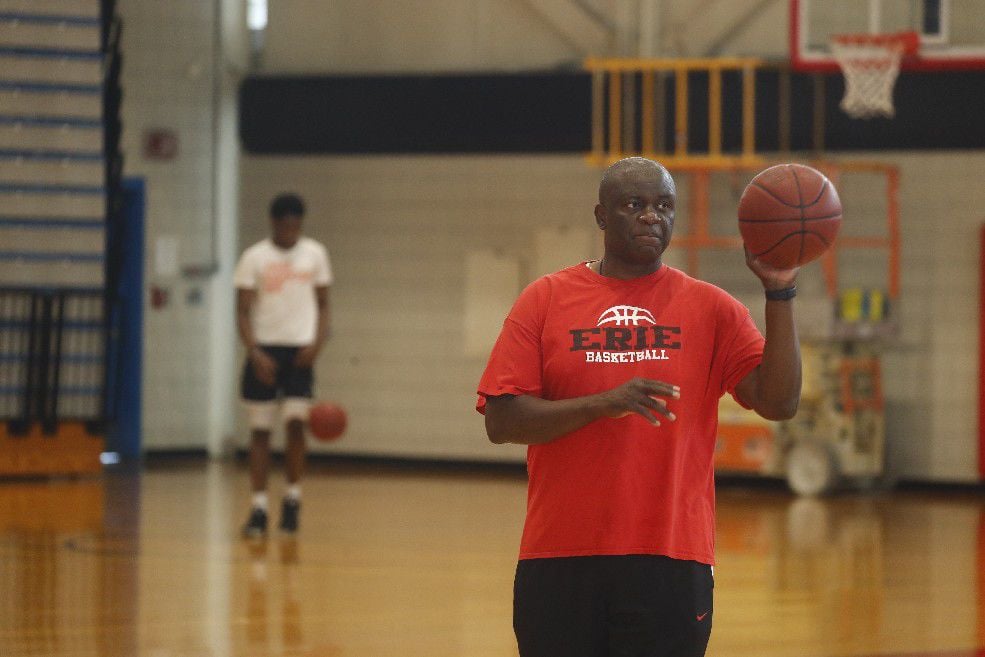 Alex Nwora did not shuttle between Milwaukee and Phoenix to watch his son Jordan, a reserve completing his rookie season with the Bucks, during the just completed NBA Finals.
Following strict Covid-19 protocols are part of the daily routine when one is part of a team en route to Tokyo for the Olympic Games.
But father and son will be reunited soon enough.
The Nworas are both first-time members of the Nigerian Olympic men's basketball team that will battle it out with Team USA, Australia and others for the right to bring home a medal. Nigeria opens pool play early Sunday morning against Australia. Alex Nwora is associate head coach. Jordan is a guard.
Alex Nwora is a former Daemen College star and is the longtime men's basketball coach at Erie Community College. Jordan is a former two-time All-Western New York first-team selection who shined at Park School, leading the Pioneers to a state Federation championship in 2015 before starring at University of Louisville.
Jordan Nwora averaged 5.7 points and 2.0 rebounds during the regular season and 3.0 points during the Bucks' championship run.
This is believed to be the first time a father and son will represent the same Nigerian basketball team in the Olympics. The distinction isn't new to the Nworas, as they were the first father and son to participate in the FIBA World Cup Qualifier in 2018.
The Olympics are a step up from FIBA World Cup Qualifier for these Buffalo residents.
"I can't wait," Alex Nwora said earlier this week before departing for Tokyo. "It's a blessing. Any parent who has a chance to coach their kid or work with their kid. … It's a good experience to be part of this. I feel very privileged. To be able to do this with Jordan …"
 ... Is awesome with a capital 'A,' to borrow a line from Dick Vitale.
Alex Nwora, who is assisting head coach Mike Brown, was born in Nigeria. At age 18, he left his family in Onitsha to play basketball at Daemen College. He ended up being the first Wildcat to graduate with 1,500 points and 1,000 rebounds.
Nwora played from 1995-97 for the losing team while touring with the Harlem Globetrotters. He returned to Buffalo to take an assistant's job at Medaille under Rich Jacob and moved to ECC as head coach after Reggie Witherspoon took over at University at Buffalo for the 1999-2000 season.
Though Nwora worked and started a family in Buffalo, he kept ties with Nigeria. He ran basketball camps in his home country and recruited his share of Nigerian players for ECC.
He also spent 6½ years as head coach of the Cape Verde National Team and led that squad to a win over Nigeria in the FIBA AfroBasket Games in 2013. He became the first Nigerian to be named head coach of Nigeria before the FIBA AfroBasket Games in 2017.
He served as head coach of the national team until Brown, who coached LeBron James in Cleveland and currently is an assistant coach for the Golden State Warriors, was named head coach for the Nigerian Olympic team in winter 2020.
Nwora, who guided the Kats to a fourth-place finish at the 2019 NJCAA Tournament and has amassed a 421-181 record at ECC, didn't view the demotion as a negative. That's because Brown has been coaching world-class players, including James, in the NBA either as an assistant or head coach since 1999.
"I'm learning from an NBA coach, one of the best," Nwora said. "He's mentoring me to be a better coach. It's a chance to work with all the NBA guys he's assembled."
Nwora has become a fixture at ECC, which is part of the State University of New York education system. He's not looking to move, even though he has the resume to be at a higher level than junior college. He's a six-time Region III Coach of the Year and five-time District II Coach of the Year. The Kats have had 11 20-win seasons during his tenure.
Nigeria is making its third appearance in the Olympics. The team is 2-8 all-time, winning one game in 2012 and once in 2016.
This Nigerian team may be different. The squad has eight NBA players in the Olympics, second only to Team USA. Exhibition games are not the real thing, but Nigeria earned a big confidence boost by beating the United States, 90-87, during a tune-up game in Las Vegas. Nigeria also beat Argentina before dropping its final exhibition to Australia.
The win over the U.S. is eye-catching, especially since Team USA rolled Nigeria by 83 points in the 2012 Games. In an exhibition in 2016, the U.S. won by 43 points.
"It says a lot about how far Nigeria has come and we did it without Jordan, who was in the NBA Finals," Nwora said. "It's great for the country knowing we're trying to a build a basketball team. We're trying to build a formidable basketball team that can play with anyone in the world."