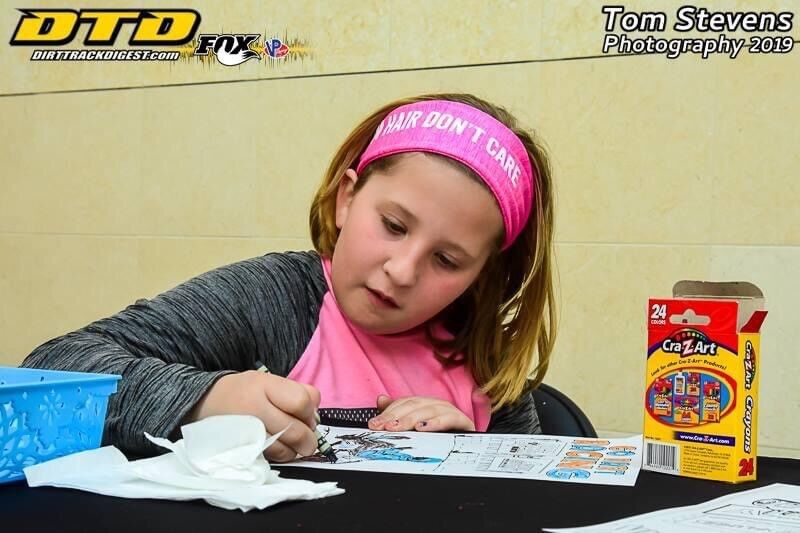 Tony Kulesza and his daughter Mackenzie were extremely close, sharing their love for auto racing as a common bond.
In November, Mackenzie died when she was struck by an automobile while walking. She was an 11-year old sixth-grader at Starpoint Middle School in Lockport.
Since then, the local racing community has shown support for Tony Kulesza and his family during what has been a very difficult time.
"The whole racing community, from the fans to the drivers and teams and tracks, have all been so supportive," Kulesza said. "I can't thank everyone enough for what they have done to help us. It means a lot."
Various memorial events and races honoring Mackenzie have taken place, with more to come.
Mackenzie's 12th birthday would have been June 17. On that day, race teams will bake cakes and bring them to Batavia's Genesee Speedway to remember Mackenzie. Fireworks provided by Genesee promoter Jim Johnson will light up the sky in honor of Mackenzie's birthday.
"Yes, at Genesee, all the race teams are making cakes so everyone there including those in the grandstands, will get a piece of cake," said Kulesza, who volunteers to interview drivers locally and nationally and shares his work via various websites. "It's pretty crazy."
Last month, a memorial race took place at Ransomville and another is scheduled for Bradford (Pa.) Speedway on Father's Day.
Kulesza drove in the memorial race May 14 at Ransomville. He got to pace the field before the dropping of the green flag. During introductions on the front stretch, each driver, while sitting in their car, received a balloon to release into the air.
"I had many mixed emotions pacing the field that night at Ransomville," Kulesza said. "When we were getting the balloons, four of Mackenzie's friends were in the pace truck. I pulled up to the pace truck and revved up my race car, and when I saw the kids and the reason they were there and three of them had never been to Ransomville before, I really got emotional there. It was emotional, but I felt more at that moment like the proud dad. For a terrible situation, it made me feel better."
Kulesza started 30th in the race at Ransomville and drove a car provided by Cole Susice to a fourth-place run. During the race, Kulesza had to avoid a major pileup that occurred right in front of him. He explained that he could not see but somehow got through with no contact. He believes Mackenzie had a hand in the matter, providing her own divine intervention.
Kulesza remembers when he received the phone call on Nov. 12, informing him that his daughter was involved in the accident.
"I was out about three miles from where the accident was," Kulesza said. "We heard sirens. I was out with the neighbors. Mackenzie's mother called me so I went flying down to the accident.
"I still don't know if that was the right thing to do. They ask me just after Mercy Flight left the ground as she had totally stopped breathing on her own what we should do. We kept her on life support as long as we could, until we got it set up to donate some of her organs. There was giving. One of Mackenzie's retinas was given to a lady in Mexico and the other to another lady in Syracuse. Some other organs went to research."
Over Memorial Day weekend, Kulesza traveled to other states to help pit announce at various tracks, including the World of Outlaws Sprint Car Series event in Lawrenceburg, Ind. NASCAR Cup Series star Kyle Larson won at Lawrenceburg and had a conversation with Kulesza about Mackenzie.
"When I did the interview with Kyle Larson after he won, he remembered having met Mackenzie in the past," Kulesza said. "We talked about her in his trailer. "Another driver that night was Paige Polyak. Mackenzie followed Paige's career. In the past, Paige would take Mackenzie to the girl's room in the pits for me.
"Paige had texted me two days after Mackenzie passed away. Paige hit the wall real hard at Lawrenceburg and was all bruised up, so I was going to blow off the pit interview with her, but she was like 'No, I want to do it for Mackenzie.'
"I have been addicted to racing for many years now and Mackenzie was my racing clone. When we went to Genesee, she would go down one side of the pits and would see her friends and I'd say hi to mine. She acted like an adult. She knew almost as many people as I did."
Kulesza says that more than 200 local race cars are adorned with remembrance stickers recognizing Mackenzie's memory. Zak George has his race car painted in Mackenzie's favorite colors and his car is No. 36M. The 36 is the car number used in the past by Tony and the "M" stands for Mackenzie.
So many people have shown support for Mackenzie's family. That's what matters to them now, as the local racing fraternity's efforts have helped make some healing possible.
Lancaster track springs into action
New York International Race Park in Lancaster is on the path to racing normalcy as the pandemic continues to decline. The duel stock car/drag racing facility opened its IHRA Weekly Drag Racing Series points season Friday with a healthy 170 cars in the pits, including the popular Buffalo Street Outlaws.
The stock car teams will open their season Saturday with a 6:30 p.m. program, featuring the Sportsman, 602 Sportsman, Late Models, Super Stocks, Street Stocks, 4-Cylinders and TQ Midgets. More than 60 cars were present at the stock car practice day last month. On June 2, the track held its first weekly Wednesday Night Cruise Night event of 2021.