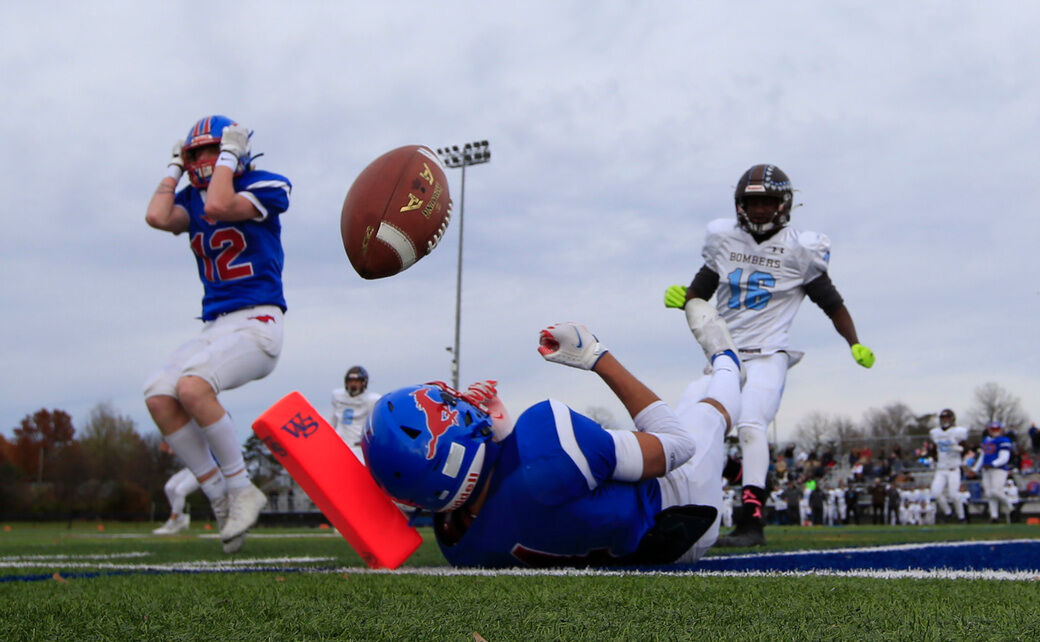 Medina's special teams had a bad day at the worst possible moment.
As a result, one of the most special seasons in the history of the Mustangs ended with a stinging defeat.
Section V champion East Rochester/Gananda returned a kick for a touchdown, had a punt return set up a score and, most importantly, recorded the only PAT conversion of Saturday afternoon's Far West Regional contest. All of that was enough for the Bombers to leave Williamsville South High School with a 26-24 triumph over Medina in Class C.
In the battle between unbeaten champions, ER/Gananda (12-0) advances to the state semifinals next Saturday at Cicero-North Syracuse.
Medina (11-1), the top-ranked team in the state in Class C, saw its Western New York-best 17-game winning streak end. All the Mustangs needed to do was convert at least one, if not two of its 2-point conversion tries. The Mustangs made five of them in their sectional final win over Fredonia at Highmark Stadium.
It wasn't happening Saturday as they made none. Medina went 0 for 4. That included missing the game-tying 2-point conversion pass with 7 minutes, 45 seconds left after bouncing back from a pair of painful gut-punching touchdowns by the Bombers. There were two Mustangs in the same area in the end zone. The pass was intended for one, but both went after the ball with it falling incomplete.
"They were both stacked up real close," said Medina senior quarterback Xander Payne. "It was just kind of a mess. It was poor execution and poor execution on my part."
"We couldn't punch in the conversions, my hats off to East Rochester," Mustangs coach Eric Valley said.
Medina just seemed a bit off Saturday. It started with it fumbling on the first offensive play of the game, with ER/Gananda's Michael Daniels recovering at the Mustangs' 30. A pass interference on fourth-down kept the 11-play drive alive that ended with Adrian Letta's 6-yard TD run.
Medina tied it on Noah Skinner's 5-yard run early in the second quarter. The team initially made the PAT kick but a false start penalty pushed it back 5 yards. It proved costly as the attempt hit the cross bar.
ER/Gananda seemed to have the better offensive possessions as it came close to surging ahead but Medina found a way to stop them.
One of the denials came courtesy of Greg Thompson, who had a sensational game receiving. He picked off a pass in the end zone in the closing seconds of the second quarter. The teams went into intermission tied 6-6.
The teams combined for 24 points in the third quarter with Skinner scoring on a 1-yard run with 4:43 left. Letta ran in from the 2 a couple minutes later to tie things at 12.
The Mustangs scored on their next drive with a 42-yard pass from Payne to Thompson setting up a 5-yard touchdown run by Skinner.
The lead didn't last as Manuel Sepulveda fielded the ensuing kickoff, waited, looked and darted through a big hole for the touchdown to tie it at 18-18.
A short, poor punt that took an ER bounce toward the Medina goal line was returned to the 1 by Jeremy Blanchard. Carter Lathrop ran it in for the touchdown with Caleb Carpenter running in the only successful 2-point conversion.
Plenty of time for Medina to rally. The Mustangs attempted to do just that with Payne, who passed for 261 yards, finding Thompson (seven catches, 124 yards,2 INTs) for a 10-yard touchdown with 7:45 to go to make it 26-24.
Two measly points away from a tie. Two.
"It just didn't end well for us," Skinner said. "Great memories, I wouldn't trade them for anything else."
"I'm so proud of this group of kids, especially the seniors," Valley said of the 17-1 mark amassed by the team the past two seasons and two sectional titles. "The run that they've had in two seasons is something Medina has never done so there's a lot to be proud of as much as today is disappointing there's a lot more good that has come out of this than negative."