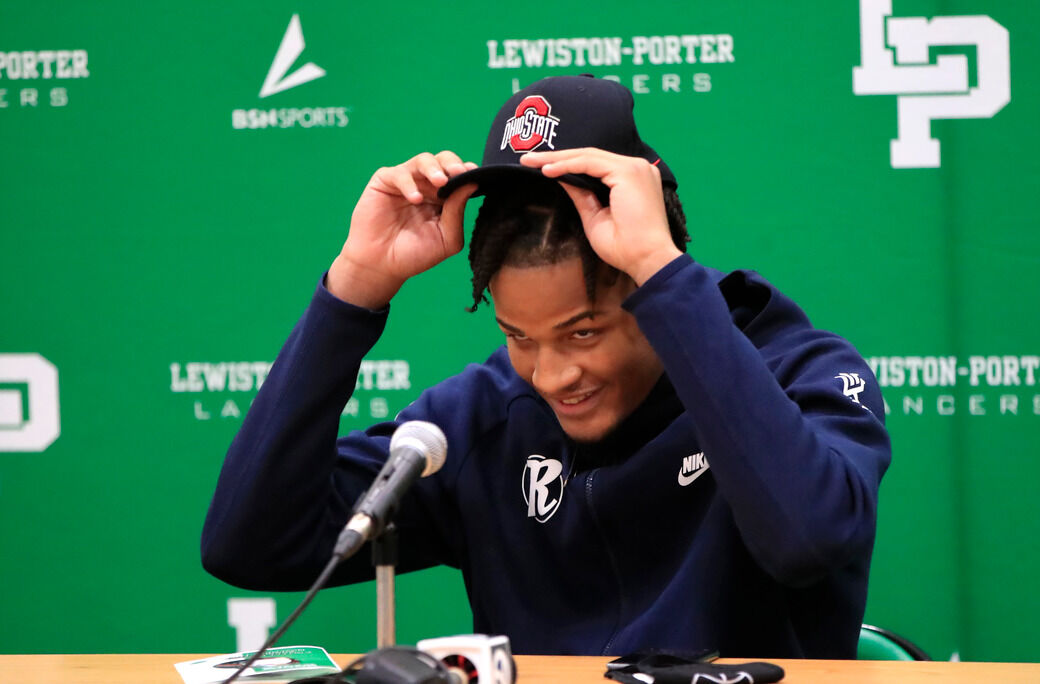 Roddy Gayle will head west to continue his high school basketball career.
Gayle, a standout at Lewiston-Porter who verbally committed to Ohio State last month, announced Monday on social media that he will transfer to Wasatch Academy in Mount Pleasant, Utah, for the remainder of the school year. 
He thanked God, his family, Lew-Port coach Matt Bradshaw and "the 716," in making his announcement. 
"You guys have made me into the player and the person I have become," he wrote, saying the transfer will allow him to further "my game and my education" and he ended with the hashtag #stillintheovencooking.
A two-time All-Western New York first-team selection, Gayle had narrowed the list of choices to Syracuse, Pitt, Marquette, Georgetown, Ohio State and Connecticut.
High schools in New York have yet to begin basketball practices for the 2020-21 season; the New York State Public High School Athletic Association announced Dec. 11 that it has canceled the winter sports season's state championship tournaments and has postponed all high-risk sports, including basketball, until further notice because of the Covid-19 pandemic.
Gayle told The News on Monday night that he is expected to arrive in Utah by Dec. 31. 
Wasatch Academy's boys basketball team is 11-0 and ranked 11th nationally by MaxPreps.com. Its roster includes three Division I commits: senior forward Robbie Armbrester (Houston), senior guard Nolan Hickman (Kentucky) and senior forward Fousseyni Traore (BYU).
"I chose Wasatch because I feel like it would improve my game dramatically and do a lot of justice for my education," he said. "I get to play against the best during the season and practice with the best every day."
Asked if he planned to return to Western New York for his senior season, he said, "It's possible for me to come home if I want to, but as of right now, it's about bettering myself and prepare for the next step."
Greg Paulus wasn't supposed to wonder how he would spend his time after his first season as head coach of the Niagara men's basketball team. He was ready to recruit, in order to solidify the foundation that he and his staff had set in his first five months as coach of the Purple Eagles. But the offseason plan ended
Gayle, a junior guard, is a two-time first team All-Western New York selection and a multi-time all-state pick. Recruiting website 247Sports ranks the 6-foot-4 Gayle as a 4-star prospect, and as the No. 1 recruit in New York and the No. 54 recruit nationally in the 2022 class.
He averaged 25.8 points, nine rebounds, three assists and 2.3 steals for the Lancers as a sophomore in 2019-20. In 2018-19, Gayle helped Lew-Port win its first Section VI basketball title in 31 years, and averaged 22 points, 8.9 rebounds, 3.7 assists and 2.4 steals. As an eighth-grader, he helped Niagara Falls High School's varsity team win the Section VI Class AA championship.
We wish @roddy_gayle all the best In his new adventure to Wasatch Academy, where he will continue to grow as a player and more importantly as a person! We appreciate everything you gave us as a lancer! We are your biggest fans and once a lancer always a lancer!! #family4ever 💚 pic.twitter.com/5u9PMY72wG

— Lew-Port Basketball (@LewPortBball) December 21, 2020
Gayle is also part of a recent group of local players who have gone onto high-level Division I basketball programs. Davonte Gaines (Health Sciences) is a sophomore at Tennessee of the Southeastern Conference, and Jordan Nwora (Park School) played for three seasons at Louisville of the Atlantic Coast Conference, and was drafted by the NBA's Milwaukee Bucks in November.