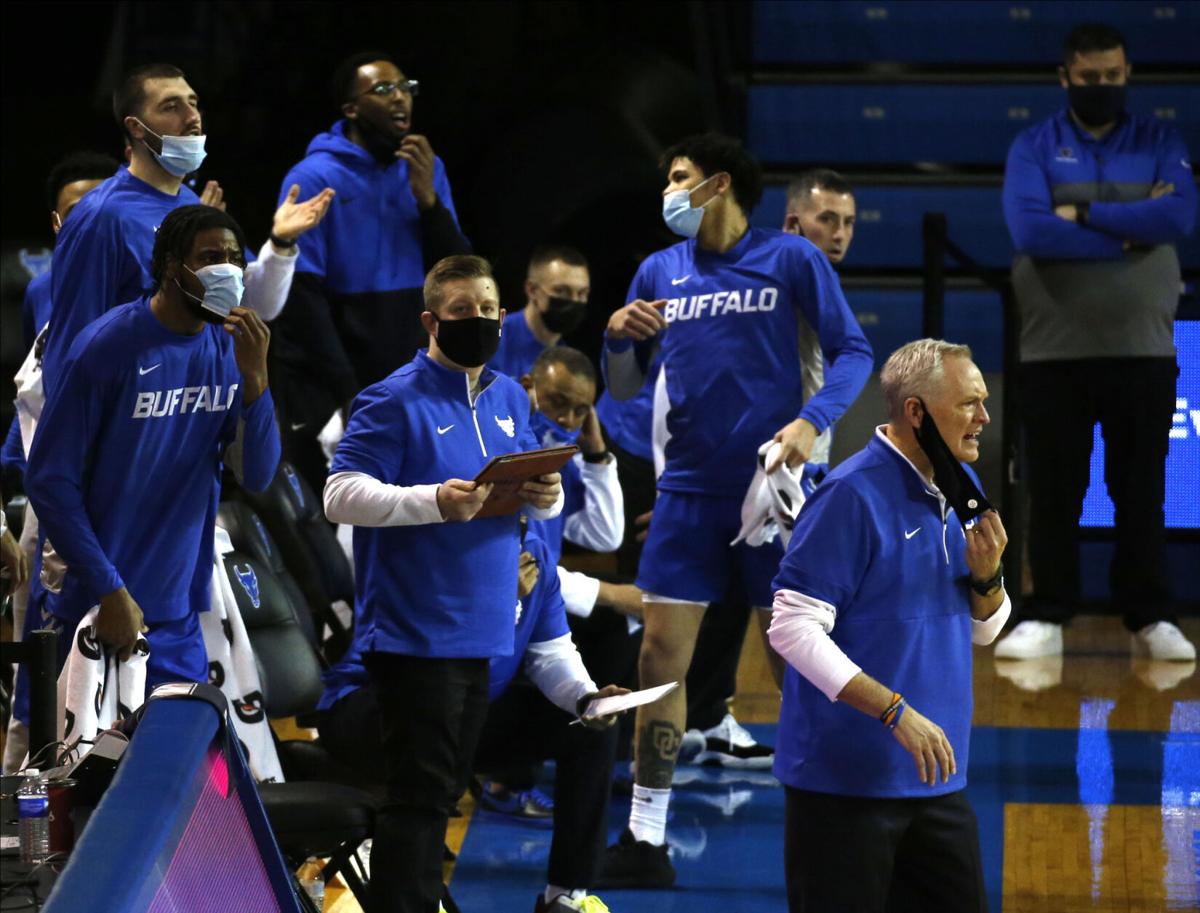 If the University at Buffalo men's basketball team needed a way to answer after a loss to the Mid-American Conference's top team, the Bulls found it at the expense of a team that's been mired in the MAC's basement.  
By the end of the first half of a 102-74 win against Northern Illinois on Tuesday at the Convocation Center in DeKalb, Ill., the Bulls led by as many as 23 points and had 30 of their 55 rebounds, and UB forward Josh Mballa had notched his sixth double-double of the season.
"This was a good response from Friday, a good bounce-back after a loss to Toledo," UB coach Jim Whitesell said. "The guys were ready to play. We know, hey, look, we need to get better. We've got to own it and get better."
UB's inside game propelled it to the win against the Huskies. The Bulls had 55 rebounds and scored 74 points in the paint, and LaQuill Hardnett scored a season- and career-best 16 points for the Bulls. Hartnett's previous high in scoring was 13 points against Eastern Michigan on Jan. 21.
"I really didn't do anything different," Hardnett said. "The ball was just falling my way today. I got a lot of boards and putbacks. Controlling the boards was very important."
Mballa led the Bulls with 21 points and 12 rebounds, including 13 points and 10 rebounds in the first half. Jeenathan Williams added 18 points and eight rebounds, and Jayvon Graves scored 13 points and had seven rebounds for the Bulls.
Williams, Hartnett and Mballa combined to shoot 22 for 29 for UB, which registered its first 100-point game since Feb. 21, 2020, when it won in double overtime at Kent State 104-98.
The Bulls (10-7, 8-5 MAC, .615) are in fifth in the MAC standings – behind Ohio (8-4, .667) and ahead of Bowling Green (8-7, .533) – after the win at Northern Illinois. Teams will be seeded in the MAC Tournament by winning percentage in conference play.
The Bulls have four regular-season games remaining, as the MAC Tournament is scheduled to begin March 11 at Rocket Mortgage FieldHouse in Cleveland. UB is scheduled to host Central Michigan at 2 p.m. Thursday at Alumni Arena, then is scheduled to play at 2 p.m. Saturday at Ohio. The Bulls are then scheduled to host Akron at 2 p.m. March 2 and close the regular season at 6 p.m. March 5 against Kent State.
"We've been working on being more poised," Hardnett said. "Down the stretch, we have a lot of go-to things now, so we don't have to think about that. We all looked more composed. Friday's game matured us. We have more poise. And it's about the little details, getting to a spot, winning a ball. It came out good for us."
Tyler Cochran led Northern Illinois (2-13, 1-9) with 26 points.
Powered by Hardnett, UB used a 14-3 run in a span of 4:44 and opened its lead to 25-10 a little more than eight minutes into the first half.
Then, a pair of dunks by David Skogman and David Nickelberry inside the 10-minute mark opened UB's lead to 31-12. Mballa's jumper with about six minutes left in the half gave the Bulls a 38-18 lead.
The Bulls led 51-28 at the half and maintained at least a 23-point lead in the first five minutes of the second half, and had four scorers in double figures by that point in the game.
"Keeping our team's focus, that's important," Whitesell said. "We talked about that at halftime. We were down 21 at halftime at Kent State (an 84-81 loss Jan. 19), and things can change in a hurry. The first four minutes we struggled a bit (in the second half at Northern Illinois), but then the next four minutes, we got going."