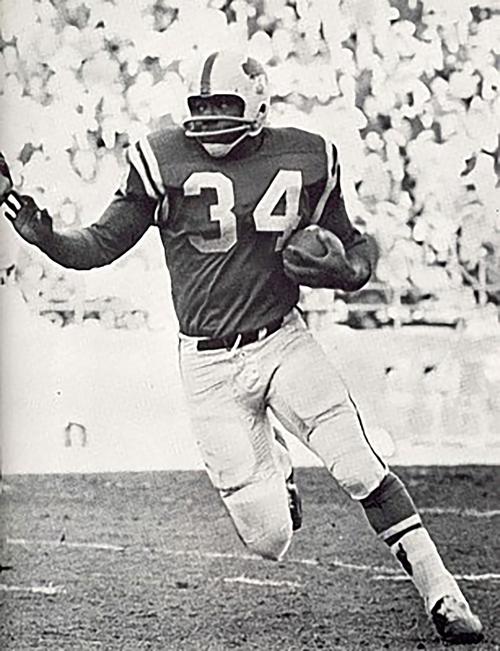 The Mailbag is such a hit, someone should write a song about it. This country has a proud tradition of songs about the mail. The National Postal Museum at the Smithsonian has compiled a list of more than 300 titles of mail-themed music.
I'm partial to "The Letter," done by the Box Tops and covered by Joe Cocker. Other postal favorites: "Please Mister Postman," done by the Marvelettes, Carpenters and Beatles; "Return to Sender," by Elvis Presley; and Wilco's "Box Full Of Letters."
Older folks will recall Benny Goodman and Jimmy Mundy's "Air Mail Special" from 1941. I could go back to 1881 ("Write To The Sad Old Folks At Home"), but you get the point. Letter-writing is a noble custom. You should do it more often. Write to sad, cynical Sully if you're in the mood.
From this week's box full of letters:
lencler@gmail.com asks: Sorry to bug you again about the Cookie Gilchrist Buffalo Wall of Fame thing, but did Cookie make it onto the Wall? We have a virtual Cookie Gilchrist fan club out here on Canada's west coast gulf islands.
Sully: Good to know Cookie has support out there. He's not on the Wall of Fame yet, but the day is coming. Last summer, Russ Brandon convened a special meeting of a revamped Wall committee, which voted for Lou Saban to get his long overdue honor during last season's home opener.
Cookie was considered, and he certainly deserves to be on the Wall. He could have gone up with Saban when they honored his two AFL title teams at the home opener.
But I would rather Gilchrist be honored separately. He and Saban were two of the greatest figures in Bills history and deserved singular recognition.
Carlton Chester Gilchrist was actually voted to the team's "Wall of Honor" in 1970. He was the first player selected and received a plaque in a ceremony in Buffalo. But that wall faded out of existence.
Ralph Wilson had issues with Gilchrist, a proud man whose behavior became unpredictable through the years. Wilson wasn't against putting him on the Wall – as he was with Saban – but he and the committee didn't vote for him because they were afraid he wouldn't show up.
Cookie died in 2011, so those concerns are moot. There has been minor resistance because he played only three years with the Bills. But it shouldn't matter how long he played in Buffalo.
Gilchrist is an iconic figure in Buffalo sports history, an AFL MVP (1962) and rushing leader (1964). The late Larry Felser called him the greatest all-around football player he ever saw.
I don't know if the Bills plan to induct anyone this season, but I'll continue to push for Cookie to get on the Wall, where he belongs.
@AtheistMission asks: Has the NFL peaked in terms of popularity & financial might?
Sully: That's like asking if Bernie Sanders can take down Wall Street. While the NFL has taken much criticism in recent years – and with a segment of American parents no longer wanting their kids to play football – the league's vast popularity and gargantuan wealth show no signs of diminishing.
Last weekend's four divisional round playoff games averaged 36.2 million viewers. The Denver-Pittsburgh game led the way with 43 million. The numbers were down a bit from last year's divisional round, when the average was around 37.8 million. The relatively one-sided nature of the Pats and Panthers wins hurt.
The ratings were up from 2014. The audience for this weekend's conference title games is expected to easily surpass last year's. The Pats-Broncos clash, likely to be the final meeting of Tom Brady and Peyton Manning, should go well beyond the 42.1 million viewers for last year's AFC Championship Game.
Seattle-Carolina might fall short of last year's overtime NFC title game between the Packers and Seahawks, which attracted 49.8 million viewers. But there's a chance that the two title games might be seen by average of 50 million.
Meanwhile, the fee for relocating a franchise to Los Angeles is a reported $550 million. The league is going back to the nation's largest TV market and the owners will fill their coffers. The cost for a 30-second ad during Super Bowl 50 on Feb. 7 is $5 million, an 8.7 percent hike from a year ago. So if you think the NFL's stock is peaking, think again. From what I can see, Americans can't get enough of it.
Dennis Keefe asks: Lately I've seen in the transactions column players being signed in the NFL to a Reserve/Future contract. What is that? I don't recall seeing that in previous years. Love the Mailbag.
Sully: Thanks for the mail bonding. Future contracts are a way for teams to tie up marginal players, generally at minimum salary, whom they believe could make an impact the following season. The contracts are the same as for regular players, but don't go into effect until the next league year begins.
The future contract doesn't count against the salary cap or roster limit until training camp. They're usually minimum deals with a modest bonus, if any. It allows teams to control players who weren't worthy of active roster spots last season but could emerge as viable contributors next year.
General managers like knowing they have marginal prospects locked up until camp, giving them one less worry during the offseason. Wide receivers Jarrett Boykin and Greg Little are two examples of reserve/future players on the Bills' roster.
@mickeybrocks asks: Not to torture you, but your ranking of Bills head coaches of the drought era would be appreciated.
Sully: No, you are torturing me. I have no interest in ranking the head coaches during the drought, though I'm happy to list them in ascending order: Wade Phillips, Gregg Williams, Mike Mularkey, Dick Jauron, Perry Fewell, Chan Gailey, Doug Marrone, Rex Ryan.
I honestly have a hard time distinguishing one from the other. How do you choose between Doug Marrone and Mike Mularkey, who seem like the same guy to me? Or Gregg Williams and Dick Jauron?
And I don't care if Phillips made the playoffs twice. He's as big a head coaching mediocrity as the rest of them. I might put him last for benching Doug Flutie before the Tennessee game, not to mention mismanaging the clock at the end.
klawrence@mtb.com asks: Is the Monmouth basketball team really this good? Aside from the bench hijinks, are they the current fave to win their tourney? Can they win two games in the Big Dance?
Sully: Monmouth, coached by Binghamton native King Rice, has been one of the best stories in college hoops. They've beaten USC, UCLA, Notre Dame and Georgetown away from home. They're one of the best shooting teams in the country and are fun to watch.
Their "Bench Mob" makes each game an event, though they have been known to go over the line at times. Things got a bit ugly in recent games against Iona and Manhattan – which beat them on Thursday.
Monmouth has an RPI of 29. But playing MAAC teams will drag it down, especially in the likely event that they lose a few. They lost to Canisius and Army, which will hurt them with the committee if don't win the MAAC tourney. The MAAC has one at-large bid in 20 years. I don't see the Hawks getting in without winning the league. Win two games? No chance.