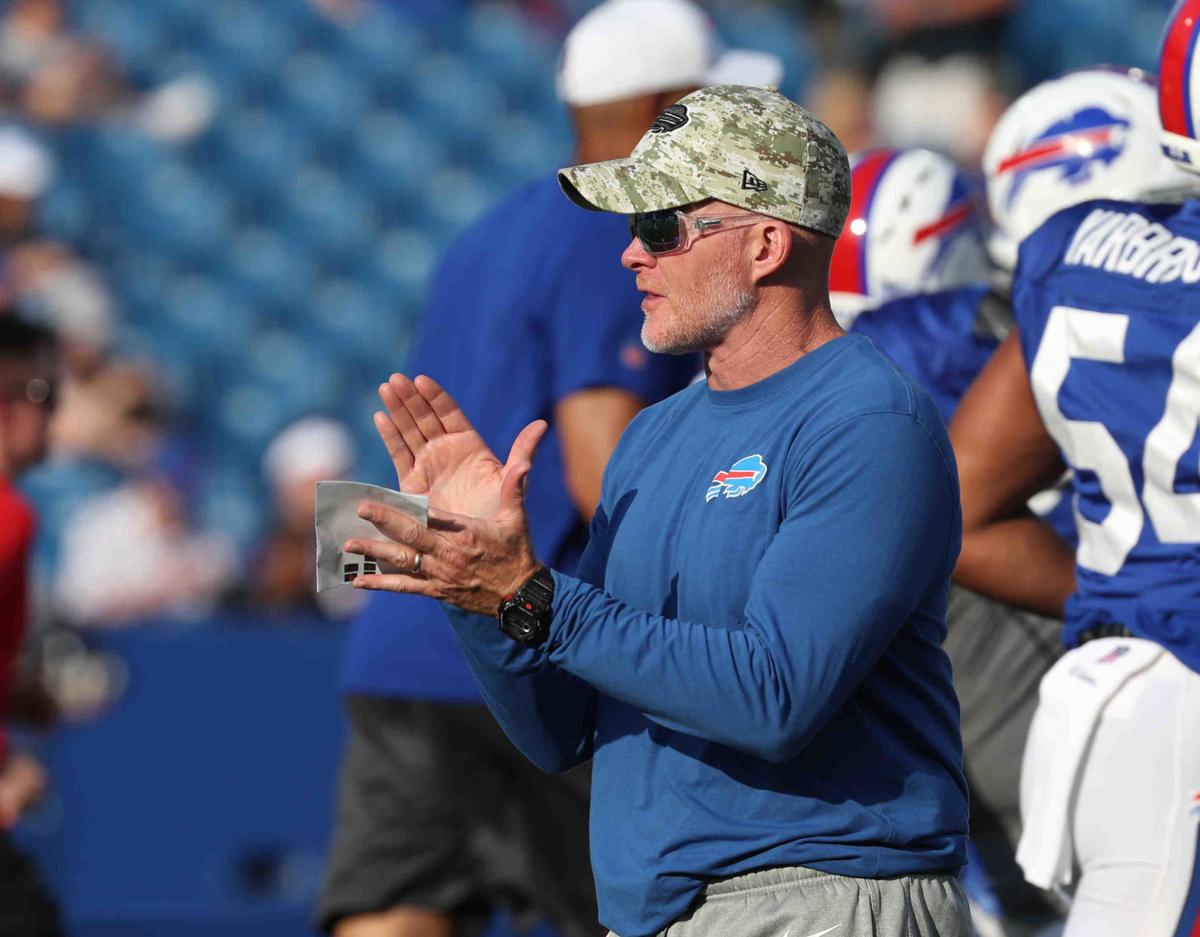 It started each Monday with a team meeting. The participants, in various parts of the country, would look at their respective computer, tablet and cell phone screens. Staring back was Sean McDermott, setting the weekly offseason agenda for the Buffalo Bills.
Sitting in his Nashville apartment, Dawson Knox took in and wrote down what his head coach was saying during the first of four consecutive Zoom calls scheduled for the day. The next was with his fellow tight ends and position coach Rob Boras. After that was a meeting led by offensive coordinator Brian Daboll that included quarterback Josh Allen, some wide receivers and running backs. Finally came a session with special-teams coordinator Heath Farwell and other members of the kicking unit.
With each meeting, there were more videos to watch, more notes to take.
"And you're just kind of going up on the screen and drawing plays after Josh calls them out," Knox said. "So, it's as interactive as it can be at this point."
That, in a nutshell, is what the Bills' 2020 offseason program, which ran from April 20 through June 17, was all about. Interaction, but with limits. Learning from a distance. Executing plays, mostly without teammates and with no immediate feedback from coaches. Working out in garages, basements and gyms that are open.
Far from ideal, but that was part of the new normal for the Bills and the NFL's 31 other teams during the coronavirus pandemic.
Eric Ciano, in his 11th offseason as the Bills' head strength and conditioning coach, said it was "the most challenging offseason I've ever had. I'd get my first text message (from a player) at about 6:15 in the morning and my last one would come in at about 11:30 at night."
"It's definitely tough," tight end Tommy Sweeney said. "To take the human interaction out of it, mentally, it's kind of depressing."
Still, by most accounts, all involved have seen benefits. Without revealing names, Ciano said there were "multiple guys with double-digit losses in weight and improvements in speed." He also said there was "great success" with players needing to add pounds.
Guard Quinton Spain said he received the individual award in this year's "Iron Bills Games," a voluntary competition Ciano created for the offseason soon after joining the club, largely by dropping from 351 to 331 pounds.
"I know we made progress, we got accomplished what we wanted to get accomplished," Ciano said. "I have to give our players credit. They have stepped up more than I could ever imagine. I appreciate them so much, the way they handled themselves during this offseason. They made a bad situation great. It's a testament to the kind of guys we have, the leadership in the locker room."
"Honestly it's gone smoother than I expected it to," Knox said. "We've been able to install a lot of plays. I like taking hand-written notes and we can still do that because Coach Boras will get on our tight end position meetings and display his screen with a PowerPoint presentation. So, it's as similar as it can be to being in person. But the thing that's tough is not being able to go and walk through it with your teammates. We're not going to film ourselves walking around our apartments, or whatever, running through routes and stuff. But I've been able to walk through it myself and just everything that we learn every day. I try to review it that night, again, just to kind of keep reinforcing it."
Bills center Mitch Morse had serious doubts about what he and his teammates would be able to accomplish while spread all over the map and never setting foot at the club's headquarters.
"I was very skeptical, as I think most of the players were, about what these meetings would be like and what these weeks would be like," he said. "But they've been nothing but great and I think it adds another fold to what possibly can be done in offseasons. I really enjoyed it."
The virtual approach has its flaws. One of the biggest mentioned by players is their inability to hang out together and get to know each other better.
That process doesn't only happen in meetings or practices at One Bills Drive. Being in the same city, for weeks at a time, allows for plenty of opportunities to engage and gain familiarity.
"I'd be lying if I said that we could really get a lot of bonding and stuff you just usually get from a guy's home barbecues or grabbing a bite to eat or drink after a hard week," Morse said. "I think, especially for new guys, it's very tough. I can't imagine being a free agent right now trying to learn a system that I actually haven't gone through. But, and I can only talk about the Bills' offensive coaches, they've done a great job of keeping it light, but at the same time, they're able to give us information in a way that we're able to process and still learn and still have these constructive conversations about certain things."
Another challenge players have faced is finding ways to get in meaningful on-field work. Allen managed to gather 19 of his teammates in South Florida for three days of practice. Since then, with players from other NFL teams testing positive for Covid-19 after similar gatherings for workouts, the NFL Players Association has advised players to avoid practicing in groups through the balance of the offseason.
Still, there are limitations to trying to do football drills with no teammates or coaches around.
"There are some things you just can't mimic," said Morse, who was not part of the Florida sessions. "You can't recreate a coach putting you through drills and guys holding bags and stuff like that. You still can do footwork and you go through certain concepts. Maybe we install a play or a certain series of plays in a week. (The coaches) give you the techniques that they want and you can kind of go out there and become resourceful. I think that's one thing that this has kind of come to light is that guys have had to be very resourceful, whether it be working out with certain equipment limitations or wives catching snaps from centers.
"And a lot of guys' situations are different. Some guys living in Florida have many players that live next to them. Not many guys live in Kansas (where Morse resides in the offseason), so that's very tough. But guys are making do and being pros about it, and I think that's what's been very special about it, is the pros being pros in ways that are unique and haven't had to be done in quite some time or ever."
Knox is fortunate enough to have a "nice gym" right in his apartment building. He also has a friend with whom he has trained since high school that has his own facility. Knox goes there to address footwork and other physical aspects of his game.
There also is a Jugs machine, which acts as a mechanical quarterback, for Knox to use at his parents' home that is only 15 minutes down the road. His younger brothers, 10-year-old Nate and eight-year-old Isaiah, know how to feed footballs into the machine and adjust the speed of the throws.
"So they kind of have fun with that, too," Knox said. "My dad would get out there and have like an assembly line. I'll catch it, throw it to Nate, he'll throw it to Isaiah, who throws it to my dad and we'll just kind of rapid fire it. So, we got a pretty good system going.
"Then, after that, I get dinner with the family and then kind of run through some plays if I can find a good quarterback in town, like Jordan Ta'amu (of the Kansas City Chiefs), who I played with Ole Miss. He lives in Oxford (Miss.), which is four hours away, but he'll come up every other week or so. I'll run some routes that he might want me to run and then I'll tell him certain routes that I want to work on. So, I feel like I've been able to do as well as I can, considering the circumstances."
Be the first to know
Get local news delivered to your inbox!