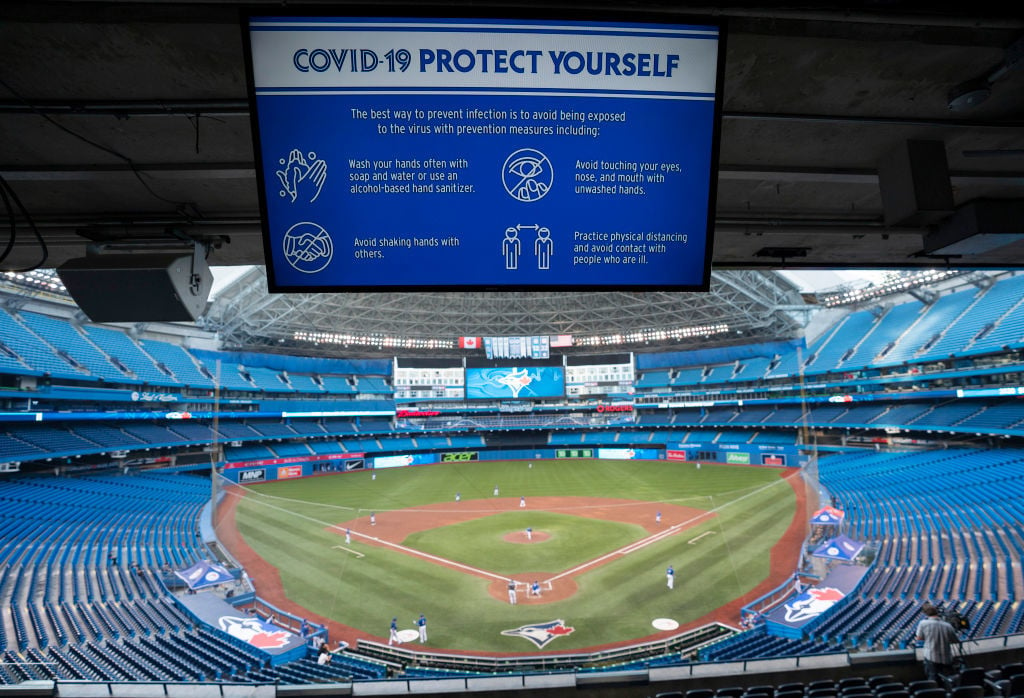 The abbreviated 2020 schedule has been out for a few days now and the Toronto Blue Jays are the only Major League Baseball team still without a home.
Their situation is a mess and the hindsight is quite obvious: The Jays made a mistake the last several weeks not giving more serious consideration to playing their home games in Buffalo at Sahlen Field this season.
Multiple sources confirm to The Buffalo News that the Bisons' parent club has finally reached out to Rich Baseball Operations in the last couple of days to examine the possibility of Toronto's home schedule being played in Buffalo this summer. 
The home opener is slated for July 29 against defending World Series champion Washington. Based on the factors related to Covid-19, Buffalo is looking like it would make the most sense.
But there are complications, the biggest of which is that the Jays are understandably still focused on playing their games at home in Rogers Centre. That has been the crux of every public statement they've made on the issue.
Mike Buczkowski, the president of Rich Baseball, declined comment on the Blue Jays when reached Saturday morning. Since the minor-league season was canceled last month, Bisons officials have been focused on holding Toronto's taxi squad for extra players in Buffalo.
While Buffalo is a fine location based on current Covid-19 numbers of Erie County and New York State, there would be a lot of baseball-related issues to be taken care of here. 
The field itself is of major-league quality but the Sahlen Field lighting is not. The Bisons installed a new lighting system in 2011 at a cost of nearly $1 million but it was done before the current technological standard of LED lighting for stadiums became prevalent. It is fine for Triple-A games but would need an upgrade for the major leagues – and for the accompanying television broadcasts, with 24 of the Blue Jays' 30 home games scheduled at night. With less than three weeks to the home opener, a fast-tracked upgrade may not be possible.
Service-level space in Buffalo is tight as well, counting clubhouses, training and workout rooms, umpires quarters and batting cages. But with no fans in the ballpark, the Bisons could create auxiliary areas throughout the concourses. The press box would also be cramped, although it's likely some suites could be repurposed for media use to promote social distancing.
Hotels wouldn't be a problem, with the Harborcenter Marriott, Courtyard at Canalside and Westin on Delaware Avenue among the properties in very close proximity to the ballpark.
The Blue Jays' home schedule includes seven games against the New York Yankees – all in September – and Baltimore, as well as three apiece against the New York Mets, Boston, Tampa Bay and Philadelphia, and two against Washington and Miami. All games, remember, will be played without fans.
The Jays are home right now, holding Summer Camp with their players quarantined at the Marriott hotel that's connected to the ballpark. They're playing exhibition games July 21-22 in Boston before their July 24 opener at Tampa Bay that kicks off a five-game trip to start the season.
But while Canadian health officials gave the team clearance for camp, the team had yet to get such approval for regular-season games.
A real hangup is players and staff having to spend 14 days in quarantine every time they enter Canada. Remember, NBA players in Orlando and NHL players who will be heading to Toronto and Edmonton will be in bubble environments. They won't be able to come and go as they please and won't be traveling in and out of town like baseball players will.
The Jays insist the plans are to take their players and visiting teams in sanitized buses directly from Pearson Airport to the Marriott. But what about the quarantines? TSN reporter Scott Mitchell set off a social media firestorm Friday when he tweeted that the Jays had warned their players of maximum penalties for being outside the ballpark quarantine this season: A $750,000 fine and jail time. Yes, jail time.
Responded Jays infielder Travis Shaw over two tweets: "We were told two weeks... not all summer... all summer is a bit much. All summer isn't gonna happen. Not an option."
The Jays have been steadfast that Plan B is TD Ballpark, their newly renovated spring home in Dunedin, Fla. Lots of players and staff live in the vicinity and the team is intimately familiar and in control of the surroundings.
But are the Jays really going to head to Florida now for extended periods in the middle of that state's Covid soup? And will the Players Association sign off on that one, for both the Jays and the visiting teams?
In later tweets, Shaw said one issue is that he already has a paid apartment in Toronto that he can't use because of the quarantine. There have been issues, including a couple of lawsuits, with Jays players and coaches trying to renege on apartments in Toronto because they didn't know if there was going to be a season.
On the whole, Toronto is doing very well with the pandemic. Ontario Health Minister Christine Elliott tweeted Friday that there were only 116 new cases of Covid-19, the lowest active total of cases since early April. She added that 30 of the province's 34 health units have five or fewer cases and 17 of them have none at all.
So with information like that as a backdrop, you can see why folks in Ontario are a little bit shaky about incoming American baseball teams. 
Former Jays pitcher Marcus Stroman, now with the Mets, got in his crack at the quarantine when he tweeted Friday: "Guys are going to be walking around in full disguises. Lol."
They wouldn't need to be doing that in Buffalo. Stay tuned.
Blackouts continue
It's mind-boggling that MLB is going to continue its absurd blackout policies on MLB.TV and its Extra Innings package during a shortened 60-game season. Just like the last several years, no Pirates or Indians games in Buffalo. These archaic policies, put in under the guise of getting people to go to the ballpark, are just to protect the local regional sports network broadcasts. But with no fans in the stands and all kinds of people stuck at home with the pandemic, why in the world wouldn't you get your product to as many eyeballs as possible? So short-sighted.
Around the horn
• Indians manager Terry Francona on the start of Summer Camp: "We can choose to show up and, 'Oh, it's hot, there's no people,' or we can be like, 'You know what? It's a day at the ballpark and we're trying to prepare to kick somebody's (butt).' That's the best way."
• A's third baseman Matt Chapman on playing in an empty Oakland Coliseum. "A lot of our games are pretty quiet in general, we're used to not having too many fans at the games. I think other teams coming in and seeing no fans and a big huge empty stadium and it might be a little cold at night, it just plays to our advantage. We're used to playing there. We're used to playing in front of however big or small a crowd is."
• Did you see that MLB unveiled the 2021 schedule on Thursday? Cockeyed optimism or what? The schedules always get released during the previous season and it seems like the powers that be wanted to give fans something to ponder other than refunds, as teams try to get season-ticket holders to accept 2021 credits for their tickets. The Blue Jays, by the way, will open 2021 on April 1 in Yankee Stadium and have their home opener April 8 against the Angels.