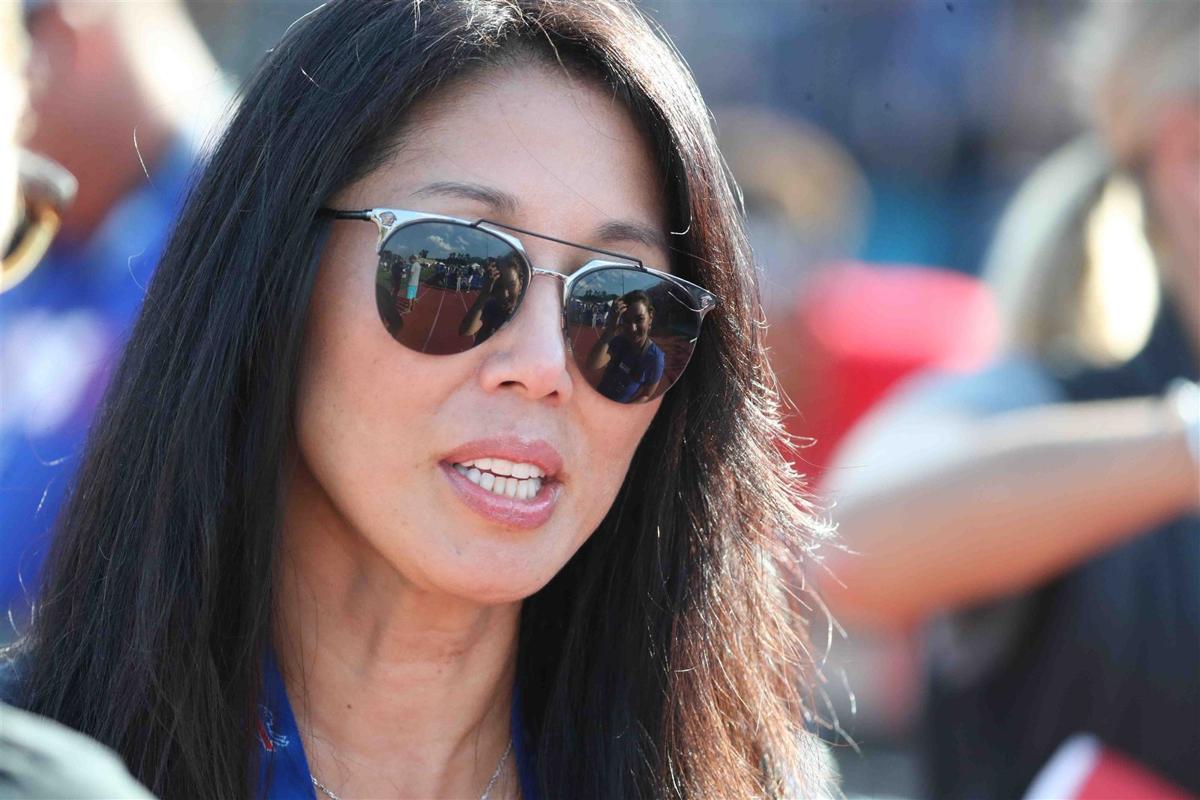 There has been a dizzying amount of turnover within Pegula Sports and Entertainment in the first half of 2020.
Layoffs, furloughs and pay cuts have impacted every level of Terry and Kim Pegula's empire, which includes the Buffalo Bills, Buffalo Sabres, two professional lacrosse teams, the Rochester Americans of the American Hockey League and more.
She also addressed the nationwide conversation regarding racial inequality and social injustice that has been ongoing since George Floyd was killed by police in Minneapolis in late May.
"People are angry, frustrated and both the city of Buffalo and the Bills are right there with them," she wrote. "My role as owner and president means that I must push for change at the league level while also making sure our own house is in order."
Pegula, who is a member of the NFL's Workplace Diversity Committee and co-chair's the NHL's Diversity and Inclusion Senior Leadership Council with commissioner Gary Bettman, wrote about how being an Asian-American female owner has made her "very aware that I am a minority."
The ongoing protests have caused her to question herself.
"Was promoting diversity and fighting racism a deliberate priority for me as a leader of the organization?" she wrote. "I'd have to say no, and I'd have to acknowledge that I failed there. Day-to-day demands – meetings, budgets, agendas – got in the way, and so it's been a learning experience for me as a minority woman to realize I have so much further to go."
Pegula also revealed that, along with Terry, she hosted a town hall meeting in May for the Bills. During the meeting, defensive coordinator Leslie Frazier, defensive end Jerry Hughes, recently retired linebacker Lorenzo Alexander, director of player Development Marlon Kerner and a local pastor spoke.
"The guys discussed who they were, where they came from and gave examples of racism they had experienced throughout their lives," Pegula wrote. "Sometimes we see players, coaches and co-workers for what they can do. Win games, make plays, get a job done. We forget their human side. For many of our staff, including myself, this was the first time we had the opportunity to see them as simply people, as Black men from different backgrounds with diverse experiences, all of whom were very concerned with current racial injustices in our country."
During the town hall, Pegula wrote that she was asked tough questions about what the organization was doing to condemn racism.
"People wanted me to move faster, be a bigger leader during these times," she wrote. "But I didn't have all the answers and I knew that being authentic and deliberate would move us forward more than a public relations speech. More importantly, we needed to start with our locker room, our staff, our co-workers and partners. We didn't need to be first, we didn't need to be the fastest. On this important topic we needed to be effective and that started with the people we cared about the most – our collective Buffalo family."
Pegula also revealed that the Bills are in the process of putting together a plan for a diversity and inclusion committee for the organization. As such, four unidentified members of the organization will get additional diversity and inclusion certification and another town hall meeting is scheduled for later this month.
Pegula also addressed, in broad strokes, the job cuts within PSE, including the decision to fire Sabres General Manager Jason Botterill. According to her, PSE decided to suspend bonuses, raises and overtime, and put in a hiring freeze, although she did not specifically reveal when those decisions were made.
"Knowing next season wasn't going to start on time, and that even the draft, usually held in June, was now going to be delayed, we decided to take this as an opportunity to change course," she wrote. "A change in the GM position is never easy; continuity is often an advantage, particularly during these tumultuous times. But when the hockey gods give you the rare gift of time – to be thoughtful and truly evaluate what is and isn't working – you can't waste that gift.
"You start looking at all parts of the business, both financial and personnel. Lost revenues and potential future losses as a result by unknown fan attendance was a reality not just for us, but for all clubs. For smaller markets like Buffalo, local gate revenues are important and our whole community was struggling with bigger problems than next year's season tickets. As a team we have been at the cap for years yet ended up with the same result. Maybe this pause could become an advantage. Shame on me if we didn't make every effort to make it one."
Pegula stated in an April interview with The Buffalo News that PSE will need to be restructured with the goal of becoming viable and sustainable. She expanded on that in her Monday column.
"We needed to better utilize our resources such as video and analytics," she wrote. "We needed to become leaner and more agile to meet the challenges we knew were coming. We had already implemented salary reductions and furloughs throughout the rest of the organization in April and with the shortened season and uncertain future, the hockey department was not immune. In selecting Kevyn Adams as our new GM to replace Jason, and in an accompanying transformation to our hockey operations staff, we went with a different approach."
Pegula wrote that PSE has a Covid-19 task force that meets daily to go over every aspect of its respective businesses. With government guidelines and league protocols changing seemingly every day, Pegula wrote that "the only certainty was the uncertainty and the fact that change is here to stay for the foreseeable future. After almost four months of juggling multiple possibilities, we are still planning for all scenarios."